When you think of optimization, you usually think of ways you can optimize your blog posts or your website pages. However, marketers should also include emails when considering optimization.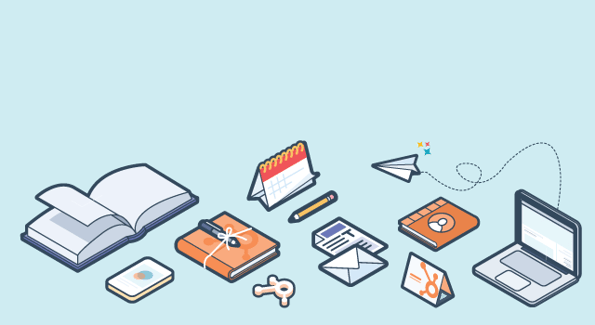 But getting started isn't always easy. What matters when working with email optimization? How do you increase the chance of someone opening your email and converting on it?
HubSpot has launched an Email Optimizer right in our Email App that will help you optimize your emails before you send them. This new feature provides guidance during email creation what you should be doing to optimize your email and what you have already done to optimize your email.
In this post, we'll cover some of the tips that the Email Optimizer suggests as well as some other best practices for email. Please note that this list won't cover everything that you can do to optimize your emails. Think of it as suggestions of what you can do to improve the performance of your emails.
If you're a HubSpot customer, you will see these reminders right in your email editor screen once you click on the "Suggestions" button on the bottom right.
1) Include preview text
Something that is often forgotten is preview text for your emails. The majority of email clients provide a preview of your email to give the reader an idea of what they are about to open. If you don't specify what you want the preview text to be, it will just pull in the first one or two sentences of your email. However, this is a great place to give your reader a reason why they should open your email.
Use this real estate to give your readers a better reason to open your email. Sure, they may know you and regularly read content from you. But this is your chance to really stand out in their inbox.
The Email Optimizer will help you remember whether or not you have included the preview text under Subject Optimizations. One or two sentences that can be viewed from your inbox actually go a long way.
) Link to helpful resources
The best use of your real estate in email is linking to other resources that may be helpful for your readers. That could be including an extra Call-to-Action (CTA) to something that you think would help them, or just linking your text to various resources on your website.
When considering what resources should or shouldn't be included in your email, ask yourself: "Would I want to receive something like this?" That will help you prevent link-stuffing and ensure you are passing along quality resources that will benefit your readers.
Here is an example of an email that links to helpful resources such as these. Notice the clear steps of how you should use Social Inbox, followed by links to each resource. This email helps you take the next step to understand how you can complete each of the recommended steps.
3) Don't use shortened links unless they have click tracking
Whenever we have a long URL, our first instinct is to shorten it using services like bit.ly. However, when it comes to emails, that isn't the best way to approach it.
Spam filters actually look for links that have been passed through link shortening services. So believe it or not, it is actually better to insert the full URL into your emails instead of a shortened link.
That doesn't mean you shouldn't include tracking in your URL. Including UTM campaigns or anything else to track your URL will still be okay with spam filters. Your best bet is to use the full URL or enable click tracking in your URL. The Email Optimizer will help you recognize whether or not you have completed this step under Body Optimizations.
When you send out an email promoting a resource from your site, it's a good idea to make it easy for your readers to share the content from your email. Include social sharing buttons that will let your readers click one button and post to various social media sites. This will help you extend the reach of your email beyond the one recipient.
This is easy to do in HubSpot. At the bottom of your email editor, you will see a spot to select networks you want your readers to be able to share on. You can add a link, and HubSpot will automatically create these social share buttons for you. For you, it's as easy as simply checking off what social networks you want to include, and for your readers, it is as easy as clicking what social networks they want to share to.
Customize your email with personalization
In another post we wrote about the importance of personalizing your emails without being creepy. It's a fine line to walk, but personalizing your emails drastically improves their performance. In fact, we found that including the company name in personalization increases clickthrough rates from about 7.5% to about 15%.
There are different types of personalization you can include in your email. Whether you decide to personalize by name, company, or other information you have gathered on forms, it will help the performance of your email.
Think about it this way: If someone sends you an email that has context to explain why you might be interested in their offer, product, or service, it is more interesting to you. Adding that extra touch with personalization goes a lot longer than you may realize.
The Email Optimizer values uses personalization tokens in your emails, and they're easy to include in your emails. Click on the "Suggestions" button in the Email Optimizer to bring you to the body of your email. You can then easily insert a personalization tag based on any contact property you have in your database. Once you have completed that, you will see the Email Optimizer label turn green under Body Optimizations.
At the end of every email, there is something you want your readers to do. That could be clicking on a link to a landing page. It could be reading a blog post. It could be downloading an app. Whatever it is, it is important to make that clear in your email. That's where a call-to-action comes in.
Calls-to-action are important to include to guide your reader to the next step they should take. Whatever that is, make it clear what your call-to-action is. Right from your HubSpot email editor, you can insert a call-to-action into your email. HubSpot will track the performance of your CTA on your email to give you a better understanding of what performs well.
In the Science of Email, 2/3 of respondents said that they preferred mostly image-based emails. Whether you include one image or the majority of your email is images, readers respond positively to images. The addition of a visual element in an email breaks up the monotony that can be paragraphs and paragraphs of text.
When you send an email you should include at least one image to help tell a story or explain the purpose of sending an email. If you are sending out an email about an ebook, include a picture of that ebook cover. Bonus points if you can include memes and/or puppy pictures!
The Email Optimizer will remind you whether or not you have remembered to include an image. It may seem like it's a small detail to remember, but it actually goes a long way.
The timing of your email send is key in determining the success or failure of your next email campaign. If you send an email at 3 a.m., chances are you won't have a lot of success getting it into the hands of your audience. Before you schedule your email send, think about where the majority of your audience is and what their habits are when it comes to reading their emails. If you can segment your email list by location (especially if you work with international audiences) that is even better to help you get your email in the hands of the right people at the right time.
The Science of Email Report digs into the right time to send your email. Think outside of the box when scheduling your emails. Just because your company is used to sending emails every Tuesday morning at 8 a.m. doesn't mean that is the best time for you to send emails. Experiment a bit, and see what you can find. Who knows - a weekend or a Friday afternoon could be the best option for you.
In the Email Optimizer, we have taken relevant information from all HubSpot customers and provided a recommendation for the time and day that you will be the most successful with your send. After you have gathered statistically significant amount data in your HubSpot account, we will recommend a day and time for you to send your emails.
What do you do when you open an email from your phone and have to zoom in and out and left and right to see all the elements of the email? I know what I do. I immediately delete it and move on to my next email. A study done by Litmus found that 47% of emails are opened on a mobile device, and 80% of people delete an email if it doesn't look good on their mobile device. Having responsive design goes beyond your webpages and actually is very important for emails.
What tips do you have to make your emails optimized? Let us know in the comments!