It's going to be another big year for holiday shopping.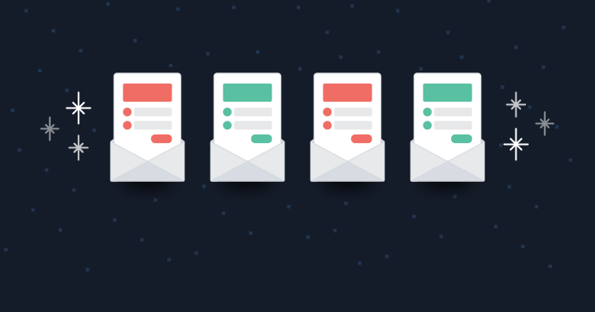 Amazon Alexa just turned three, and drones and other hot tech items are waiting in your relatives' shopping carts. It's that time of year when the ecommerce world turns to two key holidays to engage with new leads and continue to delight their customers.
With Black Friday and Cyber Monday becoming more popular each year, it's never been a better time to have a solid email strategy for the holidays.
These shopping days are here to stay. So how are you and your team preparing for the close of 2017? What's your email marketing strategy for the holidays?
Here's the Thing About Email Marketing in the Holidays...
There are two key email marketing opportunities for your business during the next couple of months. The first is Black Friday, coming up on November 24, and the second is Cyber Monday, the Monday after Thanksgiving.
In the 2016 Holiday Email Marketing Report, MailCharts found that in 2016,
"Black Friday sales totaled $13 billion. Online sales totaled $2.7 billion, representing a 14% increase in online sales compared to 2014. Email contributed to 25% of only Black Friday sales — followed by organic search at 21% and paid search at 16%."
Black Friday continues to be talked about as one of the most crazy shopping days of the year. In fact, email marketing was the third-highest commerce driver in 2016. According to the Adobe Digital Insights study, "17.8% of online sales derived from a consumer's inbox."
Knowing the holiday season continues to be a prime opportunity to reach and engage with your contacts, let's break down Black Friday and Cyber Money.
Black Friday
After enjoying a delicious Thanksgiving meal and hugging relatives goodbye, Black Friday cracks open the busiest shopping time of the year.
Let's take a look at some statistics around Black Friday to help guide your strategy.
In the 2016 Holiday Email Marketing Report, MailCharts found that 30% of Black Friday emails are sent on the day of Black Friday and 16% are sent after. About 60% of these emails are promotional emails and are sent between Black Friday and Cyber Monday, which makes this the most promotional time of year.
When starting to build your email marketing your strategy, consider turning your campaign into a "Black Friday Weekend" campaign.
This allows you to extend your Black Friday deals over the weekend and send more promotional emails focused on nurturing your contacts over time.
If you want to explore more information on lead nurturing and learn how to create a HubSpot workflow to do it, check out the HubSpot Academy lead nurturing lesson.
Looking to expand your lead nurturing strategy? Check out 30 days of lead nurturing.
Cyber Monday
Black Friday passes. You take a deep breath because in only 48 hours Cyber Monday kicks off.
Cyber Monday will see higher volumes of emails on the day — 56% of Cyber Monday emails are sent on Cyber Monday (compared to 30% for Black Friday). Use those 48 hours to ensure your scheduled emails are ready to go
Knowing that more emails are sent on the actual day, you'll be competing for space in someone's inbox. To avoid being lost in the shuffle, build an email sequence that leads up to the big day.
Pro tip: Send a sneak-peek email 10 days before Cyber Monday and a reminder a few days before. It's easier to stand out when email volume is lower.
But wait — there's more. Even after Cyber Monday is over, you can continue to send those promotions. In fact, 14% of Cyber Monday emails are sent after, as a "last chance" reminder.
Now that you have an overview what will happen during these two days, let's take a look at how you can implement strategies for success.
5 Tips to Being Successful With Email This Holiday Season
Now you know what these two holidays look like and the volume of email that's sent. But what is your email strategy during this time?
Working with our partners, 250ok and MailCharts, we put together five tips for the holiday season to help you drive success.
Put the customer first

Extend the campaign

Design effectively

Send authentic(ated) emails

Ask the right questions
1. Put the customer first.
The holidays are a busy time for all of us, regardless of what you're celebrating. Due to high volumes of email, some of your contacts might be more prone to unsubscribe.
Carl Sednaoui, from Mailcharts, has a solution to preventing these people from unsubscribing: Send a pre-holiday email asking the recipients if they'd like to opt-in (or opt-out) to your holiday emails.
Let subscribers know the types of emails and promotions they'll be missing if they opt-out of these emails. The goal here is to prevent list decay. This is the key to customer delight and loyalty and a great reminder to put your contacts' needs first when sending emails.
2. Extend the campaign.
While there's a heavy focus on Cyber Monday and Black Friday, there's also an opportunity to continue to send emails past these days. Extending your campaign past Cyber Monday, using an extension email, can help you reach those contacts who lagged in checking your messages to them.
3. Design effectively.
You know you'll be competing with many other companies during this time. The key will be to stand out. One way to do that is having a product or service that delights. The other is showing that product or service in a creative but effective way.
That's why the design of your email will be critical during this time. One way to design your emails to be creative but effective is using the AIDA model of creating emails — the inverted pyramid for designing. You can review this information here or watch the recording of the recent Inbound Learning Broadcast.
Want to see some examples of effective design? Check out some Black Friday email examples.
4. Send authentic(ated) emails.
Regardless of the time of year, email authentication is important. However, the holidays are an ideal time to be at the mercy of a bad Santa.
According to the Online Trust Alliance report, released in June 2017, half of the top 100 US retailers, and a third of the top 500, lack proper email authentication and security. This authentication gap can include issues with sender policy frameworks (SPF), DomainKeys Identified (DKIM), or a sender's DMARC policy.
Make sure you have your authentication in place before sending out your holiday emails. If you want a refresher on how to make sure your emails with HubSpot are authenticated, check out the article here.
5. Ask the right questions.
Last but not least, make sure you're asking the right questions to the right people at the right time, just like when we send email and we follow the C.A.T.S model:
The right CONTENT

To the right AUDIENCE

At the right TIME

Equals SUCCESS
We want to do the same during the holidays. For example, ask your customers to add what they'd like to purchase from you to their cart. This will reduce friction during the Black Friday/Cyber Monday frenzy. Or encourage any subscriber with items in their cart to checkout to claim your discount or offer.
If you're not using items in a cart but offer promotions or discounts, follow that same model of asking them those questions to receive your discount or offer.
With these five tips on how to send successful emails this holiday season, let's look at some examples of holiday email marketing.
Some Holiday Email Examples
We've discussed how to prepare your email marketing strategy for the holidays. Let's now look at some examples of what you can do this holiday season to be successful.
Before we jump into examples, let's take a quick look at some data Mailchart collected about these types of holiday emails.
This chart is showing email data gathered from IR1000 companies in 2015 and 2016 that had "Black Friday" or Cyber Monday" in their email subject lines.
The key takeaways from this chart are:
Retailers are sending more Black Friday emails.

On average, 80% of these emails are promotional.

Animated GIF usage for Black Friday blew up between 2015 and 2016. Cyber Monday saw more animated GIFs during this period, too.
Let's look at two examples for Black Friday and Cyber Monday. These examples come directly from MailCharts.
Black Friday
The first example comes from AG Jeans. Let's look at the breakdown of their email:
The sender name is "AG Black Friday."
They refer to Black Friday weekend, with a specific callout to online and in stores.
They offer a great pre-header text that complements the subject: "Don't miss out on 30% off, plus free shipping."



Our second example is from MistoBox.

Let's look at the breakdown of their email:
Clever subject line that ties nicely with the brand.

Animated GIF that showcases multiple products.

Callout of deals through Cyber Monday, which gives people a heads up to find your upcoming emails.
Cyber Monday
The first example comes from FSAstore. Let's look at the breakdown of their email:

Pre-header is a show-stopper.
They clearly want to stand out from the crowd.

The second example comes from ZooShoo. Let's look at the breakdown of their email:

Subject line clearly states the deal.

Animated background.

Featured deals are an easy way to inspire readers to search for that perfect show.
The holidays are almost here. By starting with some of these steps, you can be successful with your holiday email marketing strategy.
Don't forget — 2018 is right around the corner. Start to prepare for another year of email marketing. Some updates coming in 2018 will include:
GDPR (General Database Protection Regulation)

A new HubSpot Academy Email Marketing Certification course.

New HubSpot products to help you be as successful as possible.
This post was written in collaboration with Carl Sednaoui from Mailcharts and Joe Montgomery from 250ok.
Carl Sednaoui is the Director of Marketing at MailCharts, the tool e-commerce marketers use to plan their email campaigns and track their competitors.
Joe Montgomery is the Vice President of Marketing at 250ok.