The HubSpot CRM is meant to be your single source of truth for data about your customers. Need to figure out how they got to your website? That's in the HubSpot CRM. Need to know when a sales rep most recently followed up? That's also in the HubSpot CRM. Need to track down a customer's most recent ticket? That, too.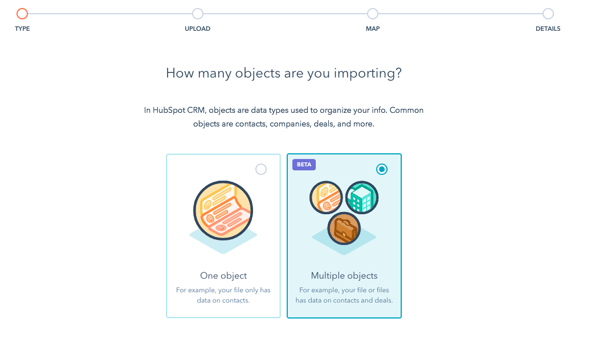 But if maintaining your data is a hassle and a time-suck, a CRM isn't doing its job. More specifically, if it takes a long time or a ton of headache to get your data into your HubSpot CRM account, it kind of ruins the point of having a CRM in the first place; you spend more time managing your data than building your relationships with customers.
With that in mind, the CRM product team at HubSpot has spent the last few months completely overhauling your import experience to make bringing your data into HubSpot easy, whether you're brand new or a seasoned HubSpot veteran. This article walks through the highlights of the new experience and gives you a sneak peek at two other new features (still in early testing) that'll make managing data in HubSpot a breeze.

The Background
HubSpot CRM is all about managing your interactions with your prospects and customers. With that in mind, the tool is centered around contacts: the people in your database. The other data objects in HubSpot hold data about things related to those people: their companies (the "Companies" object in HubSpot), sales opportunities ("Deals"), products of interest ("Products"), and support interactions ("Tickets").
An instance of each of these objects is called a "record." For example, one person is stored as one contact record in HubSpot. Specific traits of that record are stored in "properties" of that object. As an example, a contact record has properties like first name, last name, and email.
To create records in HubSpot, you have two primary options:
Do so manually, either from the home base for that object (i.e., the contacts home screen) or from a related object (e.g., from Joe Smith's contact record, create a company record for his organization).
Import a spreadsheet of records; one row for each record, with one column for each property. Like this:



If you're coming from another system, importing usually makes the most sense.
In the past, HubSpot import has been functional, but — in full transparency — relatively rigid. For example, you could import an Excel spreadsheet, but it had to be of "CSV" format. No XLS's allowed. You could import some objects, but not others. For those objects you could import, you could only do so one at a time. A sheet of contacts, then a sheet of companies, and so on.
In the past few months, your import experience has gotten a facelift.
What's New?
Here's a quick tour of what's new:
1. Import contacts from Gmail
If you haven't had a CRM before, each rep's inbox might act as a personal system of record: the people in his or her Gmail contacts database represent his or her book of business. If that's the case, your first step when moving to HubSpot CRM is to bring your team's Gmail contacts into HubSpot. Previously, that process was manual. Now, it's automatic.

How it works:

When beginning an import, choose Contacts from Gmail and follow the subsequent steps. For more specific instructions, check out this help document.

2. Import objects with associations (using separate files)
When managing records in any CRM, objects don't exist in a vacuum — they're connected. Having John Smith as a contact in your database is great, and having his company (Acmecorp) on file is great, too. Have a sales opportunity at Acmecorp? Even better. But the power of CRM doesn't truly come to life until the connections between those three things are made.
By associating records to each other, you unlock the power of their shared context; see all the interactions between Acmecorp contacts and your company on a single timeline, run deal reports based on original contact source, and more.

With the new import flow, you can easily import multiple objects at once and associate them with each other automatically during your import process.

How it works:

Create a separate spreadsheet for each object, and make sure there's a common column across the sheets. This column will be used to identify the objects which need to be associated.
In the below example, there's a column for "Deal ID" in the contacts sheet. This way, deals will be associated with their matching contact.

Once you've prepared your data, start your import and choose Multiple Files with Associations.
Select which objects you're importing, then upload both files:
Choose the common column that associates two objects together. In the above example, you'd choose Deal ID, which belongs to the deals object:
Map the columns in your spreadsheet to your HubSpot properties for both objects you've selected, and you're all done!
3. Import objects with associations (all in one file)
Depending on where you get your data from, it can come in many forms. Some systems export different objects (contacts, deals, etc.) in different sheets. Others (like Freshdesk) provide you with a single sheet of data that includes multiple objects. One row might contain a contact, their company, an associated deal, and multiple notes. Now, regardless of how your data is structured, you can bring it into HubSpot.
How it works:
At the beginning of the import process, choose whether you'd like to import one file or multiple. If you choose one file, you now have the option to import multiple objects.
Then, on the mapping screen, map each column to any property you choose — from any object in your database.
4. Import your notes
For the first time ever, you can now import notes into HubSpot. Notes can carry a slew of extra context on your customers and their interactions. Importing notes is especially important if you're migrating from another CRM.
5. Import original source values
"Original Source Type" is a contact field that indicates how a contact first interacted with your business: via a paid search ad, a social post, a Google search, or something else.
Previously, every contact imported into HubSpot was tagged as having originated from an "offline source." That's fine if you're importing a list of people you met at a trade show, but what if you're switching from a different CRM to the HubSpot CRM, and you need to import your entire contacts database? Your reporting might be forever skewed.
Now, original source is editable. Have a list of contacts from another CRM that came from a social campaign? Import them with that original source.
That means more control over your data and more accurate reporting.
Three Pro Tips for the New Import
You're probably eager to get importing! Before diving in, keep these three tips in mind.
Tip #1: Use notes for anything you'd like to appear on the timeline
When you import notes, they appear on the timeline of the associated record, like this:

Don't let the name "notes" fool you; you can use the notes feature to display anything you'd like on the timeline. For example, if your sales team has emailed a certain contact in the past, you can import each email as a note.
Tip #2: Use the right unique ID
If you're looking to recreate a one-to-many relationship in HubSpot (like associating two contacts to the same deal), use a column on the "one" object as your unique ID.
In the below example, Deal ID (stored on deals) is the unique ID, and if two contacts are associated with one deal, they may share a deal ID. In the below example, "Deal Three" will have two contacts associated with it — Brian Halligan and Dharmesh Shah.
Tip #3: Use object ID to update data on import
Importing data isn't just for bringing new data into your CRM; you can also update data that's already in your CRM. To update a HubSpot record upon import, HubSpot needs a way to track down which record you're trying to update.
We've always made that easy for the contacts object: import a row with a contact's email address, and HubSpot will automatically track down the record in your account with that same email address, and update it with any new columns in your import.
However, there hasn't been a simple way to de-duplicate any other object. With a recent update, you can now import, search, and de-duplicate contacts, companies, and tickets in HubSpot by using the "object ID" property, which is found in the first column of every export from HubSpot.
Let's look at a quick example. Let's say you're assigning sales rep owners to all the deals in your database. Rather than going through each deal one-by-one in HubSpot, it might make more sense to export all the deals in your HubSpot database, then simply update the "HubSpot Owner" column and re-import them. Previously, this wasn't possible; now, it is.
And a Sneak Peek...
Getting your data into HubSpot is just the first step. Viewing and managing it once it's in there is equally important.
With that in mind, the engineers at HubSpot are busy cooking up the next evolution of the HubSpot record, coming to your HubSpot account in the next few months. It's more streamlined, making it easier to access all the context you need to create better customer interactions, while maintaining its clarity and cleanliness. Plus, it had a ton of new functionality to boot.
For the full scoop, read this recent post.