Picture your typical day. Maybe you're a sales rep working on closing deals. Perhaps you're a marketer looking to create fresh content.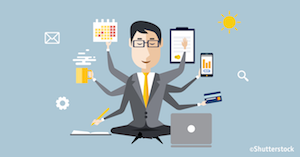 Maybe you're starting early and ending late. You might have last-minute meetings, updates, or jobs you need to fit into an already packed calendar.
There are plenty of tasks to be done today. How can you make sure nothing falls through the cracks? How can you make sure a lead stays top priority, emails go out, and you're able to stay productive — and successful?
HubSpot Sales has two answers: Task queues, and emailing directly from company records and deals. Two Growth Stack must-haves for productivity.
Productivity in the HubSpot Growth Stack
Throughout the last few weeks, we've talked about how the Growth Stack is going to help you and your business grow. One of the most important aspects of success is productivity. This week, we're going to focus on being productive in the sales sector of your Growth Stack.
80% of sales require five follow-up phone calls after the meeting. That is a lot of emails to remember, and it shows — about 44% of salespeople give up after one follow-up.
The Growth Stack is here to help you continue to be successful. This means avoiding being in the 44% that give up after the first interaction.
Every deal you're working on in your database should have a next step. And each interaction with a potential lead is going to have a follow-up task of some kind. So, what lives inside of HubSpot to help you do this?
Two Essential Productivity Tools
What are task queues? How can maximize your time with calling from companies and deals? When should you use a task queue, and how do they ultimately help you create a more productive business?
In the HubSpot CRM, you can use task queues to help organize similar tasks into one place and cycle through them for easy task completion with a lot less clicks.
In addition, you can email directly from your company and deal records inside of the CRM for ultimate productivity.
Don't have the HubSpot CRM yet? It comes free in your HubSpot Academy account.
What are task queues?
Think of a task queue as a playlist for a sales rep to check off their to-do's. You can create a task queue for a certain category of items you need to check off in the CRM. This queue could be based on time zone, territory, priority, or anything else you choose.
Add tasks to a queue. Press play. Run through your tasks.
You can have weekly, daily, or even monthly task queues that help organize your similar tasks.
How are task queues a Growth Stack tool?
When we consider the definition of a growth stack, it's often "a simple, powerful technology foundation to help you grow your company."
In the sales sector of our Growth Stack, time is indeed money. Each minute that's spent on anything else besides selling could be considered wasted time and lost revenue for your company.
This is why being organized and having a flow of tasks can be one of the biggest advantages for your sales reps and ultimately your company.
Inside of HubSpot, your task queue will take you to the specific task you need to complete and provide you with a bar across the top to let you know what's next and how far along in the queue you are.
Take a look at this example below:
Your time is important. Let the Growth Stack work for you and find ways to be productive.
Emailing from companies and deals
Calls, emails, meetings, and follow-up make up most of the busy day of a sales rep. To achieve success, you must be highly efficient and productive. This is where emailing and calling directly from a company or deal record makes for a recipe for success.
Learn more about emailing from companies and deals here.
Why Is This Important Today?
Last week, HubSpot Academy's Kyle Jepson introduced some big updates to our Sales Software Certification.
And the new line-up of classes is focused on how HubSpot Sales is going to help you be more productive and successful. Sales, as we've discussed, is an important aspect of the Growth Stack, and staying up to date on the best way to implement your sales inside of HubSpot will help you continue to be successful.
Check out the new line-up below:
Capturing Inbound Leads — A brief overview of inbound philosophies followed by best practices for using four HubSpot tools: forms, lead flows, messages, and prospects.

Organizing Your Contacts — Everything you need to know about the Contacts section of HubSpot CRM plus some information about using the HubSpot Sales email extension to log emails and create contacts.

Working Your Leads — How to combine task queues and email templates to up your sales efficiency.

Tracking Your Sales — The ins and outs of using deals in HubSpot CRM.

Upskilling — A choose-your-own adventure class that gives you the option of learning about one of three HubSpot tools: calling, sequences, or meetings.
Next on the Contacts: A Growth Stack Story Series
Tune in next Thursday for the next article of the Contacts: A Growth Stack Story. We'll be building on the idea of productivity, and we'll dive deeper into the products in the Growth Stack and how to best implement them. Tweet it using #contactsgrowthstack.
Want to subscribe to view the whole story? Click here to check out the Contacts: A Growth Stack Story homepage and subscribe to updates.