HubSpot users love their data. And here at HubSpot, so do we. Measuring and reporting on progress is a critical part of running and growing any business.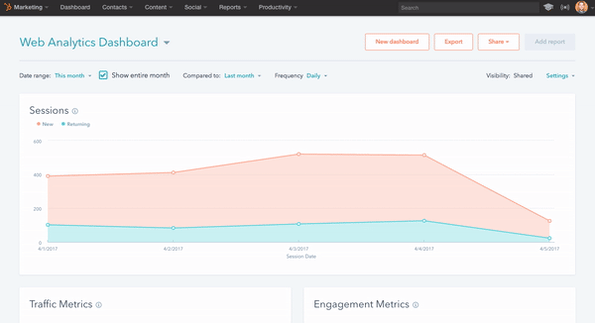 So now, as of this week, all users with Basic, Professional, and Enterprise Marketing accounts have a new web analytics dashboard. With this new tool, you have a slew of useful website data at your fingertips.
In this article, we'll walk you through the ins and outs of the dashboard, and we'll leave you with three tangible exercises to assess your marketing strategy based on your new data.
What is it?
A brand new analytics dashboard that features a dozen pre-built reports. It's available to all Basic, Professional, and Enterprise HubSpot Marketing users.
Why did we build it?
It's simple. Your company's website is the central hub for your prospects' and customers' interactions with your online brand and a key to your inbound success. The more information you have about those interactions, the better.
In the past, we've seen our customers use a variety of tools in order to supplement their HubSpot data with the most top-of-the-funnel web analytics. Why not bring those metrics into the same tool that houses your website, blog, landing pages, social messages, automation, and everything else?
That said, the value of the tool goes beyond convenience. Power comes from the connections between your HubSpot tools. For example, having your bounce rate and device metrics in the context of your landing page performance (or even your sales metrics) brings new insights that wouldn't exist if the metrics were in siloed tools.
The web analytics dashboard provides aggregate data on traffic and engagement on your website. Moving forward, we're exploring even more ways to tie that data to other aspects of your marketing funnel. Stay tuned.
What reports does it include, exactly?
The dashboard features a dozen out-of-the box reports:
Traffic metrics — t

otal sessions, % of new sessions, and % of mobile sessions during your selected timeframe.

Sessions — the number of sessions over time split up by new vs. returning sessions. Note that in this case we're talking about new sessions, not new visitors. In other words, what percent of the engagements with your website come from people who've never been there before?
Engagement metrics — y

our website's bounce rate, average time on site, and pages per session.

Session sources — s

essions over time split up by original source (organic, paid, etc.).

Session engagement rates by source — bounce rate, average time on site, and pages per session, broken down by original source.
New visitors by source — t

raffic from new visitors, broken down by original source.

Average pages per session by source — h

ow many pages visitors viewed in an average session split out by original source.

Average session length by source — number of minutes and seconds spent on your website per session broken down by original source.
Bounce rate by source — b

ounce rate. The number of sessions with only one page view divided by total number of sessions, broken down by original source.

Sessions by device type — t

he number of sessions broken down by mobile vs. desktop.

Device type breakdown — m

obile vs. desktop in pie chart form.

Session country — t

he countries where your sessions originated, identified by IP address.
Any of these reports can be added to your other dashboards in HubSpot. Want a snapshot of your device type metrics on your primary marketing dashboard? Add it in two clicks using "Add Report" in the upper-right corner of the dashboard.
Does this work like my other dashboards in HubSpot?
Yes. All the same dashboard features you're used to live in the web analytics tool as well. Specifically:
Drag and drop reports with the click of a mouse.
Download a PDF or PPT version of the dashboard using the "Export" button.
Set up a recurring email of the dashboard (e.g. before your Monday morning marketing meeting) using "Share" in the upper-right corner.
Remove reports using the "Actions" dropdown in the upper-right of any tile.
Can I add other reports to the web analytics dashboard?
Absolutely. Click "Add Report" at the top of the web analytics dashboard and you can add any other report to the dashboard in one click. Want to add a chart of blog traffic over time? Go right ahead. A summary of your landing page performance over time? You betcha.
Note: If you use the reporting add-on, you can add any of your custom reports to the new dashboard as well.
Three Tangible Exercises
1. Find out how long visitors are spending on your site, and get to the bottom of it.

The "Engagement Metrics" report on the new dashboard shows bounce rate, page views per session, and average session length.
According to Kevin O'Dea, a Principal Inbound Consultant on the HubSpot Premier Services team, an 80% bounce rate, less than two page views per session, and an average session length of less than a minute are strong indications that your website is attracting the wrong audience.
If any one of those is the case for you, your visitors are leaving the site quickly without meaningfully engaging with your content. Why might that be? Dig deeper. Use the page performance tool to determine which pages are the most trafficked on your website. Chances are, your home page is at the top of the list. If that's the case, think about these two questions:
If you were a first-time visitor on your home page, is there an obvious next step? What's the logical path to take? A CTA button? Is it clear where that CTA button will take you? If there's not an obvious next step, add one.
Per O'Dea, your homepage shouldn't necessarily pull in 2–3 times more traffic than any other page. Are there other informative pages that could provide a fantastic first impression for your visitors? If you haven't yet, explore the content cluster framework and brainstorm new pieces of pillar content that could act as entry points to your website. For a great example of pillar content, take a look at HubSpot user Townsend Security's page on encryption key management.
2. Identify the sources with the highest (and lowest) engagement.
One of the charts in the new dashboard shows engagement by the original source of the sessions. Here's the data in action.
Which source brings the most engaged traffic? In our case, organic visitors tend to be the most engaged; they stay on the site for the longest, view the most pages, and have the fewest bounces (sessions with just a single view). With that in mind, we devote a lot of work to our organic strategy.
Paid search traffic, on the other hand, tends to be less engaged. If you see data like this for sessions from paid search, social media, or paid social, ask yourself, "Would a visitor clicking on the link in your Twitter post (or Facebook, AdWords, etc.) expect to see the headline and initial image on the ensuing page? If the answer is no, your promotion strategy might need some work.

When you're distributing your content, make sure your promotional copy matches the page to which you're directing visitors. You have to clearly meet the expectations of the visitor, regardless of source.
3. Ensure your new vs. returning session metrics align with your goals.
One of the reports on your dashboard shows new vs. returning sessions over time. In other words, what percent of sessions on your site represenet visitors returning to your site for a second (or third, or fourth) time?
In truth, there's no magic number for new vs. returning sessions. It all depends on your goals. On one hand, let's say you're a content-heavy website, like a professional blog. Your goal is repeat readership. The more content your visitors read, the more often they're back on your site, the better. If that's the case, set a goal around increasing your % of returning visitors.
On the other hand, let's say you're an online dating service. The more your customers come back, the less successful they are with your service. Their goal in using your service is likely to find a permanent partner. The more seamlessly they achieve that goal, the less they'll be back to your website. With that in mind, you might set a goal of increasing your proportion of new visitors. While this is, in some ways, a far-out example, no matter your industry, you'll run certain campaigns aimed at bringing new eyes to your website.
The new web analytics dashboard is available for all Basic, Professional, and Enterprise HubSpot Marketing accounts now.