Today more than ever, paid media is an important piece of our customers' marketing mix — and for a good reason. In the last few years, ad technology has evolved, making it easier for you to target the right users with the right message.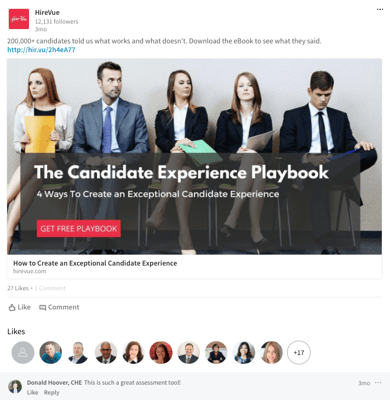 These changes have taken ads from a cost center (a tactic that costs you revenue) to a profit center (a tactic that consistently makes you money), and it's all available in the HubSpot software.
You can start using ads today — combined with inbound marketing — to start driving more leads and revenue every month.
To help you learn how, we documented one customer's path to success.
How HireVue Grows With Ads and Inbound
HubSpot customer HireVue is a company ahead of its time. Their team has created a video intelligence platform, which employs cutting edge predictive analytics to help companies hire the best talent faster. They've attracted more than 600 customers in 140 countries in their short time as a company. HireVue's growth stems from its ability to fast-track historically old-school HR and hiring systems into modern, high functioning teams. Even though HireVue might feel like a company from the future, it faces an age old problem: How do we grow faster?
The answer? Inbound marketing amplified by native advertising.
"We really believe in inbound marketing. It's extremely valuable when someone is scrolling through their feed, they see something interesting, and then raise their hand and say 'I want to know more about this topic.' Sponsored Content (LinkedIn Ads) guarantees we'll get this content in front of our target audience." This is a great inbound opener for our sales team. Prospects are suddenly interested in us vs. us chasing them." — Kenzie Smith, Demand Gen at HireVue.
Driving Demand with Ads and Inbound
Kenzie Smith is the Digital Marketing Manager at HireVue and owns demand generation for the company. HireVue is a B2B company and the Demand Gen team needs to deliver high quality leads to their sales counterparts to drive growth. This starts by connecting with their target persona: HR executives. They've invested heavily in an inbound strategy that attracts this persona, but to really grow they need to make sure they reach them at a high frequency. To complement and extend more traditional tactics, they started using Sponsored Content, LinkedIn's Native ad unit, that places content in the feed of a target audience.
Kenzie and the HireVue marketing team on a recent retreat.
"We believe in non-intrusive ads. I personally only want content in my feed that I want to see. And we take that approach with our ads as well. Native ads have been a very high performing part of our marketing mix." — Kenzie Smith
Sponsored content allows their team to reach this audience with confidence, because of LinkedIn's powerful targeting. They are able to target specific companies as part of their account based marketing approach, and then further target executives at those organizations.
"LinkedIn's targeting capabilities are second to none for reaching our buyer. I can target the right content to the right buyers and personalize by job title, company, industry or stage in funnel. This makes our ad spend more efficient because we know every impression is a qualified one. I am also able to give our buyer valuable information about technology trends in their industry." — Kenzie Smith
HubSpot and LinkedIn Working Together
To get the most out of her AdSpend, Kenzie uses HubSpot and LinkedIn together. She's building campaigns, landing pages, and content inside of HubSpot and then creating ads inside of LinkedIn or through the HubSpot Ads tool to drive traffic to the content.
To increase relevance and click-through rates, she's building custom landing pages for each campaign that match the ad copy and offer. Those landing pages are simple and focused on having users fill out a form to download the content shown in the ads.
Once leads are captured she's using HubSpot Workflows, Email, and other tools to nurture those leads into customers. She's measuring the success of her campaigns in both HubSpot Ads and in LinkedIn Analytics. With HubSpot Ads, she can instantly see conversions and the names and faces of the leads she generates. She uses this data to measure lead quality. And with LinkedIn Analytics she can measure campaign and ad click performance.
Both offer critical information as she makes decisions about how to tweak and optimize her ad campaigns. The HireVue sales cycle is long, but she can already accurately measure the positive impact the combination of ads and inbound is having for on the business.
"Our marketing is data-driven. I need to make sure the campaign is performing from a click and engagement perspective. But at the end of the day, I also need to know that it is driving revenue for our business. I use a blend of Hubspot lead data and LinkedIn performance data to shift our spend to the highest converting ads and launch new tests to improve performance. I also pass the data to our content team to help inform decisions about future content development." — Kenzie Smith
Best Practices for Combining Ads and Inbound
HireVue takes a sophisticated approach to ads and inbound — one that you can emulate. Let's break down some of the best practices they applied to their campaigns.
1. Content and inbound first, not ads.
HireVue starts their campaigns with inbound content, not ads. They aren't just creating ad campaigns in a vacuum that drive to their website. They use native ads to get their great inbound content in front of the right customers and blur the lines between ads and content. A proven best practice to drive more clicks and qualified leads.
2. Test your content before turning it into ads.
When you turn a piece of content into an ad, you want to put your best foot forward and use content that has already proven interesting to your personas. You can test different pieces of content with your organic social audience to get an idea of what will work best.
3. Build custom landing pages for each ad group or ad.
Inside HubSpot build a unique landing page for each ad campaign or even each ad. The more relevant the landing page is to the ad - the more likely someone is to fill out a lead form. Once you have your first landing page built, clone it and customize it for each piece of creative.
4. Test, then test again.
When you launch your ads, use 3-4 different ad options all targeted at the same audience. Try using different landing pages or each too, you can also test those. The more options you add while creating a campaign the easier it is to optimize. You'll be able to see your results and make edits inside of HubSpot.
5. Build a nurturing workflow for your leads.
The sooner you follow up with a lead generated by ads the better. Whether this means via a salesperson calling or a quick email to the user, you want to start nurturing these folks immediately. Build a smart list in HubSpot that gathers all leads that have come through a certain campaign and a corresponding workflow to start this process.
6. Measure ROI, not just clicks, with the ads add-on.
HubSpot integrates with Facebook, LinkedIn, and Google ads. Our integration allows you to see which ads drive leads and if those leads turn into customers. This makes it easy to turn off or tweak unsuccessful campaigns or put more budget towards successful campaigns. This is the key to turning paid media into a profit center.
HireVue's Results
In the seven months that HireVue has been using a combined approach of ads and inbound, it has seen a 26% positive return on its investment based on closed deals. The impact on deal pipeline has been even more dramatic. For every $1 HireVue spends on LinkedIn, it generates $9 in opportunity pipeline. Pipeline opportunity is a critical result of HireVue's demand gen efforts. LinkedIn Sponsored Content has allowed HireVue to reach its most valuable audience with powerful inbound content. In the end, HireVue has created a complete, modern, and powerful inbound ads funnel, using the best LinkedIn and HubSpot have to offer.