The first day at any new job is nerve wracking to say the least, but on my first day at HubSpot I knew it was about to be an entirely different ball game.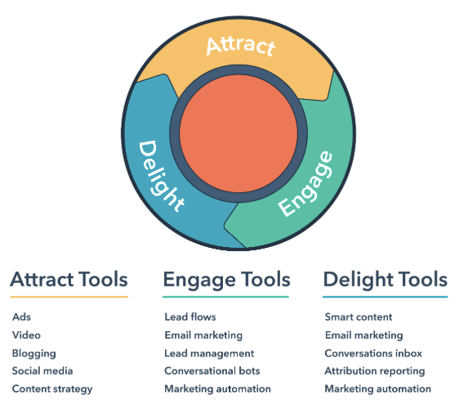 There I was, my first professional role in the tech industry and I had the entire tool to learn from the ground up. Scary? Not quite. Intimidating? Absolutely.
Everyone kept telling me that I would learn a lot. "It's a steep learning curve," they said "but you'll learn things you never thought you could learn."
While I had worked in media and had scattered previous experience with marketing, I was brand new to HubSpot — at the time a soon-to-be full platform — and to the inbound methodology. My trainings would teach me a lot but I knew I was going to have to put in a good amount of outside work just to get up to speed on terminology. As someone keen on the "learn by doing" strategy, I knew there would be no shortage of mistakes to learn from, (yes, many Workflow branches were accidentally deleted during this educational period), but I was ready to hit the ground running.
So here I was, an extensive tool in front of me, but how to use it and use it effectively? To my delight though, the training program for HubSpot is no joke and the resources are aplenty.
During training, HubSpot new hires are tasked with creating a hypothetical business and build its website. This website is built to encapsulate all things inbound and the business must have a way to generate revenue.
Through this process, new hires generate buyer personas, create content offers, develop a conversion path to generate leads, publish blog posts, use social posting tools to grow a following, leverage the Workflows tool to nurture evolving relationships leads and automate marketing efforts, then present this project to the training leaders.
And guess what? Everyone was right, I learned a lot and I learned things I never thought I could.
After 30 days, I not only had I built out a business from scratch, but I saw its potential grow as I racked up page views and generated leads that were downloading my content at each phase of their buyer journey. I was truly able to put the scope of these tools into perspective and understand how they all fit into the inbound marketing strategy.
Thrilled that I was able to evolve from being a HubSpot amateur to a growing business owner in 30 days, I wanted to share my method in a series of phases for those who are just getting started with HubSpot. Below are observations, tips, anecdotes, user guides, blog posts, and HubSpot Academy Lessons that will aid in your HubSpot climb.
Phase One: Learning the Framework
Inbound is all about getting found by and attracting customers through relevant and helpful content and adding value at every stage of your customers journey.
By creating and sharing helpful content that your customers love, you will attract more qualified prospects to your business and build loyalty from their first interaction with your company.
Takeaway #1: The Inbound Methodology (your GPS)
The Inbound Methodology is considered the best way to turn strangers into customers and it helps to guide our actions as marketers. There are three actions an inbound marketer must take in order to continuously generate visitors, leads, customers, and promoters: attract, engage, and delight.
In 2018 HubSpot shifted from the oft-used funnel to the flywheel model, realizing that customers can be a driving force in helping your business grow. Check out the simple graphic below:
In short, HubSpot is built on and provides the tools companies use to accomplish these actions. Look here for a complete understanding of the inbound methodology.
Before you can create the content to attract, engage, and delight - we need to think about who we're making the content for. Who is the buyer?
Takeaway #2: The Buyer Persona is your building block
As marketers, we are creating and gifting content to our customers on a daily basis. But how do we ensure that what we're giving them is something they want rather than what we think they want.
This is a key lesson to learn early on with inbound marketing. Every decision you make needs to be focused on your buyer persona. Just because you like a certain marketing technique does not mean your buyer persona will like the same technique. This resonated particularly well with me when I realized my subscription-based business that was geared toward early twenty-something female professionals would likely generate more leads through social than through email marketing.
So when you're creating content, take a step back and be honest - is that blog post appealing to you or for your buyer persona?
Try out these resources when developing your Buyer Personas. Remember, these are the people you want to attract to your business.
Buyer Persona Resources:
Buyer Personas and The Inbound Methodology make up the foundation, but there is a plethora of tools that get the flywheel spinning.
Takeaway #3: Content and conversion are an exchange
Inbound marketing is the definition of a trade-off. For example, blogs offer readers solutions to their challenges, provide a niche education, and give advice. In exchange, marketers get the opportunity to kick off the conversion path; deliver educational content; and convert visitors into leads.
HubSpot's in-person training is the best and fastest way to learn how to build an effective conversion path. If you're eager to get going, click below for the practice you need to serve your content best.
Content & Conversion Path Resources:
Once you have a conversion path for your Buyer Persona, it's time to promote your offer. Search engine optimization (SEO), here we come!
Phase Two: Make Yourself Known
Takeaway #1: If you're not in the top 10, you're invisible
Let's be honest here: how many times have you abandoned a Google search when the answer you're looking for is not on the first page? I'd be willing to bet the answer is "every time." Needless to say, the second page results are not getting much love, and over the years search has changed.
We now search the way we talk, instead of punching in keywords we punch in queries. Because of this, it's important to focus on the topics that are relevant to your business and create comprehensive content around them to be found online.
It all starts with topic clusters, which are comprised of three key ingredients: pillar content, cluster content, and hyperlinks, which are described in greater depth in this blog post.
To boil it down, your topic cluster is a series of content connected by one topic. By organizing content within topic clusters instead of individual posts, we're able to capture a large amount of search traffic across an ever-increasing pool of relevant keywords and help to better build your authority. Start with these resources when approaching SEO:
SEO Resources:
You should consider how people speak when optimizing for keywords, especially as natural language optimization is becoming the new normal in our search engines. Get ahead of this by considering all of the variations of your long-tail keyword.
Want a tool that will form the questions for you? Look no further, this one is a crowd favorite: www.answerthepublic.com.
Takeaway #2: There's more to social strategy than Publishing
If content is King, then in 2019, social is the Queen. And if we're talking strategy, it's so much more than posting, it's monitoring, engaging and analysis. Don't neglect your social monitoring streams and don't post without some thought.
An image might speak a thousand words, but it also can get scrolled by instantly. A well thought out caption with your buyer persona in mind could be the difference in a scroll or a thumb-stop.
We, as people, have developed a skill to spot mass communication – and we hate it. Let your brand be the reason to stop the endless scrolling. Luckily HubSpot can help streamline your social publishing and make communication with your prospects, leads and customers that much easier.
Social Media Resources:
Phase Three: Expediting your Workday
Takeaway #1: Earn your time back with Active Lists
Need a straight forward way to gather a specific group of contacts in one place based on fixed criteria? Active lists should be your go-to tool when thinking of new ways to get more people to subscribe to your blog or convert on your landing page. You can create lists in HubSpot to segment and manage your database more effectively by targeting a range of criteria.
Do you want everyone who visited your landing page but didn't fill out a form to be segmented into a list? You can do that. Check out these training resources that helped improve the quality of your communication.

Active Lists Resources:
Takeaway #2: Workflows allow you to work smarter, not harder.
I was floored when I first realized not just the efficiency of the Workflow tool, but also the simplicity of it. A true dream for marketers. Workflows can be complex, but if you have no understanding of building list criteria, think of workflows as the next best thing.
From executing lead nurturing campaigns to automated task generation for internal teams, to copying data from one object to another, workflows can do it all in the background so you can spend more time focusing on your goals.
Are you looking for a way to parse out the people who submitted on your subscription form but haven't clicked on any of your email campaign offers since from those who have? Workflows can do that so that you can go take your lunch.
I do recommend starting off with simple workflows and building upon them - remember what I mentioned about accidentally removing all of the if/then branches. Check out these projects and resources to jump start your efforts.
Workflows Resources:
Please note Workflows are only available for Professional and Enterprise customers.
Phase Four: Reporting Basics
Takeaway #1: Reporting does not have to be a daily activity
Remember how I called myself a HubSpot amateur a few moments back? Well, everything I learned about reporting, I learned in HubSpot - there is a difference between monitoring performance to measure success and actually building, executing and speaking to a formal report.
For now, I will share the basics, but depending on what you're aiming to know, you will want to look at different analytics in HubSpot.
Driving Traffic: Check your Sources Report, social media, and Page Performance.
Generating Leads: Leverage landing page performance, list performance, lead scoring and the marketing dashboard for information.
Closing Customers: Look at your workflow performance, email performance, CTA dashboard and list performance.
Creating Promoters: Measure delight through social monitoring and email performance. Try integrating Survey Monkey or utilize HubSpot's Customer Satisfaction surveys to ask your customers for their opinions and experience. Learn how to integrate Survey Monkey here.
Please note: Customer Satisfactions surveys are only available for Service Hub Professional and Enterprise customers.
It's important to look at your data; analyze everything. Without it, you can't make good marketing decisions for the future.
Reporting Resources:
Please note: All HubSpot accounts come with standard dashboards for your tools. Professional and Enterprise users of all tools and Reporting Add-on users can build and manage custom reports.
Congratulations, you've made it it this far. Now, you're ready to dive in!
This has been my approach learning HubSpot from the get go. A few tips and tricks, but mostly just some hard work and a desire to put your nose to the grindstone. I hope this will help you to tackle this beautiful beast known as HubSpot.
Best of Luck! You will sharpen your skills over time. However, this should help you achieve "lift-off" with HubSpot.
Want to connect with others on HubSpot tips, tricks, and updates? Head over to the HubSpot Community to join a conversation or start one of your own.
---
If you want to ramp up faster join us for a HubSpot in-person course in your city!