What does "growth" mean in 2020 and beyond? This year has been filled with many changes and pivots, with over 40% of businesses expected to miss revenue targets this year. For many of us, "growth" no longer just means growing revenue or adding new customers. It means weathering the storm and looking for ways to bounce back stronger. The idea of growth has fundamentally changed.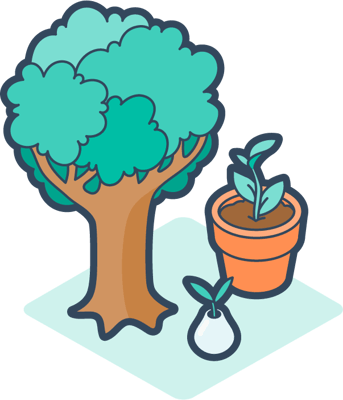 Sangram Vajre, co-founder of ABM solution and HubSpot App Partner, Terminus, said it best: "Retention is the new acquisition and helping is the new selling." But the real question is, how do you set your organization up for resilient growth? What does that even mean?
"Retention is the new acquisition and helping is the new selling."
Growth can feel daunting, but it doesn't have to be. When your organization adapts a resilient growth strategy, you aren't only setting your organization up for long-term success, but also your customers.
At HubSpot, we've developed a tool to assess your growth strategy and identify opportunities for improvement called the Growth Grader. This is the tool our Sales and Service teams are using to build growth plans for our customers and that we used to evaluate ourselves this year. Let's take a look at how to apply it to your own business.
How the Growth Grader Works
The Growth Grader is a tool that assesses your organization's growth strategy across the flywheel and provides personalized recommendations for accelerating your growth.
The flywheel is a model adapted by HubSpot to explain the momentum you gain when you align your entire organization around delivering a remarkable customer experience. The speed of your flywheel increases when you add force to areas that have the biggest impact. Forces are programs and strategies you implement to speed up your flywheel. Since you're applying force to your flywheel, you also need to make sure nothing is opposing it — that means eliminating friction from your business strategy. Friction can be anything that slows down your flywheel.
The Flywheel
If you're concerned whether your flywheel is operating efficiently, the Growth Grader is a great place to start.
The Growth Grader breaks down your score and recommendations across the phases of flywheel -- attract, engage, and delight -- as well as fighting friction. For each phase, the tool provides your organization with a score out of 100. If you don't score a 100 in any phase you will receive recommended Playbooks to help improve your score. Your organization can then add these Playbooks to your Growth Plan. Improving each score indicates more efficient growth across the flywheel.
Let's dive into how HubSpot measured up.
What HubSpot Has Learned From the Growth Grader
At HubSpot we are constantly developing new ways to make our flywheel and growth strategy more efficient. And we knew that we couldn't provide accurate recommendations on how to do this without grading our own strategy.
Attract Phase
In the attract phase of the flywheel, you attract visitors with useful content and eliminate barriers as they try to learn about your organization online. The key is to earn people's attention, not force it. Would you call yourself a pro at generating traffic and leads? If yes, then you definitely have a high attract score.
If you are on the road to becoming a pro, some forces you can apply are:
content marketing
search engine optimization
social media marketing
social selling
targeted paid advertising
conversion rate optimization
How HubSpot Measured Up
HubSpot's roots are in content and inbound marketing -- we had great discoverability but not a strong referral motion, so we rated highest in the "attract" phase. We've always aimed to provide value before we extract value, so we've heavily invested in free content through our blogs, webinars, campaigns, social media, and HubSpot Academy lessons and certifications.
One playbook suggested to help us improve our score was referral marketing. As a result, we've built a customer marketing team and customer advocacy program, and are investing more heavily in our customer network.
Engage Phase
In the engage phase, you make it easy to shop and buy from your company by enabling buyers to engage with you on their preferred timeline and channels. Put a focus on opening relationships, not just closing deals. You probably have a high engage score if you are great at connecting with leads and nurturing them into customers.
If you are still looking to improve that score, consider adding a few of these forces:
website and email personalization,
database segmentation
marketing automation
lead nurturing
multichannel communication (chat, phone, messaging, email)
sales automation
lead scoring
"try before you buy" programs
How HubSpot Measured Up
We still have some growing to do in the engage phase. The Growth Grader helped us realize that although we have multiple channels to communicate with customers, we need to do better at bringing deep personalization to those channels. Building personalized relationships is only possible with a single view of the customer, and we are currently investing in this level of systems alignment.
One way we have started personalizing the experience is through our HubSpot Academy by providing learning paths and courses tailored specifically for marketing, sales, and customer service professionals. We are also investing heavily in developing buyer enablement tools, like the Growth Grader, and utilizing data in new ways to help our buyers select the right products to meet their unique strategic needs and goals.
Delight Phase
In the delight phase, you help, support, and empower customers to reach their goals. It is important to remember, customer success is your success. If you have a high delight score you are doing a great job of meeting customers' needs and solving their problems.
For those that are still increasing their scores you can apply forces like:
self-service content (Knowledge base, chatbot)
proactive customer service
multichannel availability (chat, messaging, phone, email)
ticketing systems
automated onboarding
customer feedback surveys
loyalty programs
How HubSpot Measured Up
Similar to the engage phase, HubSpot still has some work to do when it comes to delighting our customers. The Growth Grader highlighted that while we're good at reacting to customer problems, we could be better at anticipating customer needs and solving them.
A strategy we've implemented to become more proactive is creating a "Voice of the Customer" program to collect and analyze feedback across the entire customer experience and create accountability to act on that feedback. During our monthly management meeting, we invite customers and ask them for their toughest feedback. By doing this we gain first-hand knowledge of what our customers want and need.
Fighting Friction
While you're applying force to speed up your flywheel, you also need to be aware of friction that can slow your flywheel down. Friction is often caused by poor internal processes, lack of communication and misalignments between teams, and siloed work that results in a poor customer experience. Companies with a high score make it easy for customers to do business with them by removing points of friction in the customer's experience.
At HubSpot, this is the area we need to invest in the most. Our processes are currently fairly function-oriented and we are striving to become customer-oriented. We're in the process of a multi-year transition to a single system across our entire go-to-market so to ensure this goes smoothly, we've developed what we call our Resilient Growth Playbook, a thoughtfully crafted framework that can be infused into your long-term planning and strategy.
The five steps of the Resilient Growth Playbook are:
Unify decision makers to create alignment across the our organization group -- your strategy must be truly cross-functional across the company to be successful.
Identify growth opportunities to drive a disruptive customer experience. The Growth Grader is a great starting point.
Align GTM (go-to-market) Strategy by creating a 3-year strategy and 1-year operationalized plan.
Build systems excellence to make data access quick and easy -- disjointed systems lead to employee and customer friction.
Measure what matters and create an accountability structure to track across every segment and every country.
How HubSpot Achieves Resilient Growth
It was only two short years ago that HubSpot announced we were making a shift from a funnel-based business to a flywheel-based business. We decided to make this change because we wanted to build resilience into our business model and in our teams, so that we are set up for scale and can bend, not break, in times of crisis.
Our flywheel model has created amazing success for both the team and our customers, but our work still isn't done -- and we'll never truly be "done." Buyer behavior changes all the time. Markets change all the time. And as we are experiencing this year, the world can change too, really suddenly. That means the definition of a "good customer experience" is constantly evolving as well.
You can't grow without delivering a remarkable customer experience. But growing better is more than line items on a P&L statement or the parts of your flywheel. Growth is a promise you make to your customers, your partners and your employees that what you are building today, will be there tomorrow.
When we think of our growth promise, we think of four main ingredients:
Your value is more than your product.
Your employees are more than their job titles.
Your customers and partners are more than their deal sizes.
In times of crisis, growth is doing the right thing, even when it is hard. Especially when it is hard.
We should all strive to build not just profitable companies that can scale, but companies that our communities trust. It's possible to grow in a way that's exploitative, that mortgages the future, that is greedy. But we believe that companies should grow better. We hope this playbook helps you lay the foundation for resilient growth this year and in the future.
If you are a HubSpot customer or Academy User you can access the Growth Grader now.
Not a HubSpot Academy User? Sign up for free today