HubSpot takes a lot of pride in providing an all-in-one solution for you, our customers. We bring together everything you need to grow your business from a sales and marketing perspective, but we know there is more to your business than just two departments. That's why at INBOUND this year we launched HubSpot Connect.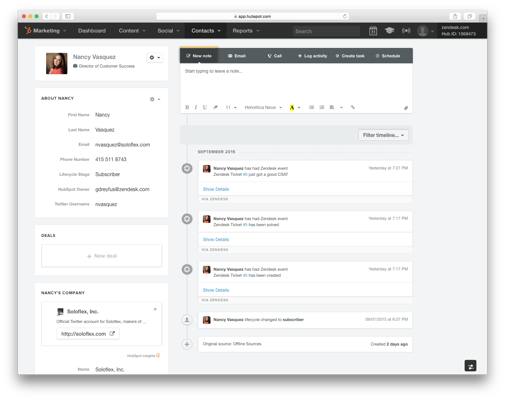 This new program allows you to plug complementary software from some of the best technology companies into HubSpot. Each month we'll feature new and exciting integrations you can start using with HubSpot today.
This Month's Featured Integrations
Zendesk - Leading cloud-based customer service software solution
Teamwork.com - Project management made easy
PandaDoc - Create, send, track, and sign beautiful sales proposals and quotes inside HubSpot CRM
Brightinfo - The only no-touch conversion optimization solution
Zendesk
When a person reaches out to your company they don't introduce themselves as a prospect or a customer. In fact, they probably don't care where they fall in your marketing lifecycle stage. However, they do care that their experience with your company is cohesive and helpful, regardless if they are talking to support or sales. Getting this wrong can mean losing a deal or customer.
With this integration, all Zendesk activities, like a customer email to your support team, automatically syncs with HubSpot contacts. Giving you a complete view of all your contacts' interactions with your company, so you can better personalize sales and marketing efforts.
"Zendesk's integration with HubSpot allows businesses to focus on their relationships with customers, not their internal functions." - Mikkel Svane, Founder and CEO, Zendesk
This integration is now in beta. Apply here to gain access. Although access is limited for now, we'll let you know soon when it's widely available.
Teamwork.com
The creative minds that come up with the most innovative and exciting inbound marketing campaigns aren't always the most organized. Thankfully, teams and agencies everywhere have Teamwork.com to help. Their project management software keeps every task involving your team in one place and helps them collaborate in real time.
We've integrated with Teamwork Projects Chrome extensions allowing you to create Projects inside of HubSpot. You'll also be able to:
Create a notebook in Teamwork Projects from a blog post

Link Teamwork tasks to Hubspot items

Link a Project to a Hubspot item

Start a timer in Hubspot and log time in Teamwork Projects
Get the integration now at Teamwork.com/hubspot.
PandaDoc
For those of us who work in sales, you know that momentum is your friend. You also know that there is nothing worse then losing it because you have to slam on the breaks to build a custom proposal or lose time having to build a piece of collateral from scratch. Enter PandaDoc. PandaDoc is shown to boost sales productivity by 35%. Allowing you to reclaim precious hours for every quote, proposal, and contract you send.
PandaDoc extends Hubspot CRM by providing everything you need to build and deliver engaging sales collateral that wins. Configure pricing quickly and easily. Close deals faster with legally binding electronic signatures. Track when a recipient opens a document and which areas they spent the most time on with in-app analytics.
Check out the PandaDoc - HubSpot Chrome Extension or learn more about our integration here.
Brightinfo
The best inbound marketers work hard on their content, busting out blog posts and over delivering on offers. But even so, not every piece of content takes off. Most of the time it's because it never finds the audience that is looking for it. Wouldn't it be nice to get more out of that content you work so hard on?
BrightInfo is an automated content personalization solution, that increases online conversion by an average of 30%-50% by offering your most relevant content to your anonymous visitors on your website, blog, paid media and social media. With BrightInfo, you have more contacts to work with in HubSpot, and a rich set of tools to make your content marketing more engaging and interactive than ever before.
With our new Brightinfo integration you'll be able to:
Mark BrightInfo leads within HubSpot with extra data for tracking and analysis
Benefit you investment in SmartLists as a way to better segment content offers to your audience
Segment personal marketing offers to anonymous visitors vs. known leads
To start using our BrightInfo integration today by signing up here.
You can always find and use all of our HubSpot Connect Integrations at HubSpot.com/Integrations.
photo credit: LEGO Connect Four via photopin (license)