Creating and launching an entire lead-generation campaign using original content can seem like a daunting task. Even if you have a great piece of content ready to go, you still have to find a way to get that content in front of the right people.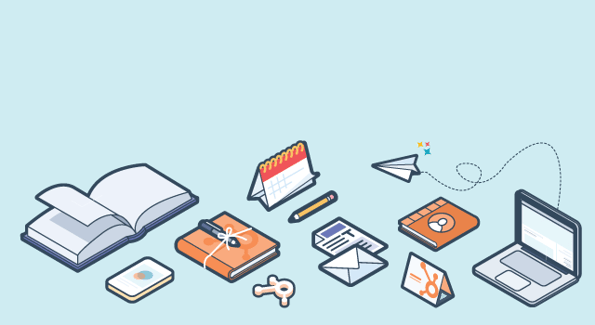 HubSpot has been doing this for years, and we have a tried-and-true system in place. Read on to get an inside look at how HubSpot promotes content after it's been created.
Creation of Conversion Assets
In order to prepare for content promotion, our marketing team has a lot of work to do. Our website team must prepare the content to be promoted. This team creates an optimized landing page for the content created by our offers team.
The landing page covers important information about the offer, including a catchy title, a brief explanation of the content and key takeaways readers will know after reading or viewing the offer. This landing page also has a form that collects information the sales team needs to qualify leads. At HubSpot, we collect information like company size, job title, and biggest marketing challenge on top of other basic contact information. Having this additional information about new leads allows our sales team to start personal conversations with each contact that converts on our pages.
The website team then creates the "thank you page" where people will be sent after filling out the form. This page will include a link to the actual offer for downloading, social sharing buttons and a secondary Call-to-Action (CTA) where appropriate. These CTAs send our prospects to a middle-of-the-funnel offer, such as a trial or a software demo. In the example below, the secondary CTA promotes our inbound marketing certification. HubSpot generates a significant amount of quality traffic on secondary CTAs, which helps us move prospects further down our funnel. This is an example of the CTA used on the thank you page for Free Template: How to Create Beautiful PowerPoints:
The final step in the landing page creation is the kickback email. This is the email folks get immediately after downloading an offer. You'll want to include a link to download the offer in the kickback email, as well as social sharing buttons so people can quickly learn more about your company through social media. You can easily add in social share buttons without much work on any of the pages you've created, as well as the emails you make. Social sharing modules come standard on pages within HubSpot. In order to activate them, just select the networks you want to enable sharing for within the module on the page:
As you create more landing pages, you can make small adjustments to see if you can increase conversion rates based on data from previous landing pages you've created.
Promotion of Content
Now comes the fun part: Getting your content in front of an audience! At HubSpot, we work together across all promotional channels to organize a coordinated campaign around the launch of each offer. We also work together on long-tail projects to help increase lead generation over a longer period of time. Let's go over how HubSpot uses each of our promotional channels.
Email Team
For most companies, emailing an internal database can be a great way to promote content. If your emails are optimized for social sharing, you can benefit from word-of-mouth marketing from your own audience. Our email team creates an email send around the time an offer is launched, encouraging folks to download and share the offer. Over the years, we've tested a lot of different things in our emails, ranging from subject lines to images in the email body. It's best practice to always be testing different email formats to find out what works best for your audience. Small adjustments can make for big changes in conversion rates.
Our email team also uses new content in lead-nurturing campaigns where appropriate. Lead nurturing is a series of emails that new prospects receive after converting for the first time. This is a great way to get related content in front of an audience you know is already interested in a given topic.
Social Media Team
Next, our social team prepares to promote the content across our largest networks, like Facebook, LinkedIn and Twitter, by creating optimized social images, which we can do with HubSpot's image editor. We use social media for several reasons throughout the promotion process. During initial launch, we promote our content on social media to drive traffic to the content. Most of our content has a hashtag associated with it. We monitor that hashtag to see if people are asking questions or making comments about the content. This is a great place for us to keep the conversation going as more and more people download our content. We also use social media as a medium to promote the piece of content even after the initial promotion has ended. If we see a discussion happening on a LinkedIn group about SEO best practices, we can suggest a blog post or ebook of ours that explains the SEO problem being discussed.
Conversion Team
Our conversion team creates CTAs for the new piece of content. We include CTAs to content in several places on our site: Blog posts, web pages and in our content library. On relevant blog posts, we include CTAs that slide in throughout the post as well as at the end of each blog post:
We also include CTAs to content on our login page:
Our content library hosts all of our long-form content. At the top, we have the option of featuring a particular piece of content, which we often do when we launch a new, high-quality content:
Of course, it may not be featured for long, as we have built a well-oiled content creation machine here at HubSpot.
Blogging Team
After creating a piece of content, our writers aren't finished just yet. Our content creators write one to two short blog posts related to the offer. These are usually posted on our own blog to help drive traffic to the offer. When possible, we use a blog post on a guest blog to help drive referral traffic to our offer.
Other Promotional Experiments
We have also experimented with smaller campaigns around certain offers, with a main goal of increased lead generation and awareness. For example, last month we hosted a webinar about Twitter for business. To increase engagement and participation, we tried emailing a small list of people we considered "Twitter influencers" in our database. We asked these influencers to share with us their tips on using Twitter, and we would feature their tips on the webinar, and in the SlideShare content following the webinar. In return, we asked that they shared the webinar with their own audiences, thus generating more webinar registrants!
On another offer, we adjusted the main CTA in a kickback email to encourage sharing. Instead of sending them another piece of content from HubSpot in the email, we made the CTA a large image, asking if the viewer had one friend who might be interested in the content and encouraged them to share it with that one person. Initial results proved that this adjustment was successful.
Adjust and Analyze
Once a piece of content has been launched, we look back and analyze what worked and what could have gone better. Using the Sources report and other HubSpot data, we can see which parts of our above promotional plan made the biggest splash in terms of lead generation, which was our main goal in this case. Using this information, we can now make adjustments to future campaigns. For example, if an email we sent did not generate many leads for us, we might consider spending less time emailing in the future and instead allocating more time to a channel that proved successful.
In the report below, which shows leads generated from a variety of ebooks about Facebook, we can see that the ebooks represented in red and light blue had more success than other ebooks. Our team can now dig into what was done for these two ebooks to determine if it can be copied for all other offers.
If you want to learn more about HubSpot's marketing team, check out this upcoming free live webinar featuring HubSpot CMO Mike Volpe on how HubSpot builds and measures it's marketing team.