Over half of marketers have seen Facebook advertising produce the highest ROI. So when it comes to picking channels for ad spend, including Facebook in that decision can be seen as a no-brainer for marketers. There are so many ways to include Facebook ads into your marketing strategy to achieve your business goals, and Facebook provides ample tools to help advertisers make that happen.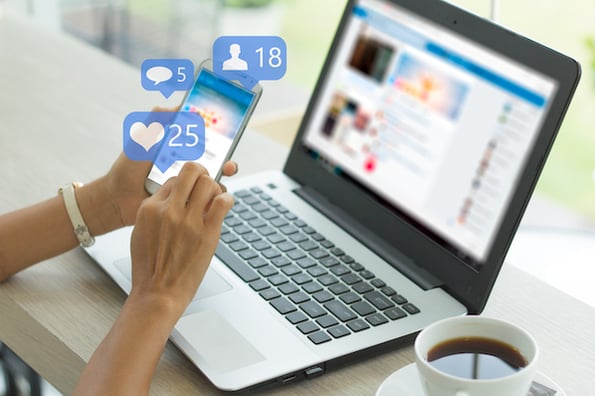 These tools offered by Facebook can even help you with account-based marketing efforts. Account-based marketing is a highly-targeted marketing approach that focuses on marketing to a set of decision-makers at a company using content specifically designed for them.
Facebook can help you target the companies that are part of your ABM strategy at each stage of the buyer's journey, making it a perfect partner for advertising with ABM.
Are you ready to learn more about how Facebook Ads and ABM work together? Let's talk about that, as well as go a little deeper into account-based marketing, next.
The Evolution of Account-Based Marketing
In the past, B2B marketing has usually involved a long, complex sales cycle with multiple decision-makers.
One person used to make the buying decision in many businesses, but as companies leave the silo approach behind, decisions today are made by multiple departments. This results in multiple contacts from different teams being involved in a final decision.
As companies grow, the number of people involved in buying processes grows, as well as the need for a successful ABM strategy.
Purchasing processes for decision-makers are complex. Because of that, a deep understanding of target accounts is needed to close more sales. Let's talk about how to do that with the inbound methodology applied to ABM in the next section.
How to do ABM the Inbound Way
A primary function of most account-based marketing strategies involves getting one conversion at a targeted company and using that single known contact to expand the number of known people at a targeted account.
Once that initial conversion is made, the focus shifts to growing the number of interested decision-makers by delivering helpful, tailored content.
The stage mentioned above is when tailoring your ABM strategy to run concurrently with the inbound methodology comes in. Taking an inbound approach to expanding your reach at a targeted account is one part of this. It's done by running helpful paid ad campaigns focused on generating new conversions of unknown contacts, shown below:
Paid ads help extend the reach of your company's ABM efforts. In the next section, we're going to dive deeper into why using paid ads can be an essential part of your strategy.
Why use ads for ABM?
Ads are essential to any ABM strategy because they help extend your company's reach to new audiences. Ads give your company the opportunity to use demographic information to send highly personalized messages to target accounts — even if the contacts within that account are unknown outside of your database.
Another reason ads are a vital part of ABM strategies is that they help ensure you're reaching your target companies with relevant messaging throughout all stages of the buyer's journey.
Before any purchase, a user is exposed to multiple touch points — whether that be on a search engine, a friend's LinkedIn post, or a pricing landing page. Ads allow you to be present at multiple points during a target account's buying process.
How Facebook Ads Help Your ABM Efforts
Databases like HubSpot's software are a great place to start creating audiences to serve your Facebook ad content. You can build a contact list in the CRM and use it to begin making those ads.
Then, use this list to build a custom audience on Facebook. If you have the HubSpot ads add-on, it can be done from the add-on by selecting that list to be used as a Facebook Audience.
If you do not have the ads add-on, you can build your list, export it as a CSV, and upload it into Facebook to use as the basis for your lookalike audience, shown below:
From there, you can also use that CSV file to create a Facebook lookalike audience. Facebook takes your list and builds one similar to what you provided.
The smaller the lookalike audience you choose, the more closely it will match your source audience, but larger lookalike audiences will increase reach potential. You can change this by adjusting the "Audience Size" bar (shown in the screenshot).
There's two benefits of using lookalike audiences for an ABM model. First, Facebook can find additional contacts at the target companies from your list. Second, Facebook's software can also find similar contacts at different companies to expand the list of contacts you've built.
Now that you know a little more about how these ads can assist in your ABM strategy, let's talk about how to use them on Facebook.
Using Lead Ads in HubSpot
HubSpot's new integration with Facebook Lead Ads makes it even easier to use paid Facebook campaigns to grow the number of known contacts at a target account.
Lead Ads are an ad unit from Facebook built to capture leads. The ad shows in Facebook and Instagram news feeds, on mobile and desktop, and pre-populates with information you've already shared with Facebook. This makes the user experience for submitting a form on mobile much easier and quicker, leading to a higher conversion rate.
Running a targeted lead ad campaign for a lookalike audience based on the contact list from target accounts you uploaded earlier is a great way to expand the reach of your marketing to additional contacts at your target accounts.
The Facebook lead ads integration in HubSpot is available for HubSpot Marketing Free and the Marketing Hub paid tools, and with the integration, you can create lead ads directly in HubSpot.
All leads that are generated through ads created in HubSpot are synced directly to your HubSpot database along with the form submission data, like any other HubSpot form. This data can be used for segmentation or enrolling in automation to nurture these leads immediately.
To make this task even easier for HubSpot users, in the initial launch, there's an option in the audience tab where you can add the Facebook tracking pixel to your HubSpot code. This is only available for Marketing Hub users and lets them build a retargeting audience in Facebook without having to change or update the code to their site.
This helps you ensure that if you can get a contact at a targeted company to the site, you'll have a mechanism to bring them back if they don't convert on the first visit.
By using Facebook lookalike audiences and lead ads as part of your inbound account-based marketing approach, you can target contacts at the companies your sales team wants to sell to and easily report on how well you're doing.
Now that you know more about ABM, Facebook ads, and how they're a great partnership, you're ready to create terrific ads to delight your target contacts. How do you plan on using the two together in your next strategy?