HubSpot is designed to leverage the hours in your day. It helps you do more with less. We do this through our tools and the Inbound Methodology. Within that methodology, though, the largest challenges marketers face often lie outside of typical marketing activities.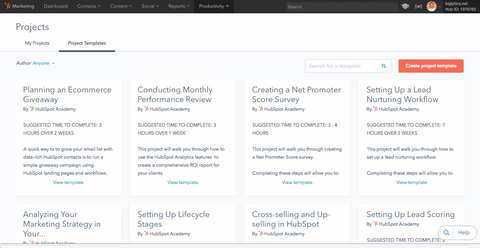 We observed a great deal in unpacking these challenges. Marketers and their teams communicate by email. They manage their projects across diverse apps. They calender their time and production in separate spreadsheets. On top of that, they do the bulk of their content work inside HubSpot. This is scattered and confusing and makes it hard to get things done. So, we set out to fix this.
Introducing HubSpot Projects: a powerful new productivity tool that's going to transform how you collaborate, work, and learn inside of HubSpot.

The New Way to Learn Inbound

Projects is more than a new way to manage and organize your work within HubSpot. It's the new way to learn inbound. We built the tool with the HubSpot Academy team, fusing their inbound professor's expert knowledge into the product's DNA. The result is pre-populated Project templates that guide you through countless inbound marketing tactics, strategy, and execution.
You can use the templates as blueprints. You can use the templates to teach. You can use the templates to learn.
Never created a newsletter before? First time running a webinar? Need to re-design your website but don't know exactly where to start?
Experience is no longer a limit, just grab a pre-populated Project template and get to work. An Academy expert has already organized all the tasks you need to execute the perfect newsletter email or plan for your first campaign. Everything is provided; links to the proper HubSpot tools, relevant help articles, and extra materials including free templates and tools.
Project templates are all customizable once you copy them into your portal. Add, delete, and edit tasks in order to make it your own. You can also assign an owner from your team and add a due date for them with inbox notifications.

With Projects, you now have the plan, the players, the timetable, and the resources organized where you already work: in HubSpot.
Work Where Your Work Is
We're in a renaissance of productivity tools. Each of these tools take a unique approach and it's changing the way we work. These tools can help but often multiple tools mean multiple distractions. They all end up shouting for your time and attention. On top of that, how many hours have you spent searching for an email, card, or a doc because you have too many tools and systems?
Projects is designed to stay out of your way. It's your guide when you need it and then just points you towards what you should use in HubSpot to reach your goals. Because Projects is part of HubSpot and connected to our different apps, like Calendar, you're always right where you need to be. Everything is always in the right place.
One Team, One Dream
Working in sync with your team may be one of the most challenging parts of marketing. It's also worth the investment, when everyone rows in the same direction the impact is huge. It can take a lot of moving parts to build a newsletter, redesign your website, run a webinar or any number of other marketing initiatives. You often need a marketer, copywriter, designer, vendors or more folks involved.
The majority of our customers don't have the luxury of having a dedicated "project manager." Instead, it's everyone's responsibility to own their part of the project. With each person keeping an eye on timing and due dates, as well as contributing to the project. This is the kind of team we built Projects for. Teams that want to spend less time managing and more time marketing.
"HubSpot is already our single source of truth for marketing programs. However, a key process that happens before launching any campaign is extensive planning, and with Projects we can now connect all the dots."
- Ganesh Venkatesh, Marketing and Growth at imgix.com
Build your own adventure
We added Project Templates to give you a starting point, but you can always start a Project from scratch, customized to your business. Maybe you want to build a reading list for your team. Perhaps you want to put your company goals in a list and check them off as you complete them. Projects is yours and it can be used for anything that requires a list of tasks and visibility across your team. I sometimes use it for my grocery list!
A special feature for Agency Partners
Collaboration and campaign execution is particularly important for HubSpot agencies. With this in mind, we build some agency specific features. We know for instance many of you use tools to manage campaigns and work with your clients. To make this easy inside of Projects, we've created the ability to build your own templates and push them to other HubSpot accounts. This means you can create a template project for a generic campaign, make a copy of it for a specific client, customize it for their needs, and then push it into their account as a project so you can collaborate with them.
Our agency team is also building customer campaign kits in the form of projects, only available to our agency partners. If you haven't seen these, stop reading and reach out to your CAM/CC right now.
The future of working in HubSpot
There's no reason not to start a new initiative with Projects. If it's something that is new to you, start with a project template. If it's something you've done a hundred times, use Projects to keep your team on track and on time. If it's a custom process you want to delegate to newer team members, build it into a project, where you can monitor their work and they can work right where their work is.
We're currently focused on building out an amazing library of project templates. So anything from basic to advanced will be available for you as a template as well as adding the right features you and your team need to stay productive. Now go get to work!