What does your morning routine look like? If you're anything like me, you start with the Skimm (after a hitting "Snooze" more times than you'd like to admit), then grab a quick cup of coffee (or two), then hustle to work.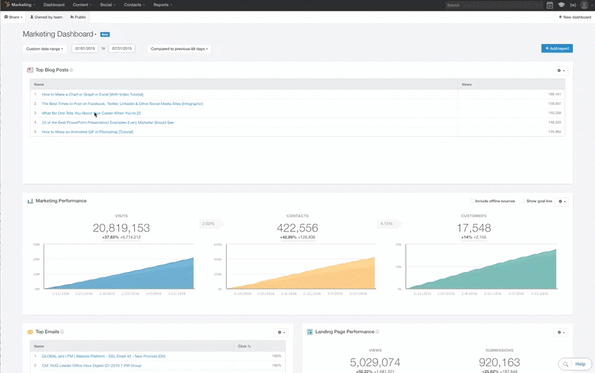 When you get to your desk, you buzz through your morning emails, then jump right into HubSpot. Before diving into your tasks for the day, you spend a few minutes dissecting the data on your Dashboard as you sip your morning coffee. Are we on track to hit our visits goal this month? Are we beating last month's contacts goal? Which blog posts have been knocking it out of the park? Once you're done with your coffee, you ditch the Dashboard and dive into your tasks for the day.
The Dashboard is the first screen you see in HubSpot, and it's vital that it provide the data you need to measure the most important metrics for your team. Today, we're excited to introduce a brand new design for your Marketing Dashboard. Don't panic — the new Dashboard has all the metrics you're used to, and more.
The New Marketing Dashboard
In this post, we'll walk you through how to get the most out of the new design.
Quickly, What's New?
Logging into HubSpot today, you'll see a banner at the top of your Dashboard with a link to check out the new one. Click on that, and you'll brought to the new interface.
First thing you'll see? The key inbound marketing metrics you've grown accustomed to are right where you left them: every data point in the Dashboard's previous rendition remains easily accessible in the refreshed update. But wait... there's more! The new design has a slew of new features to help you get the data you need, when you need it. Below, we've listed a few of the most powerful.
6 Ways to Get The Most Out of the New Dashboard Design
1) Change your date range.
At what frequency does your company run its reports? Are you on a quarterly cycle, a monthly sales process, or something different? Use the dropdowns at the top of the new design to choose the most relevant date range. And, for the first time ever in HubSpot, utilize a custom date range to get granular with your data.
2) Reorder your dashboard.
Reports aren't one-size-fits-all. Not every business needs the same reports. With the new dashboard design, it's easier than ever to resize your reports. Simply click the bottom-right corner of any tile and drag it to your preferred size, like this:
3) Resize your modules.
Make your most important KPI's front, center, and BIG. Drag and drop the corner of any report to change its size.
4) Remove modules you don't need.
Haven't started using Personas in HubSpot just yet? Check out this HubSpot Academy course to begin creating personas. In the meantime, there's no need to keep them on your Dashboard. For any report you don't need, click the cog in the upper-right corner, then "Remove," to take it off your Dashboard.
5) Email your dashboard.
While we'd like to think you're spending your whole day in HubSpot, we appreciate that you and your team have other things on your plate. As you're performing your day-to-day marketing activities, it's pivotal for you to keep track of your most marketing performance from wherever you are. The ability to set up email schedules for your dashboards brings the power of your analytics to your team members' inboxes. To send a one-time snapshot of your dashboard, click Share > Email Now, and follow the prompts. To set up a regular email cadence (e.g. once a month, before your monthly marketing meeting), click Share > Create New Recurring Email and set up your recipients, subject line, message, and frequency.
6) Add custom reports.
Want something more custom on your default HubSpot Dashboard? An MQL or opportunity report? More detail on which channels are most effective? A revenue report, or a breakdown of the companies in your database? The new dashboard allows you to add additional reports to the dashboard through its seamless integration with the Reporting Add-on. Already using the Add-on? To add a non-standard report, simply click Add Report from your new dashboard. Find your report of choice from the Template Library on the ensuing page, and click "Add." Don't see a Template that fits your needs? Click "Build From Scratch" to create something tailored. Not yet using the Reporting Add-on? Try it free for ten days. If you decide not to move forward, it'll go away --- no charges, no harm done.
Ready to get started with the new dashboard? Start exploring it now. A quick note: as we're transitioning fully to the refreshed design in the coming months, you'll continue to have access to the current dashboard --- click the opt-out button in the bottom right of the new design to switch back to the previous version.
Have feedback on the new tool? We'd love to hear it. Use the link in the bottom-left corner of your refreshed dashboard to let us know what you think.