Personalization has been one of the most widely discussed marketing topics in 2015. Creating relevant marketing can be daunting. After all, where do you start? Between personas, updating existing content, and defining the overall conversion path, it becomes an overwhelming task.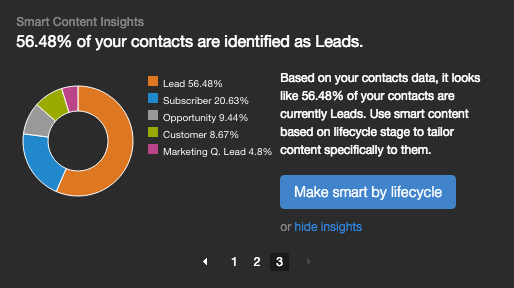 But it doesn't have to be. In fact, we recently added Smart Content Insights to help cut-down on some of the work of implementing personalization. Today we'll walk through how you can utilize Smart Content Insights, along with your contact database, to drive conversions across all your content from your website to your landing pages.
Note: Smart Content and Smart Content Insights are available at the HubSpot Professional and Enterprise subscription tiers. You can try HubSpot Professional or Enterprise in your account today. In addition, to use Smart Content Insights you need to utilize the new inline editors built into landing pages, blog, website, and email.
What is Smart Content Insights?
Using HubSpot, you already have a lot of information within your contacts database that you can surface in lists and reports to learn about your visitors. Smart content insights takes that concept and brings it directly into your content creation experience along with tailored recommendations.
Within a page, simply hover over the smart content icon, or go to the optimize icon on the left-hand side to see your recommendations. Smart content insights will display up to three recommendations based on known visitor information and allow you to personalize your content based on that information in one click.
How to Use Smart Content to Increase Conversions
Now that we know what smart content insights is, how can it help get more results from your marketing? Let's run through a few examples to highlight how you can get the most from adding personalization.
Events, whether they're live events like a webinar or in-person events like a conference or a user group, can attract a diverse audience. To improve messaging for these events, Smart Content Insights will automatically give you a breakdown of your traffic sources by lifecycle stage. As pictured above, just click "Make smart by lifecycle" and you will immediately be able to create content for any of your lifecycle stages.
Content Offers
Easily find out if some traffic is coming from international locations. If so, you may want to consider using smart content by geography to translate or localize your content to that market. Taking this seemingly simple step can help international visitors relate more to your content and brand, and drastically improve the performance of your marketing.
Your Homepage
Knowing where traffic is coming from visiting your homepage can help place more relevant content and calls-to-action. For example, if I look at the lifecycle stage of the visitors coming to my homepage, which we can do directly from smart content insights, I can see if a lot of MQLs or leads are visiting. In this case, I want to drive MQLs to become sales so instead of showing the default content on the homepage. I can change it to customer testimonials, or case studies. For leads, I can show a different set of content and utilize Smart CTAs to direct them to another resource, such as a webinar.
How to Get Started with Smart Content Today
Implementing personalization doesn't have to be daunting. Using your data that Smart Content Insights provides makes it a lot easier -- but still requires creating content for the audience or persona that you're customizing it for.
To get started today, start by looking at your top 5-10 content offers and any critical points along the path where leads can turn into customers, such as your homepage. Take those initial areas and see what smart content insights tells you for each page. Some pages may be easy to personalize based on the data within Smart Content Insights, especially if you already have content created for that segment.
Start with pages that will have high impact, and work your way through all of the content in the conversion path for the best results. Happy personalizing!
Let us know in the comments how you are using smart content, and smart content insights.