From managing your budget to finding your soulmate, technology has made it delightfully easy to do complex things. But when it comes to marketing, tools offer either enterprise power or consumer-grade ease of use. But not both. Until now.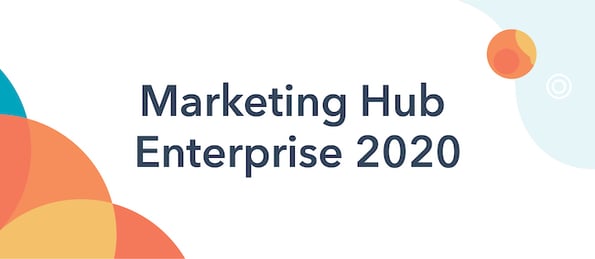 Today, we're excited to announce Marketing Hub Enterprise 2020: Marketing Hub Enterprise is now packed with even more powerful features your growing team needs — with the same ease-of-use you, our customers, know and love.
This post will introduce you to all the new features of Marketing Hub Enterprise.
What are the new features of HubSpot Marketing Hub Enterprise?
Now let's walk through each new feature in a little more detail.
Multi-touch Revenue Attribution
What it is
A brand new type of report that ties revenue to marketing interactions. For too long, marketers haven't gotten the credit they deserve for the business growth they drive. With HubSpot's new revenue attribution, that all changes. You can tie closed-won deals to every marketing interaction, so there's never a question of how much marketing moves the bottom line. That'll make your next budget conversation a whole lot easier. Plus, with the new revenue attribution, you'll make better strategic marketing decisions by optimizing your strategy based on what drives the most revenue.
How it works
Navigate to Reports, under the "Reports" navigation item. Click "Create a Report," then "Attribution" and "Revenue." Note that you'll only see this option if you're using Marketing Hub Enterprise.
The first thing you'll see: a handy set of pre-built reports built to answer the questions we hear from marketers most often:
Curious to create something custom? Click over to the "Configure" tab and customize the report to match your business. Want to report on what's driven deals from a certain region or time period? Choose a specific set of deals in the builder. Want to assign credit to only certain marketing interactions? Choose an attribution model that suits you best -- there are more than half a dozen, including industry-standard multi-touch models like U-shaped and W-shaped.
Here's a quick video that walks you through the report:

Want a deeper dive? Here's the full Academy lesson.
How to get access
Multi-touch Revenue attribution is now available in all Marketing Hub Enterprise accounts.
Partitioning (beta)
What it is
Separate out all your marketing assets by team, so everyone in marketing has the right access to the right content. Previously, you could partition pages and blog posts by team. With this update, you can now partition CTAs, forms, emails, lists, workflows, and dashboards too. As an added bonus, you can create multiple email preference centers by team, too.
How it works
Navigate to any of the assets above. Select any asset or group of assets, then click on the gear and "Assign Users and Teams." As an admin, choose the teams that should have access, click "Save," and your changes will be applied --- only members of those teams will have access to the asset.
Want to make your partitioning happen automatically? Navigate to Settings > Users & Teams > Teams and enable the auto-assignment toggle at the top. Enabling the toggle will automatically restrict access to newly created content to the creator, his or her team, and parent teams.
Here's a quick video that summarizes partitioning:
How to get access
The new partitioning features are now in beta. To request access, navigate to Settings > Users and Teams and click the banner at the top of the screen. We'll let you know as soon as the feature is available in your account.
Account-based Marketing (beta)
What it is
Account-based marketing (ABM) is a highly focused business strategy in which a marketing team treats an individual prospect or customer like its very own market. The marketing team can create content, events, and entire campaigns dedicated to the people associated with that account, rather than the industry as a whole. Today, we're announcing a new set of features that make it easy to execute the fundamentals of an account-based marketing strategy: company scoring, ABM reports and dashboards, and default ABM properties.
How it works
There are three new features:
ABM Dashboard & Reports Library - A new out-of-the-box dashboard and pre-built reports for both marketers and sales teams that help you answer common questions around target account engagement, and your ABM strategy as a whole. Once the beta is enabled, you'll see a brand new dashboard in your dashboards dropdown for ABM. In addition, when you add a report to any other dashboard, you'll see a new category for ABM on the left-hand side.
Company Scoring - Rules-based scoring on the company level makes it easy to measure the engagement of and prioritize your target accounts. Use our out-of-the-box scoring criteria, or customize your scoring rules to fit your specific needs. To set up company scoring, navigate to Settings > Properties, and create a new company property. When choosing your "field type," choose "score." Then, configure your scoring criteria. Add and remove points for the company characteristics that are most relevant to your business.
Standard ABM Properties - New standard contact and company properties give you the foundation for your ABM strategy in HubSpot. Define your target accounts with the "Target Account" checkbox. Rank your accounts based on their fit using the "ICP Tier" property. Keep track of which role different contacts play in the sales process with the "Buying Role" property.
Prefer to watch a video? Here's a quick walkthrough:
How to get access
Account-based marketing features are in an early beta for Marketing Hub and Sales Hub Professional and Enterprise accounts. To request access to the beta, reach out to your HubSpot point of contact.
Adaptive Testing
What it is
Artificial Intelligence-powered A/B Testing. No more need for manual test setup or measurement. Use advanced machine learning to continuously and automatically run tests and optimize your website's conversion rates.
How it works
Start in the CMS Hub page editor and click "run a test." Choose "adaptive test." Next, choose your goal and add up to five variations. Give each one a unique name. Once you've created your variations, the "run a test" button gets replaced with a dropdown that allows you to toggle between your variations and edit them to your liking. When you're done editing all your variations, click "publish." Easy as that!
HubSpot will optimize traffic as the test runs, sending more traffic to better-performing variations over time. Once we collect enough data, our AI will choose a winner for you. Data from your test will appear in the "test results" tab:
How to get access
Adaptive Testing is now available in all Marketing Hub Enterprise accounts.
Advanced Targeting in Conversations
What it is
Trigger unique chatflows based on a visitor's location, page scroll behavior, referral source, and more. With advanced targeting in Conversations, you'll increase chat engagement rates by providing visitors with a more relevant and personalized experience.
How it works
Navigate to chatflows via Conversations > Chatflows. Create a chatflow or edit an existing one. You'll see a brand new tab for "Target" on the left-hand sidebar. Use this section to configure who should see your chatflow:
The new targeting features live within the "visitor information and behavior" section. You can now target based on:
Country
Browser language
Device type
# of visits
# of days since last visit
Previously visited page
CTA clicked
Forms viewed
Contacts (known or unknown)
Segmented list
Mix and match these rules into the targeting criteria that fits your situation best.
How to get access
Advanced targeting is now available in beta to Marketing Hub Enterprise accounts.
Higher Capacity
What it is
As you grow, your marketing team pushes the limits of creativity. But you shouldn't push the limits of your software. With a recent update, Marketing Hub Enterprise has higher automation limits (1000 workflows instead of 500) and reports (20 reports per dashboard instead of 10).
How to get access
The new limits are now in effect in all Marketing Hub Enterprise accounts.
The new Marketing Hub Enterprise makes things like organizational scale, reporting, and account-based marketing delightfully easy.
Already a Marketing Hub Enterprise user? Head into your account to try out all the new features.
Not yet a user? Get in touch with the HubSpot team today.