This week we introduced lead ads for HubSpot, a first-of-its-kind integration between HubSpot and Facebook Ads that lets you create Facebook lead ad campaigns while still inside of HubSpot. Lead ads are great for B2B because they are very effective at generating leads from mobile users on the Facebook Mobile App and Instagram. And when you use the integration, those leads jump right into HubSpot, where you can get them into a workflow and start the nurturing process.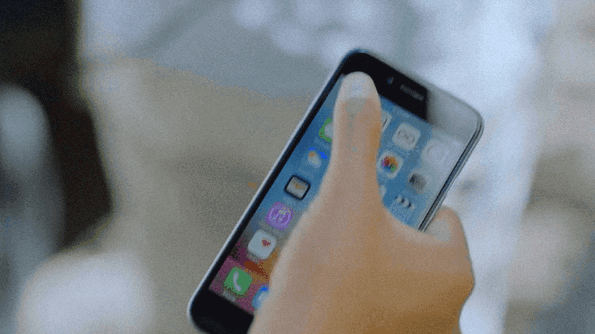 Try it out in your portal. (Or sign up for free if you're new to HubSpot.)
Social Media has Changed
People don't access the internet like this anymore:
They access it like this:
Of course, people still use desktop computers and visit websites. But today the majority of time spent online comes from mobile and is spent in apps. See the Mary Meeker trends chart below, and imagine what the next few years will look like.
What are all these people doing on their phones? They are spending time in social media. And guess what? Facebook owns three of the six most-used apps.
They have really done an amazing job at building the new mobile-focused internet. But this isn't necessarily good news for marketers like you. In B2B marketing, the school of thought tells us this is very bad. I'm sure we've all read blog posts and heard colleagues say that mobile marketing does not work for B2B. They say people don't fill out forms on their phones, use search as much, or read long-form content. They also say Facebook and Instagram are social places, not places to talk about B2B content.
Are they right? Well, yes; many of those things are true. There are some ways to optimize for mobile and social, but things have changed. We can't keep doing what we've always done and expect the same results. It's time to adapt, to match the change we've seen in social.
Sometimes adapting to change is hard, complicated, and messy. Sometimes Facebook comes along and builds an awesome solution specifically for B2B/SMB and work directly with the HubSpot product team to build a great solution.
Lucky for everyone, the second option is our reality.
Lead ads Solve the B2B Mobile Marketing Dilemma
Lead ads are an ad unit from Facebook that are built to capture leads. The ad shows in the Facebook and Instagram newsfeeds and on mobile and desktop, and pre-populates a form with information Facebook already knows about a person. This consolidates lead capture to just a few clicks. This makes forms work for mobile and in many cases results in mobile ads generating leads at a higher CVR than desktop offers. It's a mobile silver bullet and runs on Instagram, the Facebook mobile app, and Facebook desktop. It's a really easy way to modernize your mobile social marketing strategy and grow your business.
Introducing Facebook Lead Ads for HubSpot
Starting today, Facebook Leads Ads integrate with HubSpot Marketing paid tools and HubSpot Marketing Free. The integration will do a few things and exist outside the Ads Add-On. So no customers will have to pay for the features we are introducing this week.
If you're a HubSpot Marketing customer, you'll see a new Ads tab under your Content dropdown menu.
If you're a Hubspot Marketing Free customer, you'll see a new Ads item in your top navigation bar.
Ads Add-On users will also see this new Ads navigation item. Any lead ads created with this new feature will be tracked in the Ads Add-On.

What you can do with this new Integration
Creation:
You'll be able to create lead ads inside of HubSpot via a modal window that provides access to the Facebook Ads Manager. If you're new to Facebook Ads, this will streamline your creation process. If you already have an ads account, this still should save you time by keeping you in HubSpot for more of your work.
Lead Sync:
Leads generated via these ads jump from Facebook to HubSpot in real time. Each lead will have what looks like a form fill in HubSpot. You can use that data to create workflows that nurture these leads immediately, which will help you deliver the content that the ad may have promised, and route leads to sales.
Audience Sync:
The next step for the integration is to make HubSpot data available to use as a signal to target your ads. In this V1 launch, we're including a checkbox in the audience tab where you can add the Facebook tracking pixel to your HubSpot code. This is only available for Marketing paid users, and will build them a retargeting audience. This will take a little time to populate, and you'll need about 200 visits a month to any part of your website for it to activate.
We're working on adding more audience sync features to the Ads Add-On. When we do, Ads Add-On users will automatically get the updates.
We've already seen customers have success with lead ads. When done right, they are proving to be a relatively cheap way to generate high-quality leads. If you pair these ads with great inbound content or an offer, a workflow that nurtures the incoming leads, and a sales process that closes them, then these will be massively ROI positive.
To get started, log into HubSpot and create your first lead ad. Once done, build a list to organize those leads into and start nurturing them with a workflow.