At Mavenlink, we use HubSpot for everything! Drip campaigns, social media, landing pages, and more. Mavenlink is an enterprise project-management-software provider, who recently started using email to promote events we visit. The first event we promoted was Technology Services Industry Association (Technology Services World) in Las Vegas last October. And boy did we learn a lot about event marketing! I want to share with you what I personally learned about using online tools like HubSpot to promote offline client relationships.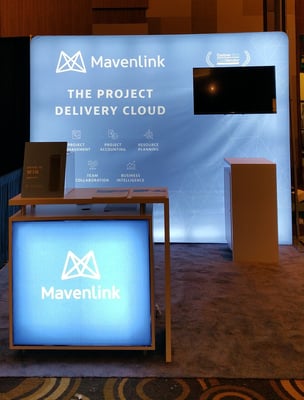 Steps to Promoting Offline Client Relationships
1. Mine your data within your CRM.
We knew we would want to talk to technology-service professionals in or around Vegas who might attend Technology Services World (TSW). So we gathered all our Nevada, California, and Arizona leads from Salesforce (our Mavenlink CRM) who were in the technology services industry.
2. Email the right folks.
We then shifted to specific roles and titles of people likely to be at the event and emailed them. We let them know, "Hey, Mavenlink will be in your neck of the woods. Come see us and have a drink!" We have a salesperson who represents most of these leads, so we used his name on the email to personalize our invitation.
3. Plan your event.
Getting to and from events is full of small and large tasks that need to be managed. With so many moving parts, sometimes it's hard to keep it all in line. Fortunately, I work for a project-management-software company, so I've got best practices all around to tap. From confirming hotels and flights to making sure you have literature racks and proper carpeting, every detail adds up.
If you're new to the event-planning role or just looking to see how others pull it off, I've included a chart of key takeaways, as well as a link to download the planning spreadsheet I use. I use a version of this spreadsheet in my company's software product, Mavenlink, but you can use it as is, or create your own version in your Mavenlink account.
4. Show up in style (vendors, swag, and raffles).
As many of you already know, having a good booth presence is key to sponsoring an event. We're fortunate to have some amazing booth vendors near our Mavenlink headquarters in Irvine, California. After a thorough search, I visited three vendor locations, met lots of people, and had countless phone calls, we selected Exhibitree. They built us an incredible booth. Our lighting stood out, and trinkets like branded M&Ms (super affordable!) helped us personalize the experience. We also had a raffle for an Amazon Echo. We wanted to be a show floor beacon at TSW, and we were!
5. Conduct lead generation at the event.
Believe it or not, we still like to do things the old-fashioned way. Some may use a HubSpot form, but we use a paper and a pen to have a brief, engaging conversation with our booth visitors. This paper acts as our lead form and contains all the primary lead qualifiers any web form has, but it also acts as an entry form for our raffle. Lead generation at our booth means heavy engagement. We always staff our booth with friendly marketing, sales, and support Mavens.
When we return home with our visitor names, I wasted no time adding them all to a CSV file and uploading this into our HubSpot account. Because we qualified leads right from our booth, we're able to add only the qualified leads to Salesforce. We can use this list to build a special drip campaign in HubSpot for people who have already interacted with us in person.
6. Send a thank you email.
Once we got home and slept (a little!) we had a fresh batch of leads to thank for visiting us. We emailed all our leads and customers who had visited our booth at TSW to thank them for joining us.
Using smart content in our HubSpot email, we included a contact button for leads, so they could reach out to our sales representatives to move to the next stage of becoming a customer. Thanks to our Salesforce-HubSpot integration, it was super easy to connect our email marketing with sales opportunities in this way.
7. Rinse and repeat!
And that's it! We were trying to reach 100 leads and almost got to our goal. We generated 91 leads from Technology Services World, had tons of people show up to our booth, and even made it back with a few Mavenlink-blue M&Ms to share with our hard-working sales team.
Top Notes on Preparing to Attend an Event
Mavenlink is already planning more events, and our marketing team is planning drip campaigns to specifically target those people who meet us in person. Leveraging online tools like HubSpot, CRM, and other tools is incredibly useful for building and sustaining your offline client relationships.
Registering and Deciding to Sponsor
- Contact the event representative for details
- Select your sponsorship level
- Register your attendees and guests

Determining Your Booth Logistics
- Go for power
- Don't skimp on carpet
- Factor in shipping
- Select your accessories

Configure Your Event Communications
- Decide on in-booth messaging and presentation
- Position your representatives competitively
- Schedule your social media strategy & posts
- Draft and schedule your blog posts

Confirm Attendee Logistics
- Plan your dress code
- Arrange travel and hotel accommodations for each attendee
- Meet to plan your in-booth presentation requirement
Lastly, MediaJunction, a HubSpot Diamond Partner Agency, leveraged Google Sheets + HubSpot Custom Modules to embed a really cool event calendar right into your HubSpot landing page or website! For those of you who are interested in having an awesome event calendar built right into your HubSpot platform and hosted on your website, check this out.
I'm sure Mavenlink will learn a ton more as we continue going to more events. If you have a pro tip for event marketing, I would love to hear!