The following collection of frightening tales is based on real-life accounts we've pulled from our crypt of lore.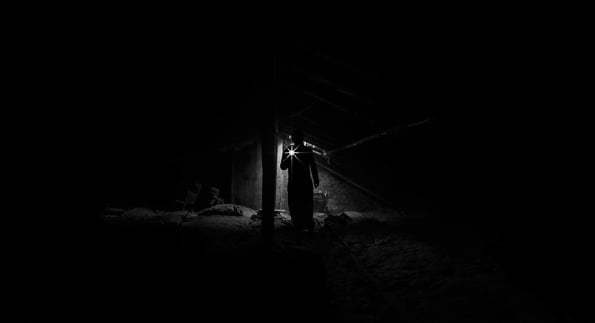 Some stories are as menacing as things that go bump in the night. Other horrors described below may give you quite a fright.
Read on to learn from these spine-chilling mistakes so that you can prevent disastrous errors to escape their troubled, avertable fate.
Story 1: The Smart List That Never Was
Bill is a talented marketing manager that leads a small team of four. When the CEO of Bill's company called very late in the night, he knew there was important work to be done.
His CEO informed him that the major changes to their company that Bill scheduled for later in the week needed to be announced immediately to their international customers.
Bill set off to get the new list generated, with dawn quickly approaching. In his haste, Bill mixed up his list logic to include any and all contacts with their Lifecycle Stage set as customer or the Country property not being equal to the United States.
What came next, you ask? Well, Bill reviewed his email draft once more and sent the pressing communications to the near one-hundred and fifty thousand contacts on his list. (The horror, indeed.)
While it would have been nice to have that many international customers, the list was including a much larger segment of contacts than Bill had intended.
The Lesson Learned
Certainly Bill could have checked the list of contacts that the email is being sent to, even in the event of an urgent deadline.
Boolean logic for creating lists uses the commands of "or" "and" or "not." When illogically configured, it can return results that are too inclusive or restrictive. In the case of Bill's global email nightmare, he could have checked his logic in the contact list preview.
In the List tool, a number of estimated contacts is generated almost instantly, as shown below. Bill would have noticed immediately that the contact count was wildly higher than how many contacts should have been on that list and been able to send the email to the correct contacts instead.
Story 2: The Missing MQLs
Cynthia had landed a career as a content marketer at a popular ecommerce retailer shortly after finishing school. She created several considerable campaigns for her company and was soon tasked with segmenting all of the generated leads from the companies extensive product page. Which leads were interested in which products?
Cynthia was pleased by the number of clicks in the CTA tool, but came to a dead-end when trying to segment precisely who had clicked on what.
The Lesson Learned
A page that has a complicated navigation structure with many offerings on the page, like the Products page that Cynthia had encountered needs to use Event tracking to manage all the clickable elements.
Event tracking that's available for Enterprise Accounts would have helped Cynthia be able to see which products had been clicked on. Then Cynthia would have been able to segment the contacts based on each product.
Setting up Event tracking can be accomplished with a few clicks. Navigate to Reports > Events and click "Install Bookmarklet" to add a button to the toolbar.
From the Products page, in Cynthia's case, click the "Create new event" bookmarklet will prompt clicking on the area that should be tracked. Cynthia would set an event for each product and then would easily see how many contacts and customers were generated from that click.
Story 3: Going Nowhere Fast
Our next frightful fiasco also begins with an email. Beverly is an Operations Specialist in Manufacturing. She had been researching new machinery for her company in order to increase their paper manufacturing production.
Beverly had gotten most of her knowledge from one company in particular and considered them to be a top-contender for her business in the future.
After a short budgeting meeting, Beverly returned to reading her email. As luck would have it, Beverly had received an email from the company that she had been researching.
She opened the email and read all about their new machine with improved paper pulp dewatering. This news came at a good time, since Beverly knew she would need to make a purchase soon after hearing about their budgeting for the next year.
Beverly combed through the links in the email to find all the tech specs she would need for her proposal to get the machine for her company. She clicked on a link and landed on a blank page.
Confused by this, Beverly clicked another link and another, only to be greeted by a near-empty page indicating the pages can't be found. After a few moments, she opened a new tab to begin researching alternatives with different companies creating machines with this new technology.
A few months later, Beverly's company celebrated with cheers all around as they installed their brand, new machine. The company with links that lead nowhere, were never considered again by Beverly's company.
The Lesson Learned
After an email is sent, the content can't be changed. However, this doesn't spell doom for your HubSpot-hosted pages. This scenario can be rectified by creating a redirect as soon as you realize the links are broken in the email.
Go to Content > Content Settings and select COS URL Mappings. Click "Add a new redirect" and you'll be well on your way. Type the email's bad link in the Original URL box and type the correct address in the Destination URL and click "Add URL mapping."
You'll repeat this process to correct all of the bad links. May your 404 page caused by a bad link never see the light of day.
Story 4: The Multiplying Mysterious Prospects
In our next woeful tale, we'll hear about the Sales Rep Jim who cannot connect with a single prospect. One early morning, Jim poured a cup of coffee and sifted through all of the leads that had filled out a form requesting a free demonstration of his company's products.
Jim found that he had nearly 30 people that he'd need to follow up with. It was going to be a busy day. As he reviewed the form submission notification emails he started to notice a pattern. The notifications had come in instantly, but had all of these people filled out the form back-to-back?
Jim wondered what his marketing team had been up to. Maybe a paid campaign to get the demo offer in front of their ideal customer?
Jim emailed a number of contacts and by lunch time, he started getting emails returned to him. None of the email addresses and, more importantly, none of the people actually existed.
The Lesson Learned
Fine readers, you are in for a treat! Your database protects you from spam submissions and deceit. With automatic validation of email addresses on HubSpot forms, you won't be tricked with an inactive or false email address that clutters your database and makes prospecting difficult.
The Final Lesson: Buried and Gone
The last cautionary tale stems from an anthology of stories. From Julia, the Designer that finished updating the website's design, Copywriter Tom, who finalized his keyword research, Brandon, the Email Marketer who's done enough A/B testing.
These certainties in completion mark the start of a dark pattern that will lead each of them to a lack of information and not be beneficial to their users over time.
The Lesson Learned
The last word of advice, and heed this well, is to never stop testing wherever your content may dwell. Your work to analyze and optimize is never "done." Don't let your colleagues fall prey to this mistake by not testing new things!
Do you have any ghastly stories about marketing mistakes? Share in the comments since you lived to tell the tale!