How often do you discuss organization with your team? Think about the last time you created a strategy for organizing an upcoming project with a spreadsheet. Or, think about the last time you used a spreadsheet to map your contacts to specific campaigns.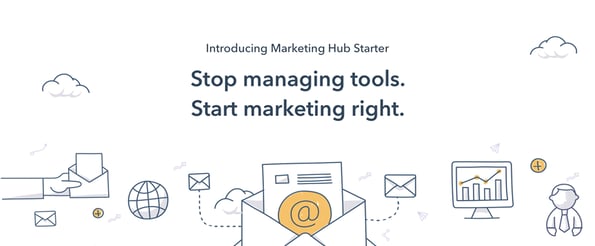 Organization can be a headache at best, and at worst it can hinder growth for your team and possibly company. In addition, with so many tools available, your organization can be separated across multiple platforms.
While it's easier than ever to start marketing it's never been harder to start marketing and organizing right.
This is where Marketing Hub Starter comes in.
Where to Start in Marketing Hub Starter
On July 17, 2018, HubSpot launched email as a feature of Marketing Hub Starter, giving you more time to scale your marketing, to make your customers happier, and to start growing your business.
Start off on the right foot — or get back on track — with integrated marketing tools that grow with you.
Marketing Hub Starter is here to help you get organized and start growing your business.
But where should you start?
With Marketing Hub Starter, you'll be able to drive traffic to your site by creating engaging Facebook or Instagram ads right within your HubSpot account, targeted at your ideal customer. Then easily convert qualified website traffic into leads with customizable and mobile-optimized forms and pop-ups on any web page — no coding required.
You'll be able to follow up with leads and nurture them through your funnel with beautifully crafted email marketing campaigns that look great on any device.
What's more, you'll have the analytics and a set of essential marketing reports right out of the box.
All of this will help you implement your inbound strategy through tools that grow with you over time.
But without a clear strategy around how you organize and handle your database, you could be losing out on some valuable information.
As you begin getting started with Marketing Hub Starter, you want to have a clear strategy in place for how you import, organize, and clean your contacts database.
Tip for importing
Plan the contact properties before importing. Check to see if you need to create new custom properties for contacts or if you can map properties to existing ones in your contacts database.
Tip for organizing
Create active lists to help identify key actions your contacts are taking. For example, a list for Sends since last engagement will help you identify which contacts are engaging with your emails and which ones might want different content.
Having these active lists will help you surface the right information at any time.
Tip for cleaning your contacts database
On a quarterly basis, take a look at the contacts that are unengaged either using a default HubSpot property (Sends since last engagement or Unengaged contact) or list filters of your own. Make a decision with your team on whether you want to try and re-engage these contacts.
Tools to Try Out in Marketing Hub Starter
There are a lot of tools in Marketing Hub Starter: lead flows, forms, ads, emails, oh my!
I recommend trying out three specific areas of Marketing Hub Starter when getting started, especially if you and your team are focused on sending marketing emails with the tool.
Email drag-and-drop editor
Dashboards
Automated emails
Email drag-and-drop editor
Use the drag-and-drop editor in Marketing Hub Starter to create beautiful emails in no time!
"The email editor is amazing and has helped me create emails a lot more efficiently."
Create emails fast with suggested templates for different types of emails. It has never been easier to create engaging emails that your customers will love.
Marketing Email Editor
Dashboards
Organization is an important aspect of any team and business. Using your dashboard in Marketing Hub Starter, you can report and analyze your marketing performance and contact engagement.
Automated emails
You can include simple automated emails that can be triggered by lead flow submissions. Use these emails to continue a conversation and start a relationship with a prospect.
Want to learn more about Marketing Hub Starter? Check it out here.
Interested in hearing me chat about Marketing Hub Starter and email marketing with Carina Duffy, HubSpot & Inbound Specialist from IMPACT? Check it out below.
Want to learn how to build an email marketing strategy for growth and get started with Marketing Hub Starter?
Check out the new Email Marketing Certification from HubSpot Academy: