We've all heard of trade shows, and you may even frequent them for your business. But where do trade shows fall in the current world of inbound marketing?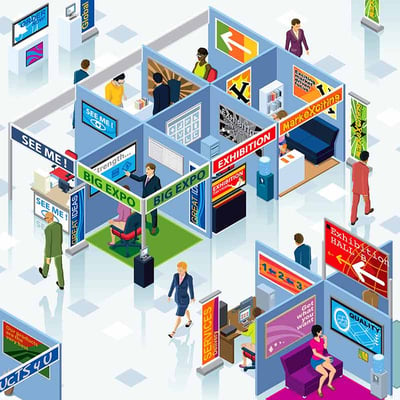 Have they grown with the changing times? And, more importantly, should your business be dedicating time to them?
The industry of trade shows has gone through a split, and in this century we need to think of them as two separate strategies: attending trade shows and hosting trade shows. Read on for more.
Trade Shows and Inbound
Trade show preparations can start as early as six months in advance and can include very strategic planning, but what is the difference in planning between attending a trade show and hosting one? Trade show marketing is a well-thought out process and you need to determine the goal and messaging you are presenting for both scenarios, but your prepping approach will be different.
Your marketing strategy and campaigns should help your business achieve specific goals and trade shows are no different. Trade shows present an opportunity to generate quality leads, spread brand awareness, achieve higher ROI from these events and meet other objectives whether or not you're the host or the attendee.
Interested in the HubSpot Project Templates for both Attended and Hosted? Check them out: Attending OR Hosting
Why is there a difference between attending and hosting?
Think about when you are hosting a party versus attending one: there is a lot of different preparation that goes into it. When hosting, you are inviting people, planning out the meal, organizing the venue to fit the needs of the number of people. However, when you are attending a party, you are deciding on how to present yourself, what to bring to the host and what you are going to do at the event.
The same goes for planning both types of trade shows. When you're attending a trade show hosted by another company or organization, you're a guest, just like your potential leads are. In contrast, when you're hosting a trade show or owning a 'booth,' your team is responsible for the messaging and for getting leads or customers to attend.
Both of these can be great ways to capture new leads and nurture them through your marketing strategy. It's important to ask others in your company for their input on your trade show strategy. Other departments such as Sales can contribute ideas that the marketing department hasn't considered, and you'll discover new ways to incorporate your business' initiatives into the strategy.
As you are planning, think about who the stakeholders are for attending a trade show. Who do you want to be representing your company? What types of materials are you sending with them? Encourage different departments to plan together and find a consistent message to present.
When hosting a trade show, think about the same messaging: who do you want presenting at the booth? Why types of materials are you going to be passing out to the attendees?
Finally, make sure that you are communicating across the company why you are hosting a trade show, or across the team why you are attending one. Your company could be spending a lot of money on a trade show or to send a team to one, so it's helpful for everyone to understand why this is a good business decision.
How do you implement these different campaigns?
Hosting a trade show means that you have to market and inspire people to come to the event or are presenting a booth at another trade show. Things that would be included in this strategy would be:
Discussing the goal with your team
Confirming contacts that will attend

Sending pre-event emails

Running a test session 'dry-run'

Sending emails during event

Post-event emails
A trade show that you are attending means that you did not host or have to send out 'pre-event' emails, but went to find and then nurture leads. Things that would be included in an effective attending strategy would be:
Discuss the goal of attending and your target audience

Collect leads at the trade show

Segment the collected leads post-show

Send post-event emails to new leads
What to do with the next trade show?
Trade shows have been a part of the business world since they were first invented in late medieval Europe and the father of modern trade shows was The Great Exhibition, held on May 1, 1851. They have a long history behind them and a long future in front of them. Knowing the difference between attending a trade show and hosting one means you and your company can start to build better inbound strategies around them.
When the next trade show opportunity comes up for you and your company (or team), remember to start planning early, define a goal and communicate out why you are dedicating your time to the trade show so you can share your successful event with your team.
Interested in the HubSpot Project Templates for both Attended and Hosted? Check them out: Attending OR Hosting