Spring is heating up and our team has a lot of exciting updates to share this month, including a brand-new product, Service Hub. Let's jump in to a slew of new updates across the Marketing Hub, Sales Hub, HubSpot CRM, and HubSpot Connect to make you and your entire team more efficient and effective, and to help you grow better.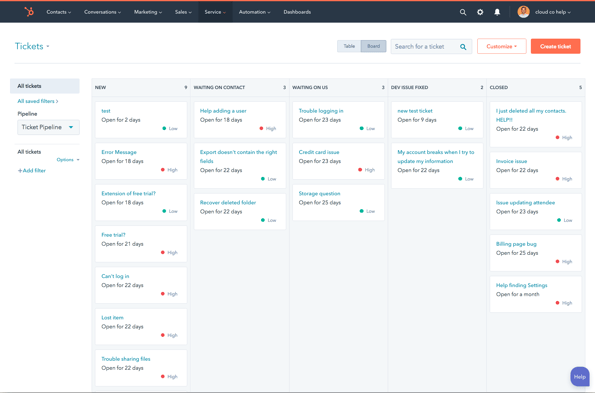 Introducing Service Hub
A new product line from HubSpot 100% focused on a better customer experience.
We live in a world today where prospects are less trusting and more skeptical of marketing messages. People care what your customers think.
Service Hub enables companies to turn customers into promoters and service into growth. With capabilities including conversations, ticket routing and automation, knowledge base, and feedback, you can have an entire view of your customer relationship within HubSpot.
For more information, check out the new Service Hub.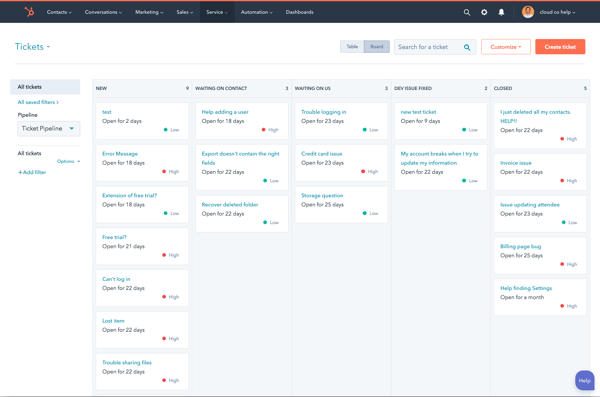 GDPR Updates
We've built a slew of tools to help enable easier compliance.
The General Data Protection Regulation (GDPR) is now rolled out, and we've built new features to make it easier for you and your team to comply. These new features ensure you can set up cookie settings, lawful basis, and contact deletion within HubSpot. For more information and details about how this functionality works, check out the HubSpot product playbook below.
What's New in the Sales Hub?
Live Chat Improvements
There are four new features live in the messages tool designed to improve your visitor's experience and build better relationships using live chat.
Office hours - You can now set company office hours to let site visitors know when your team is available to respond and when they're out of the office.

Reply time - Start your conversation off right by letting visitors know how long it typically takes you to respond to incoming chats.

Availability - If a team member is not available, they can now easily adjust the setting and automatically reassign the conversation to someone else to respond to.

New design - visitors can now see past conversations directly with messages.

Slack integration - If you use Slack to get work done, then it's likely you have the app open all day. With this integration, you can now read and respond to live chat messages without ever leaving Slack.
This update is available for Sales Hub Starter and Professional users.
Integration with Slack
Your sales team already spends their time in CRM and chat, so why should they leave these tools to get their work done?
With this new integration, they don't have to. You can now create tasks, receive notifications on updates to your contacts, and get contact record details directly within Slack.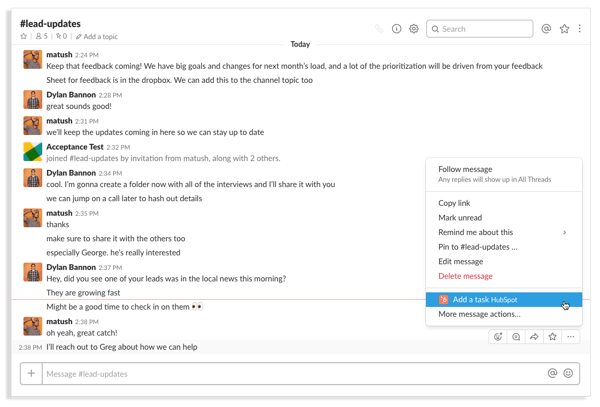 What's New in the Marketing Hub?
Book Sales Meetings Directly From Your Website
Your sales team's success is closely tied to how well your marketing team can generate leads. Using HubSpot meetings and the CMS, you can now directly book meetings from your website and reduce the back-and-forth of scheduling.
To use this module, simply head to the Marketplace and download it to your account, then include it in any template.
This update is available for all Sales Hub Starter users who also have the Marketing Hub.
A/B Test Website Pages
Making small incremental improvements to your website can have a dramatic effect. A/B testing has been available in landing pages, and it's now available in website pages as well. So whether you want to test a new image or text on your homepage or your pricing page, both options are available to you now.
This update is available for all Marketing Hub Professional and Enterprise users who have the CMS.
See What Your Competitors Are Saying on Social
How are our competitors doing on social? What types of content have worked for them?
If you're a curious marketer, these are all questions you have likely asked yourself. Now, you can find the answer directly in HubSpot. Within your social tool, there is a new Competitor Streams option where you can add up to three competitors and track the content they're posting, engagement content they're generating, and which content they're spending budget to boost.
This update is available for all Marketing Hub Enterprise users.
Keep Visitors Engaged With Recommended Content
Inbound is fundamentally about being helpful and answering questions for your potential buyers at each step along their journey. Once a visitor is on your site, it's important to keep them engaged. Today with HubSpot, there's a free module that uses machine learning to serve content the visitor is most likely to read.
Check out the module in the Marketplace, and just drag and drop it into any template to set it up.
This update is currently in live for all Marketing Hub Professional and Enterprise customers and requires using the new Design Manager.
What's New in the HubSpot CRM?
Restore Deleted Contacts, Companies, and Deals
A common way to keep your CRM organized is to delete contact, company, or deal records you no longer need. But sometimes, you need that info back. Maybe you get back in touch with an old client or you accidentally deleted the wrong company record. Instead of scrambling to rebuild from scratch, you can now restore a deleted contact, company, or deal from your recycle bin. It's as simple as that.
This update is currently in beta for all some HubSpot CRM users and will be rolled out to everyone soon.
What's New in the HubSpot Connect?
There's been a ton of exciting additions to the HubSpot Connect Integrations Library. Whether you want to integrate to deeply track your SEO using SEMrush, or integrate HubSpot with the tools you use everyday—like Workplace by Facebook—integrations help personalize HubSpot for your specific needs.

That's it for May. We'll be back next month with more updates.