We are excited to bring you something we are psyched about and know will make your lives better, easier, and more organized (at least when it comes to your HubSpotting!)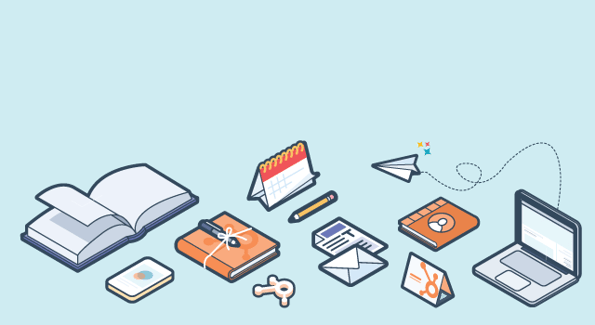 Drumroll please...introducing: The Calendar. What is it, you may ask? Keep reading to find out how this is going to save you both time and sanity as you plan your content release timeline within the HubSpot tool.
The New Calendar
Many companies (including ours) use a calendar when running campaigns, but it can be difficult. With our new Calendar App, we are striving to your make your HubSpotting that much easier by giving you a space to align your content in a meaningful, easy-to-read, and easily editable format.
A marketing calendar gives you the ability to organize your content by campaign or by marketing channel. The best part of the Calendar App is that it's integrated with the rest of the HubSpot inbound marketing platform, giving you access to all your scheduled content automatically. You can use the calendar to view the content you have scheduled by day, week or month. The option to color-code content by campaign makes it easy to get a visual overview of your planned publishing.
HubSpot is an expansive platform with a variety of components, and we've brought you the Calendar as a centralized place for you to see an overview of your marketing plans, tasks, and scheduling.
Where the Calendar is Most Useful
Here's an example of the calendar in action. Let's say you have one person who takes charge of social media publishing, one who does all your blogging and another who automates emails. With the new calendar, you can set up a schedule that makes sure each of those activities are equally represented throughout the month.
The person in charge of emails can see that there is a blog post set for a few of the Wednesdays in October. Now, they will know to follow-up with an email relevant to said blog post later in each respective week. The person who plans the social media posts can create broadcasts to go out before and after each blog post to build hype around the topic.
The best part of the Calendar App is that these three colleagues can easily visualize how their marketing looks for the month and tweak any scheduled messages/posts as necessary. The choice to color code, filter content by App and even see a "list view" (an overview of scheduled content to go live) can all be accessed from within the Calendar App, making it a marketer's secret weapon!
Schedule Content Based on Your Marketing Plan
You now also have the ability to schedule content to go live and assign tasks to teammates right from your calendar. Use your Calendar App to now schedule email, pages or blog posts to go live. Choose to schedule a post that is already in draft, or get started with your content by scheduling it in the calendar and then creating it.
Set Tasks to Align With Your Team
Assigning tasks and deadlines to team members to create email, pages, blog posts or custom tasks is as easy as 1-2-3. Click "Create Task" above the calendar and fill in the details of the content you need to create, and assign it to a team member. They will receive an email that there is a task waiting for them and send them a link to help them get started.
Ready to try this out? Here's a great place to begin. You'll find access to the new calendar by going to the Productivity menu and then to Calendar. Once there, check out the "Create Task" drop-down menu on the top right corner and choose one of the following items: Blog post, email, landing page or custom.
If you choose one of the first three items (all built into the HubSpot platform) we will create a draft post, email, or page for you and notify the person you assigned the task to that their content is ready to be created. The notes section is a great place to leave any tips or suggestions you have for this specific task.
There you have it. Now you can see all of your marketing plans and projects in one place. Yes, it really is THAT easy.
What are you most excited about in regards to our new Calendar? How have you used it so far? Share your stories in the comments section below.