What would you do with more time?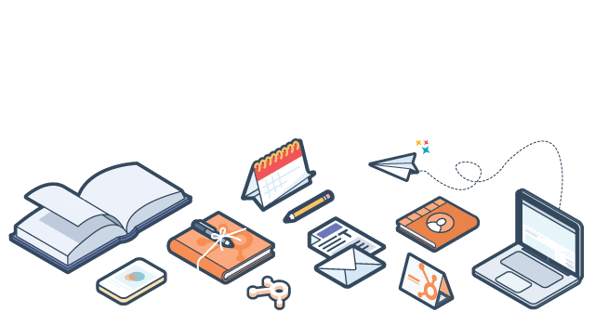 As inbound professionals looking to attract, engage, and delight your prospects, leads, and customers, time is important. But there never seems to be enough of it.
Email marketing is a core part of your inbound marketing strategy and, more than ever, is connected to everything you. But as the world continues to evolve and new communication channels are created each day, it can seem increasingly hard to send email that's human, helpful, and creates lasting relationships with people.
Two themes are coming together here:
You need more time.

You want to continue to use email as a channel that helps you create meaningful relationships.
So what are the answers?
The Email Marketing Certification from HubSpot Academy and a new Marketing Hub Starter product from HubSpot are here to give you time back and help you start marketing right.
Email Marketing Certification Update: 2018
The Email Marketing Certification course is one of many HubSpot Academy certifications, and on average, it's the third most-taken certification course. The learnings from this course set up inbound professionals, like yourself, for success with email marketing.
Email Marketing Certification Badge
Why update the Email Marketing Certification?
With that in mind, during the past three years the certification has been live, the inbound world has changed, shifted, and added new ways to communicate with prospects and customers.
Take, for example, the introduction of the flywheel from HubSpot. Building trust is your goal with inbound marketing, and the way you build this trust has evolved.
Since its initial release in May 2016, many email marketers and inbound professionals have used this content to grow their businesses and even their careers. The Udemy community has given it 4.5 stars with over 500 reviews.
And as the world continues to evolve and new technologies help you provide the most value to your prospects and customers, the way your email marketing strategy connects with your overall inbound strategy will shift.
And this is why, in 2018, the Email Marketing Certification course has been given an update.
What will you learn?
The Email Marketing Certification course covers everything from understanding the fundamentals of email marketing strategy to deliverability and lead nurturing, with a focus on trust and value to help you build the foundations of an email marketing strategy for growth.
The updated course remains nine lessons, each one providing you with a piece of your overall email marketing strategy. Additionally, now including an optional lesson that explores how you can start and grow your business with marketing, which discusses the key tools you can use in addition to email to complete your starting marketing right kit.
Email marketing hasn't changed, but it's more important than ever to bring all parts of your email marketing strategy together to build trust and create a human, helpful, and holistic experience. This updated course will put you on the path to success with this growth.
You'll hear interviews with industry thought leaders, see examples from a wide variety of companies, and learn how to grow your email marketing strategy.
This is the course for inbound professionals focusing on email marketing who want to build an email marketing machine that connects to all other parts of their strategy.
Remember, sending great email is all about building trust.
And this is where Marketing Hub Starter comes in.
As you dive into learning more about email marketing and creating an inbound email marketing strategy for your business, you need a set of tools that will grow with you as your business grows.
Start Marketing Right With Marketing Hub Starter
Introducing the new Marketing Hub Starter. As you start and grow your business, email will be a key part of building trust over time with your prospects, leads, and customers. And with email, you'll need additional tools to create your full inbound strategy.
"Marketing Hub Starter gives growing marketing teams the tools they need to get started in one easy-to-use platform, without the enterprise software price tag. And when they're ready to take their marketing to the next level, HubSpot will grow with them by making it easy to add features as needed." Kipp Bodnar, CMO of HubSpot
Marketing Hub Starter builds on the foundational lead capture features available in HubSpot's free marketing tool to help teams engage and nurture their contacts. The product is powered by HubSpot's free CRM and includes:
Email marketing, including a drag-and-drop email editor and post-send analytics
List segmentation based on contact properties, email activities, and form submissions
Integrations with Facebook and Instagram lead ads
Custom lead flow fields for more targeted nurturing
Essential reporting that goes beyond email opens and clicks to track returning contacts, top personas, engagement over time, ad performance, and more