Here in Boston at HubSpot HQ, June isn't just a time of the year when we can finally put away the snow boots and pull out the flip flops - it's also a "spring cleaning" of sorts for our partner training program.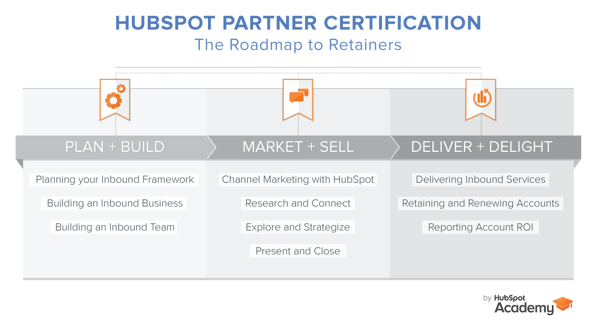 On June 1st, HubSpot Academy launched the 2015-2016 edition of the Partner Certification. Whether you're a brand new HubSpot Partner, or a seasoned veteran, we want to make sure you're geared up with the information you need to get the most out of this update. Let's dive in!
Remind me, what is the Partner Certification?
The Partner Certification is structured specifically for HubSpot Agency Partners to help them learn to effectively plan and build their inbound operations, market and sell their inbound services, as well as deliver on those services to delight their clients.
These 10 classes go through the fundamentals of running a successful inbound agency, building upon the best practices covered in the Inbound Certification and HubSpot Certification. When your agency gets Partner Certified, you're saying to the world that you have the tools to market, sell, and deliver quality inbound services to your clients.
Who can become Partner Certified?
This certification is only available for HubSpot Agency Partners actively using a paid subscription of the software for themselves or at least one client. Agency Partners must have purchased HubSpot's Partner Inbound Success Training in order to access the certification training and exam.
Although we encourage your entire agency to take the Partner Certification exam, only one person at your company needs to take and pass the exam to certify the entire company. You must have at least one user who is HubSpot Certified in your portal in order for any user to take the Partner Certification exam.
Why should I get Partner Certified?
While there are numerous benefits to joining the community of HubSpot Partner Certified agencies, we've boiled it down to our top three.
1. Become eligible for the Tiers Program.
The Partner Tier program is designed to acknowledge those Agency Partners who have not only brought the inbound message to the most clients, but also those who executed inbound marketing services to the highest standards. Being a Tiered Partner comes with some sweet perks. For example, once you become a Gold Tiered Partner, you can guest post on HubSpot's Marketing Blog, post a free inbound.org job listing, attend HubSpot's Annual Partner Day Event, and receive free INBOUND conference tickets.
To qualify for the Tiers Program, a Partner must also be both HubSpot Certified and Partner Certified.
(Still have some questions on this "tiers" thing? Not to worry! We go through the Tiers Program in the Channel Marketing with HubSpot class.)
2. Complete the first step to becoming listed in the HubSpot Partner Directory.
The HubSpot Partner Directory is accessible to all HubSpot customers within their portal. Being listed here is a great way to showcase your agency as a qualified and reputable option for customers looking to hire help with their inbound marketing.
As of June 1st, all agencies listed in the Partner Directory for marketing services are tiered partners only. Remember, a prerequisite for becoming a tiered partner is that your agency is HubSpot Certified and Partner Certified. So while becoming Partner Certified won't immediately get you listed in the directory, it's an important first step!
3. Join the private Certified HubSpot Partners group on inbound.org.
After you become Partner Certified, you'll be able to join the Certified HubSpot Partners group on inbound.org, where you can network with like-minded inbound agency professionals. This is a great opportunity to connect with other partners, get feedback on your work, and share success stories.
I got Partner Certified last year - why do I need to get re-certified?
The world of inbound is evolving at a very rapid pace and we update our classes and exam to keep up with these changes. Thus, you'll need to get re-certified to demonstrate that you can effectively plan and build, market and sell and deliver and delight inbound retainers for clients. Your clients are our customers, so we have a mutual need to make sure they are receiving top-notch inbound help!
Since we only require one person from your agency to take and pass the Partner Certification, have someone new in the agency take it this year. (Although, we've added some really cool stuff this year, so you'll probably want to take another look yourself.)
What has been updated from last year?
We based our update on feedback we received from partners, data we saw on video usage and engagement, and to increase alignment among teams here at HubSpot. Keep in mind, this is a content update - this release does not impact the expiration date of any current partner certified badges and there are no changes to who can get access to the partner certification.
So, what have we updated?
1. There are two completely revamped classes, "Delivering Inbound Services" and "Retaining and Renewing Accounts".
The "Delivering Inbound Services" class has been updated to provide more specifics on how to deliver inbound services that will delight your clients and the top 6 services your agency should deliver to be considered an inbound agency.
"Retaining and Renewing Accounts" has replaced last year's "Delighting Inbound Clients" - this class now goes through 6 playbooks for managing client relationships from beginning to end to keep them coming back year after year. These step-by-step playbooks are adapted from HubSpot's own Services team, so you know they're good!
2. We added knowledge checks through in-class quizzes.
Did you take the Partner Certification last year and think you still know the content well enough to skip over it? Or maybe you're new to this and want to try some practice questions before taking the exam?
Now you can! Each class includes knowledge check questions that you can take before or after watching the video. We've also included explanations of why you answered a question correctly or incorrectly to help you prepare for the exam.
3. We launched 3 new HubSpot Partner Projects to help you execute on the material taught.
We've incorporate HubSpot Projects into the classes to help you start taking action right away! Often collaborative, Projects use multiple apps in HubSpot in a planned effort to achieve a particular goal or task. As a partner, you can use HubSpot Projects for your own inbound marketing AND/OR use Hubspot Projects for your clients inbound marketing.
You'll see related Projects listed on the class page and mentioned throughout the classes.
4. There is an updated study guide with a dictionary of key terms.
Can't remember what a CAM versus a CC is? Unsure of the difference between positioning and differentiation? Struggling to recall what BANT stands for or what it's used for?
We know there's a lot of terms to remember when it comes to inbound marketing, HubSpot, and agency life - that's why we've added a dictionary at the end of the study guide. Use this as a handy reference while taking your exam, as well as after you're certified.
Have more terms you wish we had included? This is an ongoing update, so please feel free to send them over to academy@hubspot.com.
Want to get your hands on this new study guide right away? You can access it within your HubSpot portal on the Partner Certification page.
5. There is now a Partner Certification Exam group on inbound.org.
Think of this as your study group! The Partner Certification Exam group is a place to post questions and get support on your journey towards HubSpot Partner Certification. Once you become Partner Certified, inbound.org will automatically pull your badge into your profile. This will help highlight you as an agency proficient in delivering inbound services, and you'll be able to join the "Certified HubSpot Agency Partners" group for more advanced discussion on how to grow your agency, post-certification.
How can I show off that I'm Partner Certified?
Join the inbound.org HubSpot Agency Certified Partners group
Add your badge to your website. You can use the badge embed code to add your badge to the HTML of your site, or upload the image.
Add your badge to your email signature!
Add your badge to your LinkedIn profile or update your certification by using the "Add to profile" feature.
I'm ready! How do I become Partner Certified?
To be an official HubSpot Certified Agency you will need to take and pass both the HubSpot Certification exam and the Partner Certification exam. You will take the HubSpot Certification first and then the Partner Certification.
To access the Partner Certification classes and to take the test, go into your HubSpot portal. Click on the Graduation Cap in the top, right-hand corner. Then, click on Certifications.
Now, scroll down until you see Partner Certification. Click on View Certification.
Here you'll find links to all the classes, the study guide and the exam.
I went through the certification and have some thoughts. How can I provide feedback on the Partner Certification?
We love to receive your feedback and the best way to do this is to utilize Tally. In the right-hand corner of each class page, you'll see a "How helpful was this class?" button. Click here to submit your thoughts! This program is created for you, so we want to know what you liked, didn't like and were just "so-so" on.
Get Started!
There you have it - the who, what, where, when, why and how of the 2015-2016 Partner Certification. Now that you have the information, it's time to get started.
If you're a new partner, start by practicing the inbound methodology. Then, pass the HubSpot Certification and become your own best client. Next, move on to the Partner Certification to begin building and marketing your inbound agency, and delivering inbound services that delight your clients. Pass the Partner Certification Exam and join an elite, collaborative community of inbound professionals.
Don't forget to share your success with us on Twitter using #HubPartner. After all, as partners, we're all in this together.