We're only three months from the end of the year. Where did the time go? You and your team might be starting to think about what goals you want to set for 2019 and how you'll kick-start your email marketing in the new year.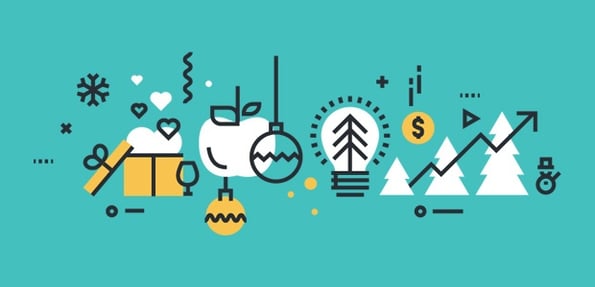 But before we get to that new year, how can you think about these last few months of your email marketing strategy? It's time to get serious about your email marketing for this holiday season.
So let's explore three things you can implement this holiday season to send the best emails.

Why Are the Holidays Important for Email Marketing?
Leaving August behind, we enter into what's typically called "the holiday season." And it tends to be one of the busiest but also one of the more lucrative times of the year for many B2C and B2B companies.
And now with more and more people buying online, holiday shopping starts sooner each year.
This is why getting ahead of your email marketing plans for the holidays can help you be prepared and deliver the most human and helpful experience for your users and customers but also allow you and your business to hit your goals for the end of the year.
3 Tips for Great Holiday Emails
The three tips for making your holiday emails great are:
Authenticate
Create powerful subject lines
Support all your campaigns
Be Authentic
In addition to being human and helpful with the emails you're sending, you will also have your emails themselves be authenticated. But what does that mean?
According to the Online Trust Alliance report, released in June 2017, half of the top 100 US retailers and a third of the top 500 lack proper email authentication and security. This authentication gap can include issues with sender policy frameworks (SPF), DomainKeys Identified (DKIM), or a sender's DMARC policy.
In HubSpot, this means setting up your email sending domain to make sure you're sending emails that can get delivered and provide the value you're offering.
To do this in HubSpot:
Click the settings icon in the main navigation bar.
In the left sidebar menu, navigate to Domains & URLs.
In the dialog box, select Email Sending.
Want to learn more about connecting email sending domains?
Check out this article here.
Create a powerful subject line
We all have a lot going on in our daily lives. Grab the attention of your reader with a powerful subject line.
Remember, you're being human and helpful, so you want to tie that subject line to the content you're providing in the email and show the value you're about to provide.
Here are some examples:
Sales-focused subject line: Free shipping on your holiday gifts.
Timeliness: Exclusive hours open to you!
Showing gratitude: Thank you for your support this year.
Have fun and add some emojis to that subject line and bring the delight and cheer to your emails every step along the way.
Support all of your campaigns
You can use emails throughout all of your holiday initiatives and goals. The flexibility of email and the diversity in which it can be used means that regardless of the campaigns you're running during the holidays, you can utilize your email marketing.
And with the support of the Campaign Analytics tool, you can track how those emails are supporting your overall campaigns.
Remember, you want to strive to provide an experience for your audience that's helpful, and you know they're not just interacting with your blogs, pillar pages, or even just email. They're connecting and interacting with you everywhere, and thus having your emails support all for your campaigns will help you tie all these pieces together to make a cohesive and unified experience for your readers.
Want to create your email marketing strategy?
Check out the new and improved Email Marketing Certification from HubSpot Academy.