As sales manager, you need to be focused on how to spin the flywheel. If you can get your team executing your sales process in such a way that your customers become advocates for your company, you'll see growth and success at a scale you won't be able to achieve any other way.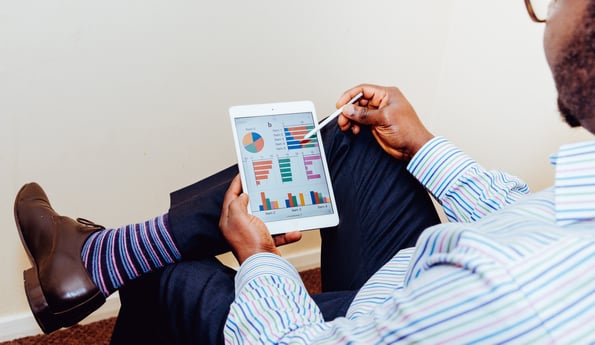 Sounds great in theory, but what does it look like in practice?
The key to running a successful sales team lies in your data. Reporting gives you insight into every area of your team and helps you identify early on if any difficulties may lie ahead.
But if you take reporting at face value, as a list of what needs to get done today or tomorrow, you're only taking advantage of the administrative side of your tools.
In reality, reporting can make it both easier to manage your team as well as communicate and align with other teams and stakeholders. Let's dive into how.
Using HubSpot to Manage Your Team
The goal: Reporting can tell you how each member is performing. Knowing if you're on track to hit your quota each month or every quarter will tell you if you need to change your team's approach.
The HubSpot solution: Sales Team Productivity (Sales Hub Pro and Enterprise)
Use this tool to track your team's performance across their deals, meetings, calls, tasks, and emails. These visuals can even be filtered down to individual sales reps. Add this report to your dashboard to keep this information readily available.
Pro tip: Buying behavior today is constantly changing. Your reps should always be learning. Use reporting to identify high performers and pair them with reps that may need a little more help. Consistent training, mentorship, and motivation will inspire your team to be the most effective sellers they can be.
But your work doesn't always start there.
The goal: Contrary to popular belief, marketers are not the only people creating content. In fact, at some companies, sales produces just as much content as marketing.
Many companies already have high-quality sales content on their website. So, by centralizing all this existing sales content in one location, reps can find these resources to share with leads quickly.
The HubSpot solution: Sales Content Analytics (Sales Hub Pro and Enterprise)
After creating sales templates, documents, and sequences, you can analyze their effectiveness using the Sales Content Analytics tool. This can help you answer questions like:
How are your reps currently using this collateral?
Are there any opportunities to use this content more often?
Whi

ch p

i

ece

s

re

s

onate the mo

s

t w

i

th pro

s

pect

s

?
Using HubSpot to Align with Other Teams
The goal: You may need to speak with marketing managers regarding the best ways to create and implement sales enablement strategies.
Or you may need to speak with other sales managers on initiatives that are working and the types of outreach your department is using. Reporting can help you bring concrete numbers to these discussions and can make alignment that much easier.
The HubSpot solution: Get started by logging your revenue in HubSpot.
Tools like multi-touch revenue attribution and forecasting are built around the Amount field. To ensure continued alignment with your marketing team and accurate reporting across your sales teams, it's essential that your reps are tracking their revenue on deal records in HubSpot.
Learn more about closing sales with deals in HubSpot here.
The goal: In a flywheel world, sales doesn't live in a bubble. Cross-team alignment is essential, especially if your company deals in recurring services and products.
The solution: HubSpot Revenue Analytics (in beta - Sales Hub Enterprise)
Use this tool to better understand the impact of renewals, upgrades, downgrades, and churns on revenue over time. Not only does this help inform your sales process, you'll be able to see how each pipeline fits into the larger business landscape and contributes to your company's overall direction. This ensures you're having the most data-backed conversations with your team and managers.
Answer questions like:
How are new campaigns, product SKUs, or new features positively or negatively impacting recurring revenue over time?

How does cross team alignment with services allow for more up-sell or cross-sell opportunities?

Where is the greatest source of opportunity for ensuring the prospects you're selling to remain customers?
Revenue analytics can help you identify trends as you dig into your data further.
Using HubSpot to Build Effective Dashboards
All the tools listed thus far have been analytics tools. While they can provide the data you need to start meaningful conversations with your team and others, they aren't as effective if only viewed in isolation. You don't want to cause data silos.
What do you?
Before you build out or update a sales dashboard, it's important to ask yourself the following questions.
Who is going to use this dashboard?
The answer to this question can and should change the reports you place here. Stakeholders, other managers, or your reps have different lenses when it comes to the business. You want to make sure the information you're communicating is relevant and timely to your audience.
What type of data is likely to resonate with this audience?
What type of information does your target audience need to see most immediately? If it's stakeholders, this could mean forecasted values. If it's your team, this may be leaderboards or reports showcasing deals won vs lost.
Brainstorm what their goals and roadblocks are (like buyer personas, but internal) and see how you can cater reports to fit their needs.
Pro tip: When in doubt, use the 30 seconds test. If your audience only had 30 seconds, could they scan your dashboard to get the insight they needed? Or, at minimum, to get a sense of the trends you're trying to demonstrate? If not, you may be presenting too much or too little information.
What type of action do you want your audience to take after seeing this information?
It's not enough to just data dump. Think critically about what you want your audience to do with this information. Do you want them to start a conversation? Change a behavior? Feel a sense of urgency?
Having your reps or other managers spend time reading data for the sake of it isn't a valuable use of their time. How are you framing the information so that your audience knows what to do next?
How often is your audience seeing this report? How is it being presented?
Are you expecting this information to be read? Or will it be covered verbally, in a presentation, once your audience has had a chance to give it a glance? Are these trends your audience should care about month-to-month? Or are they more granular and need to be monitored more frequently? The answers to these questions can help you determine exactly which reports (custom or canned) should be included on your dashboard.
The analytics tools can showcase important trends happening on your sales team. When adding these reports and others to your dashboard, here's some other areas to keep in mind:
Sales activities

Call outcomes

Deals won & lost

Goal attainment

Deal loss reasons

Sales by source

Task outcomes

Time in deal stage
This is by no means an exhaustive list, but all reportable in HubSpot and provide great, hard information about your sales team.
Next Steps: Always Be Learning
If you're in sales management, there's a good chance you got there accidentally. Maybe you were the top-performing rep on your team, always hitting quota and developing new strategies for closing deals.
Then, one day your boss decided you were doing such a great job that you should teach the rest of the team how to do what you do, and they made you a manager. But did you get any training to help you succeed in your new role? Perhaps not, and now you might feel like you have no idea what you're doing.
You aren't alone. Most first-time managers get limited guidance about how to do their job and have to struggle through the first few months and years, making it up as they go. That's why HubSpot Academy has created the Sales Management Training course.
We interviewed 23 successful sales leaders to identify the strategies that are most crucial when it comes to leading a sales team. We've combined their collective wisdom into six lessons that cover the key activities for long-term sales success, and we've also created a workbook to help you execute those activities.
Check it now here. And as always, let us know what you think!
Want to connect with others on HubSpot tips, tricks, and updates? Head over to the HubSpot Community to join a conversation or start one of your own.