Just as Rome wasn't built in a day, your email marketing strategy won't (and shouldn't) be either. HubSpot didn't always have the email reach we do today. It takes planning and a heavy focus on adding value to create a great email marketing strategy.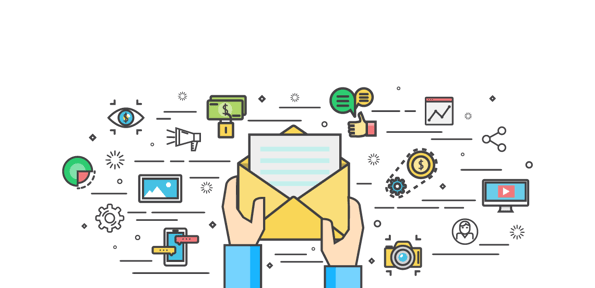 But building an email marketing strategy for growth that lasts many years means taking the time to build the right foundation.
Think about how you would build a house. Before doing anything, you set the goal of what you want to accomplish and lay the basic foundation.
This is the same as your email marketing strategy. Regardless of if you've been doing email marketing for years or just getting started, having a good foundation will be important. And as technology and our world continues to change, you need to make sure that foundation is still solid.
Your customers are changing the way they live and work and even how they are interacting with your emails.
Let's take a look at what building that foundation for your email marketing strategy should look like.
What is the foundation of email marketing?
It's been a long time since the first email was sent by Ray Tomlinson in the 1970s, and since then, we've been sending so many different types of email.
We send and receive more emails today than ever before, and you know as inbound professionals that there is more to doing email marketing.
"Doing" email marketing is not as easy as it may seem.
Setting the foundation for a great email marketing strategy means remembering that there is a human on the other end of your email send who will be reading that message. Setting your foundation up for success means creating a human, helpful, and customer-driven conversation and experience, and this is what will lead to impactful results for your business.
So what is the foundation of email marketing? At the core sending great email will focus on being human and helpful, but the most tactical way is setting clearly defined goals for both your overall email marketing strategy as well as each individual email you press send on.
Setting goals will help your contacts understand why you are sending the email and why you do what you do. With this understanding it will help you provide a human experience to your contacts and communicate clearly why they are receiving the email, which in turn is where they will see the most value from it.
How do contact management and email marketing connect?
If setting a good foundation for your email marketing strategy means setting goals so you can provide the most human and helpful experience, it makes sense that your contacts and how you manage them will be the next important thing in setting up your strategy.
Think for a minute about how you manage contacts in your database. Where are they stored? What type of organization do you use?
Contacts are who you are sending your emails to. The humans on the other side of your email send that will be engaging in conversation with you. So managing them to make sure you're delivering the right emails to them is extremely important.
Here is how I like to think about it. Imagine returning home from the grocery story but having no place to store the food you bought. Without a refrigerator or kitchen cabinets, your food would be disorganized and eventually go bad.
The same goes for your contacts. If you don't have a database that centrally stores or collects information then you won't be able to deliver them the most contextual and personalized experience. This is why contact management is so important to setting the right foundation for your email marketing strategy.
Take for example the HubSpot Hubs. They're built on the foundation of a contacts database. CRM Free is the underlying database that powers each HubSpot product, the free CRM is the heart and soul of your HubSpot software. It goes far beyond simple contact management, giving you incredible insight into every contact so you can build deeper relationships with your buyers at scale.
The information you're collecting will help fuel your email marketing strategy, as well as the other parts of your business. With all of these elements interconnected you're having conversations across channels with your contacts. This type of context and care in your conversations helps you and your business build trust.
When developing your email marketing strategy, it's all about building trust.
Email continues to grow and evolve in our changing world. It might not be the new and shiny thing, but it's what works. And when you set the right foundation you can provide a human and helpful experience to your recipients every time you press send.
HubSpot Academy has also compiled the foundation of understanding email marketing and how contacts are an important part of building a good foundation in two new HubSpot Academy lessons.
What to Expect in These Academy Email Lessons
In these two new lessons, you'll be introduced to the foundation of email marketing and its close relationship to managing your contacts.
In the first lesson, you discover and discuss that even in our world today with the endless ways to communicate, but email marketing is still an important inbound tool for having conversations with your contacts.
Email marketing is rooted in every part of an inbound strategy, and a great strategy will help you keep your marketing on target and show your company a return on investment. Learn why email marketing is an important part of inbound and how to build an effective email marketing strategy for growth.
In the second lesson, you'll look at how to provide value to your contacts and learn how to grow business with a productive strategy. You'll learn how to create a contact management and segmentation strategy that's designed to help you send contextual content in emails and create conversations that people want to engage with, which is the power of bringing contact management and segmentation together.
Want to check them out? Head into the learning center today!