Today we're excited to announce a new partnership with the world's leading stock photography website, Shutterstock.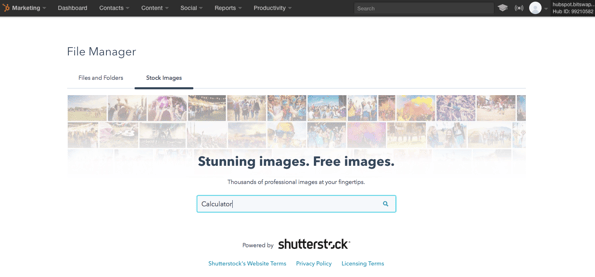 What does this integration mean for you? HubSpot customers will now have direct access to 60,000 high-quality images in their HubSpot Marketing accounts, at no additional cost.
HubSpot customers can get started by going to File Manager
Visual Content Made Easy
If you're involved in content creation for your business, you know that the right image can take a blog post, landing page, or social update from good to great. But just how important are relevant, high-quality images in today's digital landscape?
Content with relevant images gets 94% more views than content without.
Visual content is more than 40X more likely to get shared on social media than other types of content.
Fnding the right image for the right topic and format, however, can be a chore. We've all been there — scouring what feels like the entire internet for the perfect image and, when you find it, it's hiding behind a copyright wall or costs hundreds of dollars to download.
Note: All Shutterstock watermarks will be removed once saving these images to your File Manager.
With the new Shutterstock integration in HubSpot, you now have access to 60,000 royalty-free images to use in any content — across your social channels, blog, landing pages, and website.
Beyond removing the headache of sourcing images, the HubSpot–Shutterstock integration means you don't have to navigate to different sites or even leave HubSpot at all. Just search right in your portal, find the perfect image, and add it directly to the content you're working on.
How to get started:
In your HubSpot Marketing account, go to Content > File Manager.
From File Manager, you'll see a new tab available for Stock Images. Click this tab and search for any image you'd like. Searching for "calculator," for example, gave me the results in the image above.
Once you find an image you'd like to use, click on it and save it to your File Manager. You'll have the option to save them to a specified folder, as well.
Go into Social, or any of your Content apps, and insert the image you just saved.
How can you use these images?
Shutterstock images within HubSpot are provided royalty and cost-free, but as a result must be used within content created in HubSpot. For example, if you are writing a blog post within HubSpot and need an image to go along with your post, then you can utilize the new Shutterstock integration to easily add a relevant image.

Images provided by this integration may not be downloaded, or used in marketing outside of HubSpot-hosted content. For more information, see the Product Blog Post.

Audiences are leaning more heavily on social and mobile every day, so it's crucial to offer them the visual content they want. Furthermore, adding any old image just doesn't cut it anymore. You need relevant, high-quality images to make your content stand out.
With this new update, we hope to make the content-creation process simpler, faster, and more effective, saving you time by keeping your favorite resources all in one place.