Whether you're working toward your very first HubSpot Academy certification, or you find yourself decorated with certification badges galore, we can all agree on one thing — certifications aren't easy.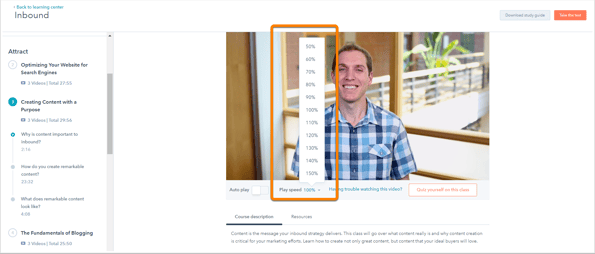 They're not designed to be easy, either.
Completing one of the HubSpot Academy certifications is truly a mark of honor and demonstrated skill. Unlike a certificate of completion, earning a HubSpot Academy certification means you've shown your knowledge and you thoroughly understand the concept of the course.
While there isn't a shortcut to mastering your profession, there are some things you can do to streamline your studying efforts. Why am I qualified to tell you about these tips? I certainly felt like a professional test taker when I was in grade school, but I've also earned every single HubSpot Academy certification offering to date. All of 'em. Every last one.
It takes effort to put lessons learned into practice, but the certification is a great first step toward mastering your trade. Let's take a look at some studying tips to help you get your next certification, whichever one that may be!
The Art of Note-Taking
If note-taking today means meeting minutes, ideas, or to-do lists for you, try to remember what notes were like when you were a full-time student. If you're currently in school, hopefully taking notes is an easy muscle for you to flex.
Let's walk through three different note-taking methods I've tried out while studying for HubSpot Academy exams. Maybe one of these will be helpful for you.
The writing method
There are many ways to capture your thoughts to help you prep for an exam. If you enjoy physically writing notes, you might want to try the Cornell Note-Taking System if you haven't perfected your notation skills already.
If you prefer to take notes digitally, keep all your related notes together so they're easy to find when it's time to study for the exam. If you want to use the Cornell Note-Taking System digitally, Time Atlas has created a Microsoft Word template to help with that, which you can download here.
The highlighting method
The highlighting method is a bit of a shortcut to note-taking. You'll still want to write down your ideas and things to review, but the highlighting method works from the transcript. You can download the transcript by clicking Resources and the Download transcript link below each class video.
After downloading the PDF transcript, you can highlight and add notes to the PDF using Adobe Acrobat or Preview on a Mac. Be sure to save the PDF again before closing it to capture all of your notes and highlighting. Of course, the highlighting method can also be accomplished by printing out the transcripts and highlighting the important words on paper.
The storyboard method
A third method for taking notes is to compile the most important slides and add your notes alongside them. Much like a storyboard for a movie, the visuals tell the key points of the course while your notes explain the details. This method is most appealing to visual learners, and some learners print to do this physically. (Save some ink with the digital method!)
Download the slides from Resources and the Download slides link below each class video. Take a screenshot using a tool or keyboard shortcut, and compile the important slides and notes in a Word Document or Google Doc. Depending on how much you want to illustrate, you can use the drawing tool to add your own visual notations. A class note storyboard looks something like this:
No matter how you choose to approach your notes, be sure to write down what you need to review at the end of each learning session. Whether you spend ten minutes or hours at a time training, write down what you need to review and concepts you'll need to explore further in order to pass the exam.
No Time for My Full Attention
The best laid plans to study and learn don't always work out the way you'd hoped.
Globally, the average person has at least three connected devices. And with so many devices offering constant connectivity, there's a good chance the Academy learning app will have some competition for your attention.
Here are two ways to combat distractions while multitasking.
Set your own pace, and learn on the go.
First, take advantage of the video speed controls.
Speed it up: Speed up the video when revisiting concepts that you're already familiar with, or watch it fast for a quick review of a video you've already seen.
Slow it down: Try a slower playback speed if you're having trouble grasping the concept in the video, or you know you're slightly mentally fatigued — maybe you're studying after a full day at work?
If you find yourself skimming the video and skipping around, you may want to try the highlighting method to add your notes.
Next up, learn during your morning commute or household tasks. If you aren't finding time to dedicate to training, try to learn when you can. You can access certifications on a mobile or tablet device through SoundCloud, Udemy, Medium, iTunes, YouTube or Highbrow.
Each link will take you directly to HubSpot Academy's training content on each platform. Not every certification is on each platform, though, so click through and let us know in the comments which certifications you want to see on which platform!
Study Buddies and Cheat-Sheets
We've heard from study groups across the globe — learning with another person can boost your learning success. Whether or not you have a colleague who can commit to learning with you, you can still get additional resources or start a new topic in the "Marketing Certifications" thread on HubSpot Community.
Is there an easy, quick way to study and get certified? There is.
HubSpot Academy provides you with an overview of what you need to know for each exam in the form of a study guide. If you answer all the study guide questions with ease, you might be ready to try out the exam to get certified.
If you're looking for a fun way to test your knowledge, check out Academy's brand new game — the Inbound Speed Round — and put your digital marketing skills to the test.
As a last studying step, review all the additional resources to fill in the gaps on any topics you struggled with in the study guide.
Finish It
The secret to getting certified is holding yourself accountable to finishing. Start studying, set a date, and block off some time on your calendar to tackle the exam after you've completed the training. If you aren't feeling too confident on exam day, try it anyway. You'll get an idea of the areas you still need to study, and you can try again if you don't pass.
The best way to use your certification is to put it into action right away. What do you need to start or stop doing based on what you've learned? What new strategies do you have for your business, now that you're certified? Put together a plan for what you'll change and how, so you can get the most out of your new skills.
---
Follow these tips and you'll be well prepared to study for your next HubSpot Academy certification. Go ace that next exam, and don't forget that a certification is a a starting point for mastering a topic. Implementing what you learned is the most important step.
Have you had great success with certain studying methods or different ways you prepare for a certification exam? Let us know in the comments what has helped you get certified!