In the last five years, the way people use social media has changed, dramatically. Social today is way more mobile, visual, ad powered, and scientific than ever before.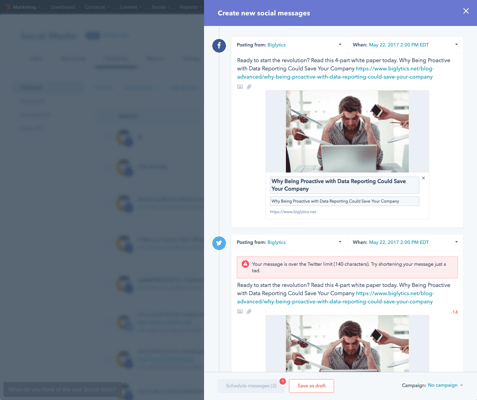 On top of this, Facebook is rapidly innovating and changing the entire definition of social media.
A lot has happened fast. Late last year HubSpot took a hard look at your tool set and realized your social tools needed a refresh, to really deliver for you, our customers.
With that in mind, we reallocated Product team resources and kicked into gear a three-part plan to reinvigorate HubSpot social tools and make it an even more powerful to leverage social media to grow your business.
Tomorrow, we're excited to have phase one be released from beta and made available to all HubSpot customers.
The Three-Step HubSpot Social Product Plan
Phase I: Fix and refresh
Starting this week, the default experience for social settings, publishing, reports and composer will be the new visual UI. This update may look just cosmetic but as you dig in you'll notice we used this as an opportunity to make key improvements in the way you connect accounts, manipulate images, save images, and more.
Improvements to Inbox and Monitoring are coming very soon.
Phase II: Build for now
New networks, mobile, video, and ads have already changed how people use social. More of these trends will soon find their way into HubSpot. While most of the features associated with this work will roll out over the course of this year, we're excited by the progress we've made and will announce new features to support these trends in the coming weeks.
Phase III: Build for the future
Solving for how people use social today is our priority, but we also want to identify and incorporate new features that support emerging social media marketing use cases. We're activley exploring new communication channels and networks. Stay on the look out for more beta coming to the social tools.
What's Happening When?
Starting tomorrow (May 30), all customers will be able to opt in to the new, refreshed version of HubSpot Social.
We're targeting June 6 as the date to switch all users over to the version of social, with the ability to opt out for a 24-hour grace period, if needed.
Improvements in phase two and three will be coming over the course of the next year.
So What's New?
1. The look and feel
The majority of the social tools have been converted to the new visual UI. We're working to also update Inbox and Monitoring over the next few weeks. You'll see them go into beta soon. The new visual UI modernizes and improves usability of the tools but also creates an opportunity to update some features that needed some love.


2. Settings
Along with the new UI, we've redefined how you connect your social accounts. You no longer have to connect a personal account to connect your business account. We know this created privacy and securing issues so we fixed it.
Now when you authorize a social network you can choose which accounts associated with your profile you want to connect.
Also, once a business account is connected all users can use HubSpot to manage it, creating a single source of truth for the account and eliminating multiple account issues.
3. Composing
We used the UI update as an opportunity to totally re-engineer how composing and publishing works in social. You can now compose multiple social posts on different networks in one view. No more tabbing between posts.
If you've already created a post, and click to add a new social network, we'll automatically populate it with the information you've already entered. You can now drag and drop images into compose without opening file manager and save your compositions as drafts.
When creating a message in Facebook you can also tag other company pages with the @ symbol. We made compose smarter, so it now tells you if you are using the wrong image format or other common mistakes for each network. All of these changes reduce little points of friction, and we hope they make using the social tools that much more enjoyable and easy.
4. Reporting
Reporting was another area with lots of great suggestions for updates. To make it a more valuable tool we simplified the dashboard, improved the presentation, and refocused the metrics on what impacts the bottom line, instead of the typical vanity metrics associated with social. This helps bring the tool inline with the updated way marketers think of social ROI.
Why Do These Updates Matter?
HubSpot is refocusing on social media. We understand the unique value it offers you to reach, connect with, and influence your market, prospects and customers.
Phase one of updates fixes some outstanding issues and makes the tools easier to use. It's important groundwork for adding more features around major trends that will help you better use social to grow.
Keep your eyes on your HubSpot social tools and give us feedback on what we can do better. We want to continue to provide you with the best possible tools to help you leverage and growth through social.