When was the last time you connected with your contacts on Twitter? Or Facebook? Or the last time you reached out on Instagram?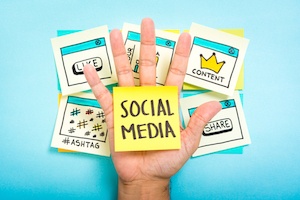 Think about the conversations you've had or the exchange of valuable information that occurred. What they like about your company or found interesting might have been discussed. But then what happened? Did you add them to your database? Or transfer information over to their contact record?
A key aspect of your contact management strategy is the engagement you have via social media. This is where you can promote content and connect with your leads and long-time customers. So how do you connect with your contacts via social media and build a strategy around it? Let's find out!
How Do You Integrate Social Media Into Your Contact Management Strategy?
You have so many aspects of your inbound strategy that fuel your contact management. You build out segmented lists and campaigns that can be added to your workflows. You work with Sales to find the perfect time to pass off leads.
But each day you're engaging with your contacts on social media as well. And building out those relationships is an important aspect of your inbound strategy. There used to be a time, in the not so distant past, where social media was something marketers could ignore. No longer. Now users control how and when they consume information. And most of that consumption is in the form of Facebook posts, tweets, photos on Instagram, or in direct messages on Messenger or Snapchat.
But how do you make the connection between your social media and your contacts? What is the best way to integrate these two strategies together? You're going to learn from HubSpot Academy's own Inbound Professor for social media, Crystal King. She's going to share five social media tips to rev up your contact strategy.
Crystal King is a principal inbound professor for HubSpot Academy with a focus on social media strategy. Crystal has led global social media and community programs for companies such as Pegasystems, Keurig Green Mountain, CA Technologies and Sybase. Crystal received her masters in critical and creative thinking from University of Massachusetts Boston. She is also a novelist, with her first book, FEAST OF SORROW, available at bookstores on and offline.
5 Social Media Tips to Rev Up Your Contact Strategy
How can you integrate social media and your contact list to drive your overall promotion strategy?
There are a variety of ways to think about how contacts and social media can work in tandem. Let's dig through five of the possibilities:
Follow your contacts

Activate sign-ups

Invite Your email list

Live video

Re-targeting campaigns
Follow Your Contacts
One of the easiest ways is by coordinating your email contacts with your social channels. This gives you the opportunity to follow your customers and to be able to engage with them more directly, which, in turn, builds loyalty and affinity.
One way to follow your contacts is to upload them to Twitter. When you upload your contacts to your Twitter account, then Twitter can help you find people you might also know on the platform. Twitter can then use your imported contacts to help personalize content and make suggestions. There are some limits, so don't go wild following everyone without first understanding those limits.
Other ways you can follow your contacts are:
Activate Sign-ups
Activate sign-ups to your email list directly from your social sites. By creating easy ways to have your contacts sign-up to connect with you, it allows you to meet them where they are.
Two ways you can do this are through creating Twitter cards and adding a sign-up on Facebook.
Create a Twitter card so people can sign up for your newsletter/blog updates at the click of a button
Invite your Email List
Invite your email list to a private Facebook or LinkedIn group to receive premium content. This is a great way to encourage deeper conversation and loyalty among your customer base. The key to this, however, is to consistently engage with that audience, providing them with content they wouldn't get any other way.

Live Video
Host a live video webinar on Facebook, Google Hangouts, Periscope or other live channels. But there's a twist. When promoting the event, ask people to pre-register to receive a reminder about the video. Have your pre-promotions send the individual to a landing page so they can register with their name and email and be automatically added to a queue for the reminder.
Want to get started with Live Video? Check out the Marketers Guide to Facebook Live here.
Re-targeting Campaigns
You can also use your contact list for powerful re-targeting campaigns. Reach back out to your less-responsive contacts in the social channels where they spend their time. Your current customers have already engaged with you and you want to continue to strengthen those existing connections. There are a few different ways to go about re-targeting campaigns with social media. One of them is to use Targeted Ads on Facebook and Instagram.
By targeting these ads to people you have already connected with, you can compare your data with Facebook to help you find other people who fit that buyer persona. By building these custom audiences with Facebook you can start to target your customers with the information they want today.
Interested in re-targeting campaigns on channels besides Facebook and Instagram? Look no further:
Developing a cross-promotional strategy across your contacts and your social channels will help you build your email database, have better conversations with your customers, and expose even more people to you products and services.
If you want to continue to develop a social media strategy for success, get notified about HubSpot Academy's Social Media Certification coming Spring 2018.
Sign up here to be notified when this course will available.