Do you use Zoom for videoconferencing? If so, you'll be happy to know that HubSpot has built an integration with Zoom so that you can use Zoom in your inbound efforts. Read on to learn how.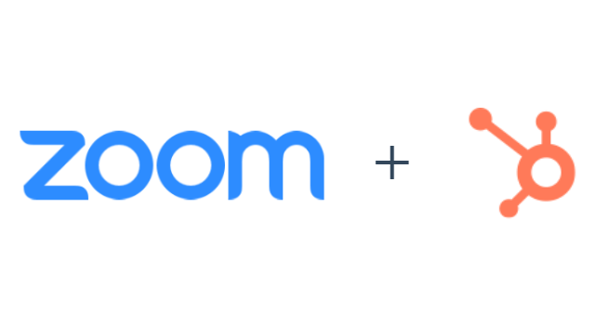 Zoom is the leader in modern enterprise video communications, with an easy, reliable cloud platform for video and audio conferencing, chat, and webinars. HubSpot's integration pulls Zoom's functionality into three main places: HubSpot CRM's event scheduler, Sales Hub's meeting links, and workflows. Let's look at each of these individually.
Scheduling a Zoom Call With a Contact
When you're scheduling a meeting with a contact, a Zoom link in a meeting invite is a great way to add some flexibility to your meeting, whether you're trying to connect with a remote client or just want a Zoom link in there in case you won't be physically present for a meeting. If you're creating the calendar event from a contact record, HubSpot's Zoom integration makes it easy to add a Zoom link right to the invite. Here's how:
If you have the Zoom integration set up, you'll see a camera icon in the meeting scheduling pane when you're scheduling an event from a contact record. It'll look something like this:
If you click on that icon and then click Zoom, the videoconference information is inserted into the description of the event. If you have HubSpot integrated with Google Calendar, you can then click the button that reads, "Save and send invite" to send this event to your contact. If you don't have Google Calendar, click "Save" to add this meeting to the timeline, then copy the Zoom information and send it to your contact another way.
Sales Hub Meetings Links
Sales Hub meeting links lets your contacts book time directly on your calendar. You can use the Zoom integration to automatically add a Zoom link as the location for every event created by your meetings link. Here's how:
When you're configuring a meeting link, if you have the Zoom integration set up, you'll see a button to "Add videoconferencing link" under the Location option. It'll look like this:
If you select Zoom in that option, a link to the videoconference will be automatically added to the "Location" part of the calendar invite any time a prospect books a meeting with you.
Workflows
There's one more place you might use the Zoom integration on a regular basis, and that's in your workflows. You can use workflows to automate a bunch of different things inside of HubSpot and in the apps you connect to your HubSpot account. In this case, you'll be using workflows to automatically add contacts to a Zoom webinar. For example, if you want someone to fill out a form on your website to register for your webinar, then you could have submissions from that form automatically add people to the webinar attendee list. Here's how:
If you have the Zoom integration turned on, then when you add a new action to a workflow, you'll see an option to "Add contact to Zoom webinar." See:
Enter the Webinar ID into the field and hit "Save." Everyone who enters into that workflow will be added to your webinar.
That's HubSpot's native integration with Zoom. For more information on how to get started, check out the integration page.
Enjoy!
Want to connect with others on HubSpot tips, tricks, and updates? Head over to the HubSpot Community to join a conversation or start one of your own."