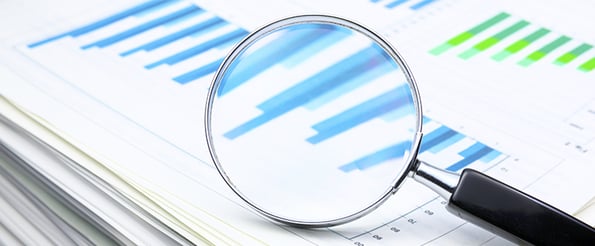 The state of digital publishing is in flux. After years struggling to monetize, the industry is realizing that it needs an overhaul. The good news? Publishers are optimistic and resilient.
Instead of capitulating to industry change, they're carving out new revenue streams and testing new products to connect advertisers with readers. What's working and what isn't? What are the biggest changes that are on the horizon? HubSpot's Digital Publishing Benchmark report explores these questions in-depth. Here's a look at the media landscape, summarized in 5 charts.
1) Over the Past 6 Months, the Amount of Email Publishers Have Sent Has Increased
Roughly half of the respondents in our survey reported having increased their email newsletter frequency. Why? More and more media companies are realizing that their mailing lists are a win-win, with readers getting content right to their inboxes and publishers gaining valuable real estate for distributing publication content, banner ads, and sponsored content.
Over the past 6 months, the amount of email publishers have sent has:
Over time, the value of publishers' email lists and contact databases will continue to rise. Newsletter marketing is one of the most effective channels for reaching audiences 1:1—a value proposition that only a small number of advertisers have the capabilities to build upon in-house. Media companies can open up their email lists as valuable engagement drivers and connection-building opportunities for audiences.
One caveat: more is not always better. When deploying an email marketing program, publishers should be careful not to flood inboxes. Use segmentation to make more opportunities with fewer touchpoints.
2) Subscription Revenue Isn't All that It Seems
With media companies like Slate, the Wall Street Journal, and The New York Times launching paywalls, it's easy to assume that subscriptions are the future of monetization in digital publishing. But the reality is the opposite. In our Digital Publishing Benchmarks Report, only 13% of respondents said that paid subscriptions were their greatest sources of revenue.
The percentage of publishers who cite paid subscriptions as their greatest source of revenue:
The takeaway? Don't assume that paywalls are the solution to media's monetization woes. There's an urgent need for media companies to explore new ways to drive revenue. It's important to experiment with a wide variety of products and services as alternative solutions. Get started by talking to your advertisers and studying the patterns of your audiences: as a digital publisher, it's up to you to build connectors between the two groups—that's your core value proposition.
Find creative ways to bring these two groups together. Monetize the solutions that stick.
3) Publishers Are Dealing with Option Overload
When it comes to delivering value to advertisers and readers, digital publishers have a range of value to offer. While the majority of respondents (83%) in our Benchmarks report found that selling banner ads, sponsored content, ecommerce, lead gen, and classified options were also a part of the mix.
The digital products publishers are currently offering:
The key takeaway from this trend is that publishers are still deciding where to dedicate their efforts. Publishers who have stuck to the status quo are now re-evaluating their monetization streams and advertiser value.
Now is a better time than ever to run more business experiments and to test new approaches to driving revenue. The market is quickly changing, and publishers need to sprint to keep up with changing advertising and reader engagement dynamics. Expect a completely different media economy from what you see now.
4) Print Is Still a Strong Revenue Driver, but It's on Its Way Out
Print advertising is far from dead: it's very much a dominant revenue stream for the majority of respondents in our Benchmarks report. But this trend is unsurprising—print has been the norm for centuries (literally), and it's going to take time for companies to find new, steady sources of digital revenue.
The revenue streams publishers predict will decrease most in value over the next two years:
But times are also volatile. Only 10% of respondents in the survey see print advertising increasing in value over the next two years. Meanwhile, 46% expect the value of print advertising to decrease.
The status quo won't be the status quo for long—media companies will either need to adapt or exit the market altogether. The industry has reached a critical inflection point. Signs point to sponsored content and native advertising as two of the best steps in the right direction.
5) New Technology Adoption Is on the Rise
Respondents of our Benchmarks survey reported that they're implementing new tech at all reader experience stages of the marketing and sales funnel. They're investing in social media monitoring or publishing tools, email marketing, and search engine optimization. At the bottom of the funnel, they're investing in marketing automation (54% B2C and 45% B2B) and customer relationship management (CRM) tools.
The technologies marketers are planning to adopt:
What's interesting to note is that these reported areas of investment span all stages of the conversion funnel—mapping to precise advertiser needs ranging from brand visibility lead-gen. Through marketing automation, CRM, and continued attention to web analytics, media companies are in a strong position to adopt an inbound strategy—to build a dedicated and highly engaged audience.
What's Next?
With change comes opportunity. Media companies might be nervous about their future monetization—but there's more to the story. In a nutshell, uncertainty opens doors for innovation. It's up to you and your company to study the market, test solutions to revenue pain points, and forge your own path forward. The media industry is giving itself a 'reboot,' and you're a key part of the change.