What do your favorite gifts, the last email in your inbox, and an omakase order at a sushi restaurant all have in common? If you guessed that they're personalized, you'd be correct! Personalization is such a common part of our lives that we tend to expect it in most of our interactions with the businesses we patronize. The main way companies create these unique experiences for their customers is by personalizing their websites.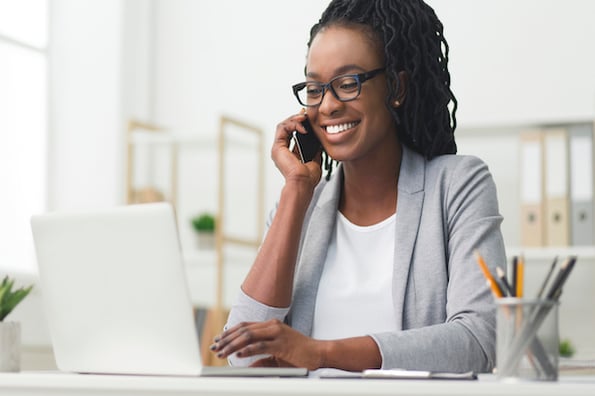 In order to create an individualized web experience for each customer, companies use data that they have explicit permission to collect. Then, they tailor the customer's experience on mobile apps, emails, digital ads, and websites by using geolocation, site behavior, past purchases, and much more.

Keep in mind that website personalization is not quite the same as customization. Website personalization vs. customization can be explained this way: Customization is controlled by the user while personalization is controlled by the company. Dashboards, chat rooms, and email filters are all types of customization a customer can configure to fit their specific needs while personalization is done by the company, using customer data to present them with a more relevant online experience.
The types of customer data that can be used for personalization, the benefits and challenges of the practice, and how to personalize your website for customers are all topics we'll cover in this article. As an added bonus, we've added some mini case studies for you that feature a few of our favorite companies (other than Amazon) that are doing an amazing job at website personalization.
Now that we know more about personalizing the customer experience, let's dive deeper into website personalization.
What is website personalization?
Website personalization is a strategy used by marketers to create unique experiences that include tailored recommendations, dynamic content, and exclusive offers for their customers. It's configured based on a visitor's behavior on the website, their demographics, and their interests.
The primary goal of website personalization is to enhance the user experience by addressing customers' needs and desires before they mention them. Have you ever walked into your favorite coffee shop only to find your cup-a-joe already waiting for you on the counter? The barista was creating a personalized experience for you — he recognized your car in the parking lot and started your order before you placed it. This is what website personalization should feel like for your visitors.
Websites that are designed to adapt based on a visitor's previous behavior are even positioned to make more money. 91% of consumers prefer to shop with brands that give them personalized recommendations. This practice can improve traffic, customer retention, and sales; However, only 13% of marketers are very satisfied with their personalization efforts. If you aren't experiencing these growth metrics with your site, it might be time to review the benefits of website personalization.
The Benefits of Website Personalization
When you truly understand your customers, they notice. By offering them relevant product recommendations, they'll repay the appreciation by spending more time browsing your site and clicking CTAs.
Relevant Product Recommendations
The biggest benefit of website personalization to your customers is a relevant product recommendation. Based on your users' data, you can make accurate and timely recommendations for what they might want to purchase next. Retargeting ads are a great way to anticipate future purchases. Using the engagement information those ad campaigns provide, you can automatically populate specific items on the user's instance of the homepage on your website.
Better Understanding of Customers & Customer Loyalty
When you understand your customers, you can provide a better experience for them. A good place to start is by developing buyer personas for your most common customers. From there, you can collaborate with your IT team to start personalizing your website for those different personas. The benefit of starting with brand personas rather than individual customers is that you have far less combinations of data to produce. Instead of attempting to create an experience for, let's say, 15,000 unique customers based on their addresses and the items they've purchased, you can instead create five or six buyer personas that use broader categories like the region in which they live and how much they've spent in the last six months.
Increased Time on Site
It's human nature to pay more attention to things that interest us and we only have 8 seconds before that attention begins to wane. And, as humans, we're fascinated with ourselves. By mirroring your customer's habits and common themes about their buying history back to them, there's a chance they'll stay on your website longer. Time spent on-page is a website metric that virtually every marketer monitors because it's a tell-tale sign of engagement. Although the amount of time your visitors spend on your website is important, it's even more valuable when they actually convert on a call-to-action or a specific landing page.
High Converting CTAs and Landing Pages
For you and your business, the ultimate benefit of website personalization is high conversion rates across landing pages and CTAs. BCG found that companies who create personalized experiences see revenue increases of at least 6%. That type of growth isn't accidental. Website personalization is high-effort, intentional, and actionable work and the ROI expectations are high to match. The odds of this strategy being a success are in your favor if you take the time to do it right.
The Challenges of Website Personalization (and how to get around them)
Performance Scalability
Personalizing your website requires a delicate balance between managing large amounts of traffic and quickly displaying dynamic content to the user on-demand. A regular, non-personalized website manages heavy traffic without decreasing the performance of your website by caching a static snapshot of the page and saving it. Later on, when a visitor returns to your site, they see that cached snapshot which loads faster on the screen. When you personalize your website, you can probably imagine how difficult it is to cache a webpage that is so dynamic. Unfortunately, there will almost always be a trade-off between performance and speed with a personalized website, but you can take steps to mitigate this problem. Using a content delivery network (CDN) can help your images load faster and removing unnecessary plugins from your website can decrease your website's "bloat" or extra files that don't contribute to the performance of your website.
Privacy
In the last few years, privacy has been a hot topic among social networking giants and everyday website owners. Most websites use third-party tracking, commonly called cookies, to record information about visitors. These cookies track all types of data like location and device type which gives the website owners more information that helps them create a personalized user experience for the visitor. Browsers like Safari and Mozilla Firefox have blocked cookies by default, and Google is well on its way to blocking them, too. The General Data Protection Regulation (GDPR) legislation enforced in the European Union has changed the way cookies can be used to track and collect consumers' information. The GDPR requires explicit consent from the user to track and store their data — this usually appears in the form of a pop-up at the bottom of a website with an option to allow or learn more information about how that site will use your data. In general, you'll always be better off getting consent from your users for anything that might be personal in nature.
Data Collection
If your company ever created an app, onboarded a new email marketing system, or even updated its payment processing system, you've probably had to answer the question: "How will we transfer our data to this new platform?" This is not an easy feat for companies big or small which can result in information silos. This happens when, say, customer demographic data is in a separate CRM than customer purchases which is in a separate database than customer website behavior. With all of these key pieces of information strewn across multiple systems, creating a personalized experience for the user becomes much more difficult. You'll probably be able to personalize your website, but the recommendations won't be as relevant as they could be if all the data were synced in the same place in real-time. Although restructuring your databases is a project in and of itself, it's one that can make the customer experience better for all departments in your company, from sales to customer service to finance.
How to Personalize your Website
We've learned a lot about the benefits and challenges of personalizing your website, but how exactly can you do this? In addition to using the right tools, there are several personalization factors that you can track on your site to create a unique experience for your visitors. The end goal of employing these tracking parameters is to keep your visitor interested in what your company has to offer and encourage them to purchase the items they need most. This begins with your buyer personas.
Buyer Personas
We touched on buyer personas a bit earlier, but what exactly are they and how can your business use them to personalize your website? Buyer personas are semi-fictional representations of your ideal customers based on data and research. These representations help us create snapshots of our diverse audience that are accurate yet simple to apply across marketing campaigns, product launches, and websites. Here's an example of a buyer persona created with HubSpot's "Make My Persona" tool.
By incorporating buyer personas into your website personalization efforts, you can personalize different versions of your website homepage to buyers like Wanda without creating a different homepage for every user who visits your website.
Geolocation
Geolocation tracking is not as scary as it seems at first glance. Many people mistake geolocation tracking as a website tracking their visitors' every move. This couldn't be further from the truth! Geolocation tracking works by using the cell towers and WiFi nodes closest to a site visitor to detect their approximate location. This helps websites recommend stores nearby that they can visit, for example. This tracking is useful for non-physical situations, too. For instance, your company can target your buyer persona, Wanda, in Austin, TX using language and images that are unique to that area.
Device type
The type of device a visitor uses to access your website can tell you a lot of information about them. Whether they're using an iOS or Android device, a mobile phone, tablet, or desktop, you can make reasonable predictions about the type of buyer they might be. For example, data shows that four out of five Americans shop online, and over half of them make purchases using a mobile phone. Knowing this, it might be wise to show visitors on mobile devices more purchase recommendations than those on desktops.
Time Spent on Page
We know that time spent on-page is a key metric for anyone who runs a website. This metric helps us understand how our site is performing overall. In Q1 2019, Statista reported the average time on site worldwide for desktop, smartphone, and tablet devices was five minutes, four minutes, and five minutes, respectively. Things like content quality, page design, and load speed all affect how long a visitor stays on our website. Couple this information with device type data above and you can understand which devices affect time spent on page and why.
Data Tracking Tools to Personalize Your Website
If you're wondering what tools and features you need to track this data on your website, we've got you covered. Check out these five awesome tools that can help you personalize your website with customer data.
1. HubSpot
HubSpot's CMS allows you to build and manage a stunning, personalized website. You can also leverage forms and chatbots to enhance the options you give customers to customize their experience with the software.
The drag and drop editor in HubSpot's software makes it easy to add smart rules and personalized features. Using the CMS, you'll collect data about the behavior of website visitors and use those insights to enhance your website.
You can also test different web pages to find out which options bring the most value for customers. This can help you decide on a final personalization design that's exciting and functional. If you're looking for an all-in-one software package that's easy to use and scalable, HubSpot is a smart choice.
2. Barilliance
Ecommerce platform Barilliance offers tools to personalize online storefronts. Options, like relevant recommendations, can help you reduce shopping cart abandonment. With Barilliance, you can optimize and personalize shopping trips for every visitor.
You can add relevant product recommendations to fit the visitor's interests, and even recommend products that other customers have viewed and products the user might also like.
If you have an e-commerce website that you want to tailor to every visitor, consider using Barilliance's campaign and website features to make that a breeze.
3. Qubit
Personalization using Qubit is just as unique as the websites you can create with the software. Offerings are categorized into three parts: Start, Grow, and Pro. These categories target company goals and are separated by experience level.
Qubit Start is for those who just want personalization foundational tools, like chatbots or recommendations. Grow is meant for solving more specific goals — for instance, integrating customer data across platforms. Pro, on the other hand, offers different packages for you to choose from.
Every Qubit category comes equipped with the same base features: tests, integrations, recommendations, and omnichannel personalization. If you're looking for software that has tools fit for your skill level and business size, look into Qubit.
4. SiteSpect
If user behavior is a metric you're interested in tracking, SiteSpect is a great option. Its tools offer personalization that is based on user data, like previous visits, sessions, and omnichannel behavior.
This data is collected by SiteSpect, which you can analyze and use to customize web pages for audience segments. When you create segments with the software, choose from an array of factors that will enhance the impact of your site, like location and device type.
SiteSpect can help you build a website and track its effectiveness among your visitors. When you analyze campaign performance, you can know what's working and what's not, to better configure your design for customers.
5. Hyperise
Hyperise was created just for B2B marketers looking to personalize their websites. With this tool, you can use hyper-personalization (using data to recommend products) to boost conversions, all without coding experience.
You'll be able to nurture leads such as IP lookup and form completion. For company branding, you can add your logo, profile images, and dynamic text. Additionally, you can create multiple, custom, CTAs to engage your audience.
This software lets you pull data from your CRM and uploads it into Hyperise, making the platform integration-friendly. Hyperise also offers an extension you can download to make it easy to continue on website building.
If you're looking for a personalization tool that will integrate with your HubSpot, Salesforce, Shopify, or Google Sheets account, Hyperise is a great solution.
Website Customization Examples
Your website might use all or just one of the tracking metrics we'd described in this article. Not all websites need to track tons of data to produce a personalized web experience for their customers. These examples below show that by tracking only a few data points, you can create an engaging online experience that will help your business meet and exceed its goals.
HubSpot Academy
HubSpot Academy is an online course library that teaches users skills in marketing, sales, and customer service. Based on the courses an Academy participant has taken, HubSpot can recommend similar courses or more advanced courses to help them build on their knowledge.
The page greets the user by name and lists the courses in progress. Every time a user logs in, they can pick up right where they left off.
Personalization doesn't have to be overly complicated. If you're a B2B marketer that prefers minimalist design, think about simple elements that will still give you the results you need. Greeting the user by name and showing previous interactions are great ways to make the customer feel valued.
Kroger
Earlier we discussed one of the challenges of website personalization — third-party tracking and cookies. One way Kroger overcomes this problem is through a robust loyalty program. Users can sign up for a Kroger Plus Card using their phone number which explicitly gives Kroger consent to track the customers' purchases. The incentive to this loyalty program is that customers receive discounts on many items in the grocery store. Every time a Kroger customer makes a purchase, they enter their phone number to receive the discounts. In exchange, the business can customize their experience by providing recommendations and coupons that the shopper is likely to use.
In the image below, you'll see that Kroger has recommended that I add ice cream, olive oil, and limes to my grocery list because those are common items I purchase every trip. They've even got limes on sale exclusively for Kroger Plus customers.
Apple Music
Apple Music has released more personalization updates in recent years to make a more individualized entertainment experience. Because this service is paid, they don't use third-party tracking or cookies to gather consumer data. By monitoring the songs I download and replay, they can customize a station just for me. The station plays the hits I love and some new vibes I may not have heard yet. Another cool feature Apple Music provides is the ability to see what songs my friends were listening to in the past week. With a playlist of just my friends' favorite jams, I get a sense of community with my personalized recommendations.
AirbnB
Very few things are more personal than a vacation. Airbnb makes choosing your next vacation simple by recommending nearby experiences based on your geolocation. As the world embraces a new normal, Airbnb personalizes these recommendations based on how long it might take you to drive from where you are to the vacation destination. The app also keeps track of your saved searches. If you wanted to take that trip to Jamaica but postponed it, you don't have to search for hours to find that perfect bungalow again. Airbnb saves it for you when you're ready for the next trip.
Google News
This Google feature looks at a searcher's browsing history on Google and pulls relevant, recent news articles that they may like in the "For you" section. Google pulls from different sources, including websites a user may have visited in the past, to give a range of options. Remember, personalization doesn't have to be limited to one goal. You can use the data you have access to and permission to use to display relevant content or products.
Build Your Own Powerful and Personalized Website
Personalizing your website can take some effort, but the reward outweighs the costs. The data shows us that users who feel valued by the company they're shopping with make more purchases and are more likely to return. Behind every powerful user experience like this is an even more powerful CMS. A robust CMS platform works just as hard as you do to help you create memorable and profitable user experiences on the web.
Website personalization helps you to take your website from decent to distinct for each one of your visitors. By using behavior tracking, location data, past browning history, and a CMS that can handle it all, you can present a unique web experience to your audience every single time.
Editor's note: This post was originally published in July 2020 and has been updated for comprehensiveness.