To some marketers, A/B tests are a no-brainer.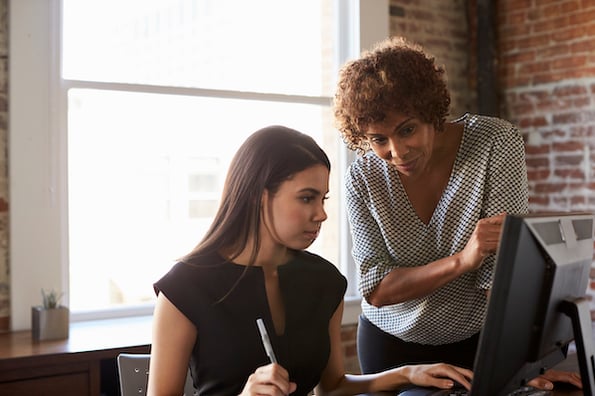 After all, there's nothing like knowing which marketing content is preferred with your target audience, before sending it out to the masses.
Even though the test is a timeless marketing technique, it can be a little frustrating because of the uncertainty of it all. Thankfully, there's an unlikely superhero to point to when we're talking about the upgrades to a regular A/B test — machine learning.
If you're finding inconclusive or unnecessary results after A/B testing, you might want to try machine learning to see if that can optimize your A/B tests.
If you wish that A/B testing could be more simplified and automated, machine learning is the missing element you need. In the next section, we're going to refresh the definitions of A/B tests and machine learning, then learn how they work together to make your life as a marketer a whole lot easier.
What is an A/B Test and Machine Learning?
In this section, we're going to dive into the basics. This includes what an A/B test is, what machine learning is, and how they're both beneficial to marketers.
A/B testing
A/B testing is a common and powerful marketing technique. Before sending out a marketing message, a marketer would send "test" versions to a portion of audience members to see which performs better.
Using an A/B test gives you an idea of what delights your customers the most. For example, if you're using a promoted tweet campaign to support a new product launch, you might test different versions of that tweet using automated software, so you can tell how to market to your audience.
After seeing which tweet had the most clicks, you can then use that version in marketing messages, as well as a template for the duration of the campaign. That way, engagement is more of a guarantee.
Running an A/B test is pretty simple. However, you might run into a few snags with A/B testing.
For instance, you might have to make the final choice before you receive any conclusive results, particularly if you're on a tight deadline.
Another possible bump in the road? Well, more people might like option A, but there's still a portion of an audience that will choose B, and marketers that aim to appeal to both might find themselves frustrated.
Thankfully, though, you can use machine learning to make A/B testing less stressful. Let's look into how in the next sections — starting with machine learning is in the first place.
Machine learning
Machine learning is a technique used to analyze large data sets. Gone are the days of pouring over expansive contact lists and target audiences — machine learning does that heavy lifting on a quicker, more accurate, and larger scale.
To explain further, let's consider an example — do you use social media reporting tools, like Instagram Insights? If so, you're already using machine learning to make your job more streamlined. Social media reporting tools help those use machine learning to discover how customers engage with social media marketing efforts.
Here's what marketers need to know about machine learning:
If you want your marketing campaign to be more personalized and potentially more helpful for individual customers, machine learning can help you create tighter customer segments, analyze performance accurately, and execute stunning campaigns.
In short, machine learning shreds hours of data analysis that's an essential part of marketing and enables marketers to be more productive. In fact, Google found that 66% of marketing leaders agree that automation and machine learning helps their team focus more on strategic marketing initiatives.
Machine learning helps marketers with audience discovery, optimization, measurement, and creativity. Machine learning also helps A/B testing. Let's dive into how the two can work hand-in-hand, next.
Machine Learning and A/B Testing
We've gone over why A/B testing can hit some snags — data might not be conclusive when you need it, and you might find your audience is relatively evenly split, with a large group preferring the less-favored option.
Machine learning's powerful makeup can help with these issues by automating A/B testing. The algorithms of machine learning also enable marketers to analyze results more accurately.
For example, HubSpot's Lead Flow tool, a tool that organizes all things regarding leads, has an effective system that enables users to run a test continuously. In other words, marketers set up the test, and HubSpot does the rest.
Alternatively, you might try software like Optimizely, a platform that specializes in delivery and experimentation. A marketer using Optimizely would be able to use the machine learning tools the platform offers and test marketing messages and increase conversion and lifetime value.
By using machine learning, marketers can get a better picture of what audiences want in many key steps of the A/B testing process.
To make sure the test is going to the right customers, machine learning sorts and analyzes channels —such as social media channels — to help the user discover valuable customers. That means, if a marketer wants to discover leads on Twitter, machine learning could do it quickly and thoroughly.
Advancements in technology have helped the accessibility of machine learning data and its uses for marketing. For instance, ten years ago, it would be more difficult to discover software that did A/B testing for you, but content management systems (CMS's) often have this component built into their software.
Today's world of marketing is busier and moves quicker than ever before. Your marketing methodology should be more efficient to keep up. By automating some techniques, such as A/B testing, your next testing round can be a breeze.