Nowadays, email marketing is an integral component of any marketing strategy. In fact, 59% of marketers say email is their biggest source of ROI.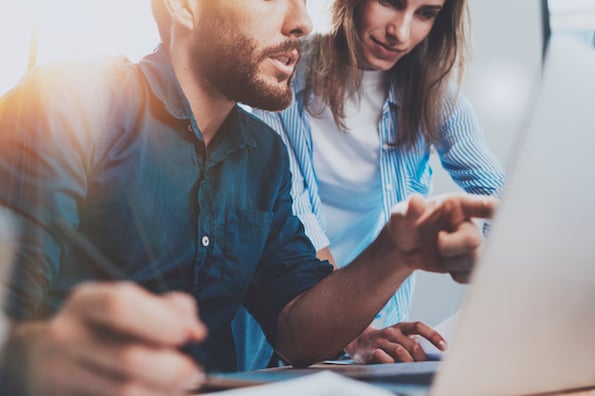 When it comes to email marketing, the autoresponder sequence is a commonly used but often under-appreciated part of the process.
Autoresponders are a way to dip your toes into email automation. They're typically the simplest form of marketing automation to execute when setting up your campaigns -- but, when done well, they can be incredibly powerful for bringing in additional customers and revenue.
Here, we'll cover what autoresponders are, and which autoresponder software solutions you might consider implementing for your own business.
What is an autoresponder?
An autoresponder is a time-based email or message that you send out automatically after a visitor signs up for your email list. Depending on your autoresponder tool's capabilities, you can further segment your autoresponder emails based on other contact properties, but at its core, an autoresponder allows you to passively and automatically send pre-written messages.
You can choose the number of messages that appear in an autoresponder sequence, and you can choose when they're delivered. For instance, some autoresponder sequences only have one follow-up message, which is sometimes just a "Thank you" message for subscribing to the email list:
In other cases, the autoresponder can be quite robust, and deliver a series of on-boarding emails that escalate in persuasion, sometimes culminating in a sales pitch. This is typical in digital industries, where your email list is the primary sales channel to launch your products.
For example, Ramit Sethi starts his autoresponder sequence with a friendly and informational email message:
Over the course of several emails, the reader will eventually receive a sales pitch (or a few email sales pitches). This allows the reader to warm up to your brand, and your content. By the time you're offering your product or service, you should've already provided a ton of informational value, like this:
Sometimes, an autoresponder can act as the actual lead magnet used to get someone to sign up for your list. A good example of this is gated email courses.
CXL, for instance, uses a gated "enterprise conversion optimization" email course to get people to sign up for their list. The deliverable is just a time-based sequence of email lessons -- in other words, an autoresponder.
While the execution can be quite different depending on your business, your industry, and your goals, all autoresponders allow you to automate email sequences based on timing and email sign-up form.
Next, let's dive into some of the best solutions on the market.
The Best 11 Autoresponder Software
HubSpot
GetResponse
Moosend
Sender
Aweber
Klaviyo
Mailchimp
ConvertKit
Autopilot
Constant Contact
Omnisend
HubSpot offers one of the most powerful autoresponder capabilities on the market. Particularly if you're using other tools in HubSpot's Marketing Hub, such as our form builder and popup forms, you can easily set up auto-response emails upon form submission.
At a high level, there are two ways to send an email response to contacts who submit a form on your page:
Set up a follow-up email in the form options on your HubSpot page
Send an automated email through a workflow (Marketing Hub Professional and Enterprise only)
For the former option, it's quite a simple setup. You simply set up a follow-up email to be delivered upon form submission (full instructions here).
However, through HubSpot's workflows you can get quite robust with your targeting and follow-up email assignment. For instance, you can break things down by contact property data you've collected, like company size or which service the subscriber is interested in. This allows you to tailor your follow-up emails to ensure they're more helpful and personalized for the user.
In addition, you can set a sequence of several autoresponder emails, and can also include behaviorally triggered messages -- the options are pretty much endless.
If you're just using HubSpot's form builder, you can still easily integrate with another autoresponder solution in this list to get a simple setup working.
GetResponse is a full-suite marketing platform that offers tools including landing pages, webinars, and forms, but their most powerful tool is likely their email automation functionality.
Like others in this list, GetResponse can trigger emails based on multiple criteria, such as behavioral triggers, contact property triggers, and time-based triggers (i.e. autoresponders).
Their autoresponder feature is actually quite flexible. You can build email follow-up sequences with the following features:
Unlimited messages per day
Advanced timing control
Simple cycle management
Day-of-the-week selection
Drag-and-drop message management
Quick message edits
Sometimes I've found the usability of GetResponse to feel complicated when trying to do advanced automation, but building time-based autoresponders is incredibly simple to accomplish.
It depends on your list size and requisite features, but GetResponse pricing starts around $10 per month (which includes basic autoresponders, and a list size of 1,000).
Moosend is an email marketing and marketing automation platform, ideal for eCommerce businesses, agencies, publishers, and more. The software offers a variety of lead generation tools like subscription forms and landing pages to expand your mailing lists.
Through Moosend's autoresponder feature, you can create and run a welcome series to greet new subscribers and offer exclusive deals. You can also target cart abandoners with abandoned cart sequences to restore your lost revenue.
Moosend's advanced features include:
Powerful segmentation and personalization
Scalable automation workflows
Easy-to-use campaign editor
Weather-based condition filters
Action triggered messages
This email platform also has powerful reporting and analytics tools, advanced marketing automation tools, and a variety of automation recipes to help you scale your business.
Moosend offers a free plan that includes autoresponder and automation features. Paid plans start at $9 per month for 500 subscribers and gives you access to the landing page builder and more.
Sender is an affordable tool in the market that has the best features from building email lists with high-converting popups to targeting the right audience with segmentation. Sender excels in email automation, allowing you to recover abandoned carts with cart recovery emails, send welcome emails when customers purchase or sign up for your email list, gather feedback with post-purchase follow-up emails, and send onboarding emails after the purchase, and more.
With Sender, you can take advantage of combining email with SMS, which is a great way to make sure your message is read. And with its detailed analytics and newsletter heatmap, you have the opportunity to adjust your strategies according to what works and what doesn't.
Also, Sender offers many premium features for free, including email automation, segmentation, popups, and more. With their paid plans, they start only at $8.
Aweber built one of the first well-known autoresponder software, and it's still widely used and loved.
Aweber is a bit more expensive to start out ($19 per month for up to 500 subscribers), but the tool gives you all the critical features you need to implement an impressive autoresponder email system. This includes segmenting, analytics, sign-up forms, templates, and even stock photos.
If you want a straightforward solution for a relatively small email list (anything over 25,000 emails gets quite a bit pricier), Aweber is a good solution.
Klaviyo is well-known and loved in the e-commerce world, and they have some of the coolest email automation features, particularly for behaviorally triggered emails.
With Klaviyo, you can trigger an autoresponder email sequence for basically any event you can measure (as long as you have the contact's email address). This opens up all kinds of possibilities, such as abandoned cart emails, thank you emails after a purchase, customer satisfaction surveys after a time window after a purchase, and cross-sell emails given a certain item purchased.
It's important to note, Klaviyo is built for e-commerce, so it's relatively stock built for things such as abandoned cart emails. If you're in e-commerce this is a plus, but in other industries, the feature set can be a bit complicated for what you want to accomplish.
Of course, if you just want to build a simple four-email sequence after an email list sign up, it's easy enough to do.
Klaviyo offers a free tier (up to 250 email addresses). Once you hit that threshold, it starts at $25 per month and goes up quickly from there (for instance, it's around $1000/month for 78,000 contacts).
Mailchimp is one of the world's most popular email marketing tools, and they have a great (albeit simple) autoresponder functionality.
I like two things about Mailchimp:
It's simple to use.
It's free to start.
For those two reasons, the barrier to entry is incredibly low. So, for businesses with fewer than one thousand email addresses, it's a good solution.
However, I've found that, as you scale and your automation becomes more complicated, Mailchimp becomes a bit too difficult to manage. It's hard to know which email is going to whom, and when.
Again, you can begin for free, but after that the cost starts at $20 per month.
ConvertKit is an email marketing platform built for creators (i.e. bloggers, podcasters, designers, etc.). It's incredibly useful for marketers who focus on inbound marketing.
ConvertKit platform's is simple and easy to use, although it does include other features to help build your inbound marketing program -- including forms, analytics, and their newer automation feature set.
Pricing starts at $29 per month and that tier goes up to 1,000 email subscribers.
Autopilot is an email marketing, messaging, and automation platform that has billed itself as the easiest marketing automation platform to use. They have a visual editor that is quite clear and easy to understand (even without being a master automation nerd).
Of course, their platform allows for quite sophisticated messaging and targeting, although you can surely create a simple autoresponder based on a time-sequence as well.
Pricing starts at one dollar per month for up to 500 contacts, and then begins at $25 per month for more than 500 contacts. They include a 30-day free trial, as well.
Constant Contact is a simple, easy to use, and popular email marketing tool. It includes basic features, such as templates, list building tools, a drag-and-drop editor, and autoresponder sequences.
It's been a few years since I've used Constant Contact, but it's the platform on which I initially learned email marketing. I enjoyed it somewhat, but found it to be frustrating when trying to edit templates, and also for any advanced email targeting. Although it may have changed, I think Constant Contact is best for relatively simple cases.
Their most basic package starts at $20 per month, which goes up to 500 contacts.
Omnisend is a popular tool in the e-commerce industry, with thousands of 5-star reviews across the Shopify App store, G2Crowd, and Capterra. They have advanced autoresponder features, allowing you to create interesting marketing automation workflows that include several channels: email, SMS, web push notifications, Facebook Messenger, WhatsApp, Viber, and more.
This allows you not only to set up an autoresponders via email, but via any channel your customer has consented to using with your brand.
Omnisend, one of the best Klaviyo alternatives, is geared towards e-commerce. However, if you're not in the e-commerce industry, many of their e-commerce-friendly features might be lost on you. Regardless, Omnisend is a powerful autoresponder platform that's definitely worth checking out.
They offer a free plan that has basic email functions and is limited to 15,000 emails per month. Their Standard plan starts at $16 per month and includes automation features.
Image Source
The 8 Best Free Autoresponder Software Tools
Some of the tools listed above have free or incredibly cheap plans, such as Klaviyo and Autopilot ($1 per month). However, if you're looking for a full list of the best free autoresponders that offer incredible value, we'd recommend the following eight.
Best Free Email Autoresponders
Ultimately, choosing the best autoresponder is difficult. It's not as straightforward as asking, "How much does this cost?" or "What features does this tool have?"
Instead, it's also about asking, "Which autoresponder software is best for my particular business?"
This question leads you to reflect on what your current tech setup is (which CRM you use, for instance), and how you plan on growing and using marketing automation in the months and years to come.
For what it's worth, HubSpot has an affordable introductory plan and we've structured our email automation plans to help you grow. So you can expect powerful and simple-to-use features at the startup level, and then as you grow, our autoresponders will still support you, even at the enterprise level.