Whether you're a recent graduate or someone considering a career change, career aptitude tests can offer unique insight regarding jobs best-suited for your skillset and personality.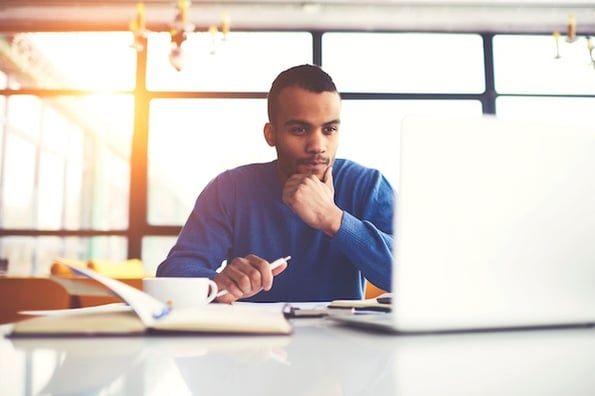 Best of all, the career aptitude tests are objective measures of your interests -- so you can avoid awkward career conversations at family parties like, "My neighbor Bill is hiring for a financial analyst. I know you want to be a writer, but it's a start."
Here, we've compiled seven of the best career aptitude tests you can take online for free, so you don't waste time applying for jobs you wouldn't enjoy. If you feel unfulfilled in your current role, or if you're tired of hearing what you "should" be doing at family parties, read on.
Best career aptitude tests
123 Career Test
Princeton Review Career Quiz
My Next Move O*NET Interests Profiler
MyPlan.com
MAPP Career Test
Career Strengths Test
PathSource
It's important to find a job that suits your personality and makes you feel passionate about what you do. Occasionally, you might feel tempted to take a job for money or status, rather than truly considering if your personality would fit well in the work environment or job itself.
123 Career Test is a simple, five-to-ten minute assessment of your career personality. You simply look at pictures of people doing work-related tasks, and choose "yes" or "no" in regards to whether you could see yourself enjoying that task. 123 Career Test is based on Holland Code personality types, and will tell you which work environments and occupations best suit your career personality.
Similar to 123 Career Test, Princeton Review's Career Quiz offers examples of people doing tasks, and asks you to choose which one you'd rather do. However, while 123 Career Test shows you pictures, Princeton Review's test offers phrases such as "I would rather be a tax lawyer" or "I would rather be a newspaper editor". If you'd prefer words over images, this test is the better option for you.
The test consists of 24 questions. At the end of the test, you'll be assigned a color based on your perceived interests and style -- then, Princeton Review offers potential careers well-suited for people in your color category. While not as diligent as some of the others in this list, the results are nonetheless useful indicators of potential paths you might take.
Sponsored by the U.S. Department of Labor, the O*NET Interests Profiler asks you 60 questions regarding various work activities. After you provide a level of interest for each task, ranging from "strongly dislike" to "strongly like", the tool identifies your career interests and suggests potential career paths.
Best of all, the O*NET Interests Profiler allows you to filter your career path search based on how much preparation is necessary, so you can find jobs for which you're currently qualified.
A company is only a good fit if it matches your values -- but sometimes, particularly if you've never worked in a corporate environment, it's hard to identify those values. MyPlan.com offers a free values assessment that identifies your work values, which can help you narrow your search when it comes to both positions and companies.
The test separates work values into six separate clusters. Once you've completed the test, you are assigned one of those clusters -- then, you're shown a list of 739 occupations, ranked by how well each position matches your personal values. If you're unsure which industry best suits your values, this test might offer some useful initial insights.
The MAPP Career Test (Motivational Appraisal Personal Potential) provides you with insights regarding your career motivations, and then offers you a list of ten industries best-suited for you. Additionally, the MAPP Test matches you with specific careers in their database of over 1,000 roles, helping you narrow your job-hunting scope.
The MAPP test has been taken by over 8 million people since 1995, and is offered in six different languages. The test has undergone reliability testing by psychologists, and results are correlated to the Strong Interest Inventory®. While some of the other tests in this list offer general personality or value assessments, this one matches you with specific roles. If you're interested in more literal or concrete advice, this is a good test to take.
Searching for jobs requires a certain level of self-awareness, but oftentimes, it can be difficult to remain open-minded and unbiased when considering your own strengths and weaknesses. The Career Strengths test, a collection of assessments developed by the Johnson O'Connor Research Foundation for Oprah, evaluates your strengths when it comes to skills varying from numerical reasoning to concept organization.
After completing the four quick tests, you're given a list of multiple jobs that require your skills. This is a good test for identifying your job strengths, and limiting your career search to roles best-suited for your skills.
PathSource created a free career assessment app for those of you who prefer using your smartphone over a desktop. Once you input personality characterists and interests, PathSource provides you with a list of potential career options, and includes information such as lifestyle and income expectations for each potential role. Additionally, the app offers 2,600 informational interviews, showcasing an insider's view from people in various professions.
PathSource also provides a database of careers related to various academic majors. If you're a recent graduate and are unsure which career paths you can pursue with your major, this is a helpful tool.