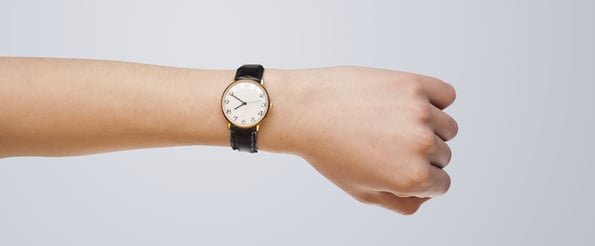 Content marketing takes time, effort and dedication.
But you're pressed for time everyday. You can't seem to get around to everything on your to-do list -- much less invest the time required for effective content marketing.
So, you just give up. If you can't do it 110%, you might as well not do it at all? Right?
Wrong.
Yes, it would be great if you could spend hours on content marketing everyday. And it'd be even better if you had the budget to hire an expert.
However, just because you don't have that kind of time or money doesn't mean that you can't make an impact with content marketing. After all, the best results don't come from massive, one-time initiatives. The most successful content marketers do a little bit each day, and it adds up over time.
So even if you only have 30 minutes in a day to commit to content marketing, you can make a meaningful impact. Today, we're going to learn what exactly you can do in that small amount of time. It doesn't sound like a lot, but you might be surprised by what you can accomplish when you have the right priorities.
Write Blog Posts
Total Time: 10 minutes
Ten minutes might not be enough to finish a whole blog post, but even devoting small investments of time can yield consistent, powerful content marketing results. That's what Buffer does -- it's their key to producing quality content at scale.
You just have to figure out how long it takes for you to create a blog post, and work backwards to find how much time every day you should devote to writing.
Let's say, on average, it takes me about one hour to complete a 600-word blog post. That means if I only spent 10 minutes a day writing a blog, I could finish a 600-word post in six days. It's amazing how the small things add up.
Develop a Process
As a professional marketer, I'm publishing several articles a week. As you might expect, this would take up quite a bit of my time if I didn't systemize the process. Below's another example from Buffer on setting up this process.
So once you have a list of all the things you need to do to produce a quality post, how do you actually do it? Here are my four tips for producing quality content fast:
If you can apply these four tips, you'll be able to make a big dent in your post during these few minutes each day.
Update Social Media
Total Time: 5 minutes
If you want to make an impact with content marketing, you've got to set up a strong social media presence. This requires you to keep your profiles updated with engaging posts on a daily basis.
But the biggest misconception out there is that this requires a huge investment of time and effort.
Respond to Your Followers
If people have responded, commented, or shared your posts, take a few moments to engage with them. It shouldn't take more than a few seconds to respond.
You don't have to elaborate in-depth. Sometimes all it takes is a small acknowledgement:
These small conversations will go a long way in developing solid relationships with your audience, and your acknowledgment will encourage them to keep engaging and sharing.
Write Some Engaging Posts for the Day
Now that you've caught up on your responses, it's time to write your own posts for the day. Then, use a social media scheduling tool to disperse them throughout the day.
Your optimal frequency for posts totally depends on your industry and audience, but if you want a suggestion on where to start, we'd suggest publishing one post on Facebook and five on Twitter.
When you're first starting out, you'll have a wealth of knowledge about your business and expertise on your industry to pull from for these posts. And after spending a few months on this content marketing strategy, you'll also have a repository of branded content. That's plenty of things to pull from for creating effective posts.
Dive Into Research
Total Time: 5 minutes
Writing powerful content starts with a deep knowledge of the subject and strong supporting research. I've found that level of content comes much easier when you do a small amount of study and research each day.
I can't tell you how many times I've gone to write an article and blew through it because I could recall a lot of research and study from the past days and weeks. Here are a few tips I'd recommend following to set up your research arsenal.
Build a RSS Hub for Content
To make the most of these five minutes, you need to set up a place to source the content. In my experience, RSS readers like Feedly accomplish this really well.
Once you have your RSS reader set up, you should:
Identify websites that craft data-driven content on a regular basis.
Subscribe to their blog through your chosen RSS reader.
Quickly digest and skim the content each morning.
Do this to help you stay ahead of your competitors, industry developments and breaking research in your field.
Sign Up for Relevant Newsletters
Relevant industry newsletters are another way to keep ahead of research. I subscribe to several experts that curate interesting research, articles and content. Here are a few resources to help you find some really great newsletters:
Save Your Research With Pocket
Nothing makes my morning better than coming across an awesome article I'll want to read and refer to again later. I'm like a kid on Christmas morning!
But I can't tell you how many times I've found something great, then lost it.
That's why I'm so glad I discovered Pocket a few years ago. It's an application that makes it possible to easily bookmark and save the articles you come across during this research period.
If you tend towards the scatterbrained, give it (or any other note capturing system like Evernote) a try.
Conduct Outreach
Total Time: 10 minutes
As a content marketer, I believe this is one of the most important aspects of your entire strategy. You need to get the word out about your content and start making a name for yourself in the industry.
Yes, this happens partially through a strong social media presence.
But the biggest wins I've ever had with content happened when I developed a one-on-one relationship with someone. Nothing's better than that.
Here are a couple tips to make this outreach process easier:
Build targeted Twitter lists. Twitter lists make it possible to segment Twitter users based on anything you choose. Need to build relationships with B2B marketing managers? Make a list for it, then retweet, @reply, and connect with those users on a regular basis.
Reach out to bloggers. While you're reading through blog posts, take a moment to find the email of the blogger that wrote the piece. Reach out, compliment their work, and open up the doors of communication. I've had a surprising number of opportunities come from doing this -- even when I wasn't trying to make a deal.
Don't have a lot of time to commit to content marketing? Use this breakdown to get the most bang for your buck each day. You may not move mountains, but you'll certainly build momentum that generates success.