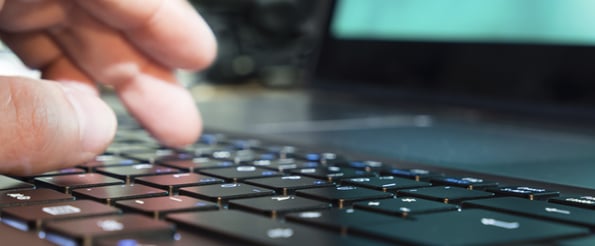 The marketing formula seems simple: Attract audiences, engage prospects, convert leads, and facilitate retention. One of the biggest "wins" you can achieve is the ability to connect your disparate initiatives into a scalable, predictable demand generation engine.
But when you're in the trenches, you know this process is easier said than done. Marketers, immersed within their organizations, frequently lack access to industry data. The question of what's "normal" can be challenging to answer -- which makes it tough to justify your budgetary needs to your boss.
That's why benchmarks are so helpful -- they help you figure out where you stand in your industry. Below, we dove into several demand gen benchmarks from one industry in particular: software. Read on to learn more.
(If you'd like to get a deeper look into this industry or check out some others, you can download the full 2015 Demand Generation Benchmark Report here. It features data from a survey of more than 900 marketers in management levels and above, in 11 industries ranging from media & publishing, finance, healthcare, travel & tourism, consumer products, and consulting.)
1) In terms of monthly visitors, leads, and sales opportunities generated, software companies aren't radically different from other industries. (Tweet This Stat)
While creating the survey for this report, we were interested in whether the different industries had radically different conversion funnels across visitors, leads, and sales opportunities. The charts below feature a comparison between software companies and respondents from all industries. What we see is a similar distribution pattern of responses -- imagine plotting two curves against these bar charts, and you'll see that they take the same shape.
There are probably a number of reasons why this trend exists. For one, there may be a coincidence in how marketers were selected for the survey's sample. There could also be a hidden trend in what the different industries are doing from a strategic perspective. And of course, if we were to compare all industries on a 1:1 basis, we'd probably see more anomalies.
Despite potential nuances, one takeaway stands out: These patterns suggest that marketing is a predictable process. With more visitors come more leads and more sales opportunities -- a trend confirmed by the Demand Gen Benchmarks Report, which found a correlation between companies exceeding their revenue goals and generating a higher number of monthly website visitors, leads, and sales opportunities. Companies that didn't know their demand gen benchmarks (indicating a lack of structure in their marketing programs) were less likely to be achieving their revenue goals.
2) The software industry is more likely than other industries to rank inbound marketing techniques like content creation and marketing automation/lead management among their top three marketing investments. They're also investing less in traditional advertising. (Tweet This Stat)
The survey asked marketers to rank their top and bottom three marketing investments to explore the relationships between companies' marketing strategies and the benchmarks assessed in this blog post.
What we need to keep in mind is that the top and bottom lists from this report don't differentiate between the levels of budget spent on one tactic over another. For instance, we cannot tell whether content creation received more investment than marketing automation/lead management. What we can say is that content creation and marketing automation/lead management had the highest likelihoods of being ranked among software companies' top three marketing investments.
We have to be careful to remember that a higher investment in budget doesn't necessarily correspond to an investment in effort. A company, for instance, could spend millions per year on a billboard but actually put more effort into content assets -- dozens of blog posts and ebooks -- that cost only tens of thousands of dollars to produce in house. The content investment wouldn't be as high as the traditional advertising investment; however, the effort devoted to content would be much higher.
What we can see, however, is that software companies are investing more heavily than other industries in inbound techniques. This trend relates back to a key point from the previous section -- that structured marketing programs bridge the gap between effort and success. Inbound marketing efforts like marketing automation/lead management help connect the dots between otherwise dissociated marketing efforts (like tradeshows and email marketing) so you better prove ROI.
3) Software companies are paying higher costs per lead than other industries. (Tweet This Stat)
Across all industries, companies reported paying between $1 and $25 on average per lead, while 44% of software companies reported paying more, at $51-$100 on average per lead. One possible explanation for this trend is that acquisition costs are higher for software than other industries due to higher levels of competition in the market and higher customer lifetime values (LTV).
Regardless of the explanation, there's a very clear takeaway from this trend: Wasted leads yield wasted marketing investments. Software companies especially need to make sure that their customers aren't falling through the cracks. Paths to conversion are complex, and brands need to be present in their audiences' sales journeys. Inbound techniques like marketing automation, lead nurturing, and content creation are crucial for driving ROI on cost per lead investments.
4) Software companies tend to see slightly higher email open and clickthrough rates compared to other industries. (Tweet This Stat)
More than 70% of surveyed software companies reported email open rates of higher than 10%, and close to 80% of software companies reported click-through rates of higher than 1%. Across all industries, the survey found a notable trend: Companies exceeding or achieving their revenue goals reported high open and click-through rates.
One possible explanation for the trend below is that software companies are more likely than other industries to invest in marketing automation and lead nurturing techniques, which rely on segmentation, interest-based personalization, and targeted content.
Final Thoughts
The bottom line for the software industry is clear: Marketing relationships trump one-off tactics. Facing higher than average costs per lead, the software industry can't afford to let their website visitors and leads fall through the cracks. Inbound marketing investments are crucial to the future of demand generation in this industry. Marketing is about people, and inbound builds structure around this mission-critical perspective.