Choosing a domain name for your business often goes something like this: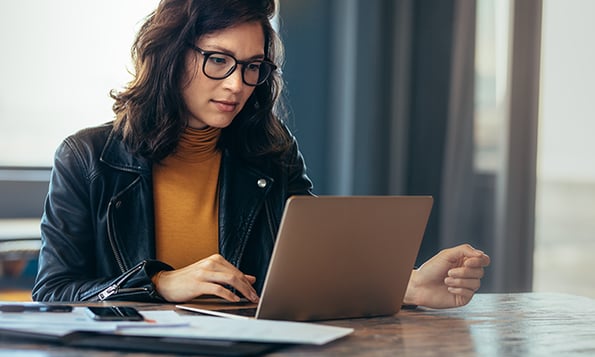 1. After hours of brainstorming, you discover the perfect domain name only to find out it was registered 20 years ago.
2. After a few more hours, you settle on another choice only to find out a payment of $50,000 was required.
3. After more hours and more iterations, you end up buying a .com domain name that you don't feel great about.
This often happens due to the limited supply of top-level domains (TLDs) combined with the recommendation that all businesses should choose a .com or country-code TLD. But does having a common domain extension still matter? Should businesses still buy a .com domain name?
What is a top-level domain?
Before digging into the pros and cons of .coms vs. other TLDs, here's a brief refresher on domain name terminology.
A top-level domain or TLD is the last segment of a domain name. For example, the most common TLD is .com. Other popular TLDs include .gov, .net, .and .edu. There are also country-code top-level domains (ccTLDs) like .ca (Canada), .uk (United Kingdom), and .in (India).
One other note is that top-level domains are sometimes referred to as domain extensions or domain endings. For brevity, I'll call them TLDs going forward. To learn more about other terms like subdomains and second-level level domains, check out our guide on What is a Domain?
Per ICANN, there are currently 1,532 TLDs for businesses to choose from. That's an almost endless number of combinations. But should businesses use one that doesn't end with .com? Read on to learn more about the pros and cons of non-dotcoms.
Do TLDs matter for SEO?
One of the most commonly asked questions about new TLDs is whether they affect SEO. Here's a direct, 36-pixel sized quote from Google's Guide on Traditional vs. New Domain Endings:
"Using a new domain ending will not hurt your search presence."
This makes sense when you think about all the different ways Google can analyze page quality like backlinks, content analysis, search metrics, traffic metrics, and 200 other proven or theorized factors detailed by Backlinko. Another much simpler way to confirm Google's stance on new TLDs is to notice that they own and use many like https://abc.xyz/, https://docs.new, and https://domains.google.
In other words, .com domains do not rank higher in search due to their TLD. However, they might indirectly rank higher due to Google's preference for aged brands.
An aged brand is a website or company with a long track record of quality content, frequent updates, and technical uptime. If most other factors are close or equal, a page on an established brand will almost always rank higher than a page on a newer, less proven brand. And seeing that .com domains still make up 46.8% of ranked TLD usage per W3Techs, most aged brands are likely to be .coms.
So if you're looking to purchase an existing website, a .com domain name might indirectly provide more search value. However, if you're buying a new domain name, the TLD you choose will not affect your search rank.
Will a non-dotcom TLD help or hurt your company's brand?
This is a very tough, subjective question with three likely answers:
1. A non-dotcom TLD will help customers remember your brand and serve as a unique differentiator.
2. A non-dotcom TLD will make your brand seem suspect and less reputable.
3. Customers won't notice your TLD or won't care about it.
The most frequent answer for your brand probably depends on customer demographics, traffic sources, and other factors.
For example, if you have a tech-savvy audience, they're probably more likely to be familiar and comfortable with a different TLD. Technical people are frequently early adopters that understand and gravitate toward new, emerging trends. They might also be more likely to notice and care about the TLD you choose.
Alternatively, if you're selling services to businesses in more traditional industries, your audience might see a non-dotcom as questionable. Paul Graham, the co-founder of the startup accelerator and seed capital firm Y Combinator, believes that B2B businesses, in particular, should prefer a .com whenever possible.
As mentioned in a Forbes article and accompanying tweet, Graham said,
"All other things being equal, .com domain names are preferable, and things are way more equal than people attached to their current name realize." He also stated that, "dot-com domains are probably more important for B2B, because there you need the legitimacy."
Finally, it's always possible that your TLD won't affect your brand positively or negatively. If your website consists of a lot of single-page, mobile traffic, maybe your customers won't even notice what your domain name is. Overall, as different TLDs become more common, your customers will likely be equally comfortable with whatever you choose.
Will a new TLD cost more than a .com?
Most popular, new TLDs typically cost about the same as a .com. Per DomainNameStats, .xyz currently has an average price of $0.75, which is actually less than the average price of a .com. .club also has a very affordable average of $0.99. Most other options have similar, reasonable prices but there are some exceptions.
If you're looking to buy a .makeup domain name, that will currently cost you an average of $5,783.59. I guess I'll have to find another place to share my extensive collection of beauty tips. Other examples of expensive TLDs include .auto ($2,000), .rich ($1,596), .bank ($801), and .tickets ($389).
Prices might also change when it comes time to renew your domain name. The cost of a domain name is primarily determined by the domain registry (e.g., Verisign, Donuts, or Uniregistry) and the domain registrar (e.g., Google Domains, Namecheap, or GoDaddy). The domain registry first negotiates a price with ICANN, a non-profit that helps prevent unfair price increases. The domain registrar then marks up that negotiated price a little.
Price raises during renewals are typically due to the domain registrar. Some domain registrars are notorious for bait and switching with a low, initial price that increases upon auto-renewal. Questionable price increases are one of the many reasons that choosing a reliable, ethical domain registrar is important.
Are there any risks with a new TLD?
One small, almost irrelevant risk is that some websites or older software won't be able to recognize your URL is valid. For example, when you create a social media post that links to your company's website, Facebook or Twitter recognizes it's a URL and is able to convert it into a clickable link. Some software struggles to do this with newer TLDs.
This scenario is pretty rare as most major websites quickly add support for new TLDs, but you might want to register a .com domain that redirects to your website just in case. You also might want to avoid being an ultra-early adopter of future TLDs.
Another likely negligible risk is that customers will have a tougher time finding your website when they manually type in your domain name. This probably isn't a big deal because most Internet traffic comes from either search, social, referrals, advertisements, or email.
A study by Conductor using 310 million website visits found that only 12-29% of web traffic was actually "direct" traffic, and a much smaller percentage of that traffic is people typing your domain name into their browser.
As detailed by Moz, direct traffic sometimes includes a variety of scenarios like misattributed search traffic, "dark social" traffic, non-web documents, and improper redirects. It also probably includes some bot traffic. A more realistic estimate of actual direct traffic is probably anywhere from 0-5%.
Are there any indirect risks with a new TLD?
One indirect risk of a new TLD is that some are only available at a limited number of domain registrars. Not only could this lead to a higher price, but this might make you more prone to losing your domain name if you're forced to use an unreliable registrar.
You should ideally try to purchase a domain name from a registrar that you believe is ethical and technically competent enough to maintain the security of your domain name. An unreliable registrar can lead to minor annoyances or major issues like accidentally transferring your domain name to hackers. A full range of possibilities is discussed in a Stack Exchange thread.
With that said, registrar horror stories are extremely rare. Most top registrars obtained their status by providing ethical, quality service. But like any service provider you do business with, you should try to evaluate a domain registrar's competency, ethics, and other risk factors.
So should I still choose a .com domain for my business?
As seen above, there's a lot of different questions to consider. Personally, I believe that if you're happy with an available .com domain name, you should choose that. But if you're not, you should strongly consider a different TLD.
In my opinion, having a brand that you believe in is way more important than settling on a name due to a concept that's quickly becoming obsolete. Having a new TLD might even make your brand stand out.
If you agree and you're ready to try out a new TLD, our guide on How to Choose a Domain Extension is a great place to start.