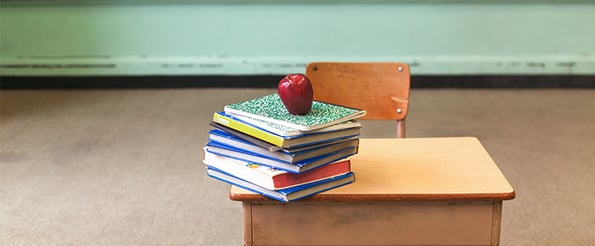 The way students select a school, college, or program has changed. There is now more information available online than ever before so the traditional methods of printing and mailing pamphlets is no longer effective. Nowadays, students and parents are turning to search engines to gather the information they need to decide which college or course is the best choice for them.
This has opened up a huge opportunity for schools to leverage an inbound marketing approach for gaining new students into their programs. Regardless of your budget, inbound enables any school, big or small, to own their search engine ranking without paying the big bucks to maintain it through paid advertising. It allows schools to build their own online presence and attract the right students and parents to their school's website through educational and engaging content.
In this post, we'll look at how to plan out a content strategy so you can make sure your school is present where your students or the parents of your students are looking for answers online.
The Basics
Set Goals and Targets
The first step to being successful with content marketing is to ask yourself why you are doing it. Is it to drive more awareness for your college or the specific programs that you're running? Is it to drive X% more applicants than the previous semester?
Whatever your objective is, knowing what those goals are before you begin makes it easier to create an effective plan and monitor your success along the way. Typically these goals fall into the following categories:
Attract - E.g. Driving X visits to the website

Convert - E.g. Increasing applications by X%

Close - E.g. Converting X% applications into enrolled students
Each piece of content you create should be tightly aligned with helping you achieve one of those goals. (Want help figuring out the right goals? Download this SMART goal planning template.)

Select or Create Your Student Personas
Think of all the people who come to your site on a daily basis — be it high school students, their parents, college students, transfer students, guidance counselors, alumni, adults seeking new skills or an advanced degree. All of these people have different needs, challenges, and questions about how your school can help them so you should create content that speaks to each of them individually.
Every piece of content you create for these personas is another opportunity for your school to show up in the search results when they are asking Google to help them choose a school. By writing content that solves their specific challenges, you build trust and credibility with the people who are most likely to convert into students in your school.
If you need help creating your student personas check out our free tool Make My Persona.
Choose the Formats and Themes
When you're planning out your content it's important to experiment with lots of different formats. Most people will just start with a blog and that's a great starting point but you can also include various formats within your blog as well. This comes back to knowing your personas; how they like to consume content and where they spend their time online so you can create content that suits those platforms and publish it there.
E.g. SlideShare is a huge platform for the education industry because the format enables you to teach lessons in an engaging and visual manner and the audience on SlideShare are all professionals interested in advancing their career through learning. Just click here to see hundreds of examples of people in the education industry using SlideShare.
You can create guides, checklists, templates, videos, quizzes, games, competitions, or anything else you can come up with. The key is to test everything to find out what works for your audience.
The Content
Come up with some Ideas
Once you know who your personas are you need to conduct some research. You'll need to identify what their biggest challenges are as relates to education; what are their biggest concerns and their most frequently asked questions? What information do they need to make a decision about the school, university or program they will attend? What terms do they use to find that information in the search engines?
It's important to remember that picking a school to attend is a huge decision, and this is your chance to educate them, soothe their apprehension, and be their number one choice.
A good place to start with this research is Google's search itself. By simply typing in "how to choose a" the suggestions already include "how to choose a college course". That means that the term is very frequently searched.
If you select "how to choose a college course" and scroll to the bottom of the first page of results you'll see Google's related search terms. These are variations of that search that are also frequently searched for.
By creating content that answers these questions, your school can start to rank for them and get found by your potential new students or their parents.
There are lots of tools available to help you come up with content topics. Several ones include:
HubSpot's Blog Topic Generator

: Get blog post ideas for an entire year with HubSpot's Blog Topic Generator. All you need to do is enter general topics or terms you'd like to write about, and this content idea generator does all the work for you.



Feedly

: This popular RSS feed is a wonderful way to keep track of trendy topics in your industry and find content ideas at the same time.
Quora: A forum of curious people who ask questions about all kinds of topics. You can find the types of questions your different personas are asking on here and then create content to answer them.



A great example of a school that has identified their personas and developed content to help solve their challenges is Saint Leo University. They don't just create content for their potential students but also the parents and families of those students as well.
They created career planning course for parents, action plans, and guides to help parents in getting their children started on the right career path. This content helps to build trust and credibility betwen the school and the families of those who plan to attend.
Map out the Student Journey
In order to be effective at converting strangers into students you need to ensure you've mapped your content out across the student journey. This means you should have content that attracts your personas while they're gathering information (awareness), content that encourages your personas to interact with your school somehow (act), content that converts them into applications, and content that keeps them engaged after they become students.
We have a template to help you plan this out which you can download here .

Management & Measurement
Have a content marketing platform in place so you can monitor the success of your campaigns, make tweaks if it's not going so well and keep a close eye on all the activity related to your content so you can continuously improve on each iteration.
By using a platform like HubSpot's analytics and reporting tools you can monitor your campaign to see where the most enrollments come from. You can measure what drives the most traffic to your school's website, what is keeping your student personas engaged with your school, and what was the last interaction they had with you before they submitted their application and became a student.
With all of that information at your disposal you have leverage that you never had before with paid tactics like printing pamphlets and ads. Now you can ensure every cent of your budget is invested in the most cost effective way that will convert more strangers into students for your school.