More than ever before, people are relying on their mobile devices for web browsing. In fact, a recent study from Hitwise found that almost 60% of U.S. online searches are conducted via mobile, and according to Litmus, 56% of emails were opened on mobile devices in April 2016.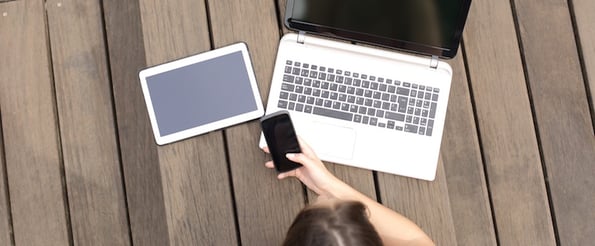 With so many potential customers opening emails on mobile, it's essential that marketers optimize their sends for tablets and smartphones in addition to desktop computers. Luckily, Google has made that easier with their announcement that Gmail will begin supporting emails created with responsive design later this month.
Let's dive into some of the details marketers should know about this announcement.
What's changing?
Until this month, many email marketers have had to optimize their sends for mobile using manual tactics -- changing the sizes and proportions of images, links, calls-to-action, and so on. (HubSpot customers: You get to skip the headache thanks to default emails automatically optimized with responsive design.) But these steps are time-consuming to say the least.
However, last night, Gmail announced that both Gmail and Inbox by Gmail will now allow for emails developed with responsive design. In other words, emails will dynamically adapt so their content automatically fits the size of all screens.
What's the difference in experience between an email that's been optimized for mobile, and one that hasn't? When emails aren't optimized for mobile use, the content might appear distorted, forcing readers to zoom in or out to read the message or click on a link. When emails are optimized for mobile devices, images and links automatically adjust so they're easier to view on a smartphone or tablet.
To put the significance of responsive design into context, consider that 39% of people will stop engaging with a mobile site if images take too long to load, and 38% will stop engaging with a website if the layout is unattractive, according to Adobe.
This GIF from Google illustrates the difference:
If you're design-minded, Google is making this possible by means of CSS media queries. According to Jeffrey Vocell, principal product marketing manager at HubSpot, these coding filters are used in website and email creation to ensure that an email, regardless of the device it's accessed on, will look just the way the sender intended. They make it easy to change the style of content depending on which type of device is loading the email or website.
What does this mean for marketers?
I asked HubSpot Demand Generation Marketing Manager Nick Barrasso what he thought about the announcement.
"It's about time that Google is supporting media queries for responsive design," Barrasso said. "The growth of email engagement on mobile devices is not slowing anytime soon, so this is a move that's not only welcomed, but long overdue."
Here's why Gmail's announcement is such a big deal for marketers:
With more than 80% of global email users projected to access their email on mobile devices by the end of 2018, it's of no small consequence that Google has just taken the next step to improve user experience and results for Gmail users and email marketers.
Now that producing mobile-optimized emails has gotten that much easier, check out our roundup of remarkable email marketing campaigns to start brainstorming creative sends to engage mobile users.
What do you think about Gmail's announcement? How are you preparing to optimize your emails for mobile? Let us know in the comments.