Last month, Google let the world know that big changes were coming to its famed AdWords.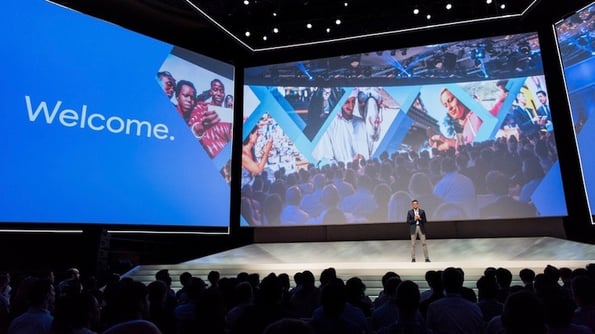 Those changes would come in the form of a major rebrand -- and what was once AdWords is now a suite of three separate brands: Google Ads, Google Marketing Platform, and Google Ad Manager.
Today, all three took center stage at Google Marketing Live, where the Marketing Innovations keynote went into a bit more detail about these changes -- and the purpose they ultimately serve for those who use them.
But it was almost as if today's key takeaways had more to do with reverberating themes echoed throughout the keynote than the products themselves -- things that Google, for some time now, has worked to make synonymous with its name and its brand. Things like machine learning, personalization, and solving for user experience.
Here's a closer look at some of them.
What You Missed at Google's Marketing Innovations Keynote
Google Puts Machine Learning Center Stage
Machine learning is what many think of as Google's "thing." It plays a major part in what shapes the search algorithm, as well as in the latest updates to Gmail (e.g., smart compose), and it helped to build the controversial Google Duplex: technology that allows Google Assistant to make strikingly human-like calls to make appointments and reservations.
Ads are no exception to Google's machine learning initiatives. But that's not new to today's announcements, as the company announced "Smart display campaigns," for example, over a year ago.
Still, machine learning is informing the latest generation of Google's ad- and marketing-focused offerings -- and is lending itself, says SVP of Ads and Commerce Sridhar Ramaswamy, to the crucial nexus of assistance and personalization that makes a great ad.
"Ads should add value," he told the audience.
Much of what was announced today takes on the responsibility of helping marketers figure out how to create such valuable ads. Take the concept of responsive search ads, for instance, where advertisers are asked to create a new ad with 15 possible headlines and four description lines.
From there, Google tests different combinations of both, using machine learning to determine which one has the greatest returns for a given search query.
Source: Google
Goal-Oriented Campaigns
Not all ads are created equal.
That's one reason why their ability to provide value is so crucial -- not everyone is searching for the same thing.
That's a phenomenon that Google has incorporated into its public "principles" of ads -- and search, for that matter. And, it's another place where machine learning comes in: to display the right ad for the right audience, allowing it to provide both the assistance and personalization Ramaswamy alluded to.
But advertisers -- and the businesses behind them -- all have different intended outcomes, too, that go beyond the bottom line. For brick-and-mortar retailers, for instance, bringing customers through the front door might be a key goal (which Google also said it will address with its new local campaign tools).
Google today introduced a way to customize various types of campaigns -- Search, Display, Shopping, or Video -- specifically around an advertiser's goals.
Machine learning isn't quite as front-and-center here, but likely has informed the recommendations that Google makes to advertisers when they input these goals -- based on what it's learned historically about consumer behavior.
Source: Google
The Merging of Analytics and Advertising
As valuable as these new tools and the technology behind them might be, it's equally important to measure the return on any investment made in them.
That's why there's often an emphasis on metrics. The ability to determine what caused a customer convert -- like a specific ad, for instance -- as well as how and why is especially important when something like a funded ad or campaign is concerned.
It also makes sense to be able to have all of that information in one place. And instead of keeping analytics and campaign content in separate silos, Google has introduced Display & Video 360 to synthesizes what used to be such fragmented ad products -- such as DoubleClick Bid Manager, Campaign Manager, and Audience Center -- into a single product.
Source: Google
Looking Ahead
What really underscored today's announcements is the ability to address and adapt to the rapid evolution of consumer preferences and behavior -- and to know if efforts to do so are working.
Marketers and advertisers are faced with the challenge of achieving an ideal promotional trifecta -- of what Google Ads Group Product Manager Philip McDonnell identified as the right product, in front of the right person, at the right time.
That works in tandem with the technology people use to seek information, which Ramaswamy was keen to point out "has been changing at an unrelenting pace."
It's why HubSpot Head of SEO Victor Pan, who previously managed multi-million-dollar digital advertising strategies, advises marketers to be patient.
"Google will likely train and retrain its machine learning -- based on input from the early adapters among advertisers who work with these tools," he says. "The technology will only continue to evolve."
But ultimately, marketers -- including those within small-to-midsize businesses -- should be able to adapt.
"Google's trying to demystify machine learning to a larger audience through adoption," Pan explains. "What better way to do that via Google Ads?"
The full rebrand of Google AdWords into Google Ads is scheduled to take place on July 24th.
We'll be monitoring these changes as they launch, and providing updates on if/how these changes will be reflected within HubSpot. We're excited for our partnership and integration, and we'll continue to focus on helping our customers match their advertising to their buyer's journeys -- and measure the full-funnel results across networks, including Google.
Featured image source: Google