"Snapchat isn't about capturing the traditional Kodak moment. It's about communicating with the full range of human emotion -- not just what appears to be pretty or perfect."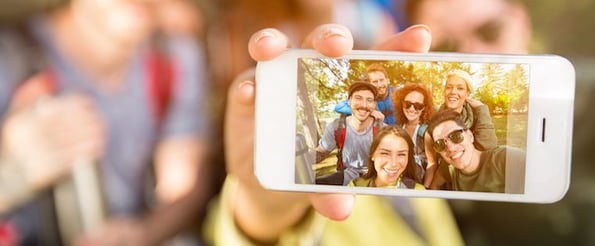 Snapchat CEO and co-founder Evan Spiegel wrote this in the first post on the Snap Inc. -- then Snapchat -- blog back in 2012, when users could only send photos, and only on iOS devices. Since Spiegel's blog post, Snapchat has already had a huge impact on social media and content marketing.
Ephemeral, or disappearing, messaging has skyrocketed in popularity since Snapchat was introduced. In fact, since Snapchat's arrival to the social media scene, Facebook and Instagram have launched their own versions of some of Snapchat's most popular features. We've predicted that competition will continue to grow between Snapchat and other popular social networking apps as all the landscape continues to innovate new products to distinguish from one another.
In this post, we'll dive into the full history of Snapchat's journey from photo sharing app to major social player.
What Is Snapchat?
Snapchat is a one-to-one and group messaging app that lets users send photo, video, and text messages that disappear after several seconds. Roughly 150 million people use Snapchat every day, and they consume around 800 hours of video per second. That's like watching every episode of "Game of Thrones" 13 times, per second.
In addition to its messaging features, Snapchat features Stories (photo or video messages that can be replayed for 24 hours), Memories (saved photos for sharing later), and stickers to embellish messages. The app has been widely adopted, especially among teenagers and Millennials: 26% of people surveyed between the ages of 12 and 24 said they used Snapchat the most, second only to Facebook.
Now that we're all up to speed, let's dive into some of Snapchat's major developments and achievements over the last five years -- and what we might expect from five more.
The History of Snapchat
2011: Snapchat, then Picaboo, launches
Spiegel and his co-founder, Bobby Murphy, told Forbes that they met at Stanford University and created Picaboo, the first version of Snapchat, in the spring of 2011. They wanted to create an app that would send photos that would eventually disappear, and the initial Picaboo app was launched in the iOS App Store in July -- to little fanfare.
This led them to integrate a workaround solution to the screenshot problem: Users could take screenshots on their iPhones, rendering the disappearing effect of Picaboo messages useless. Instead, they built a notification so users would be able to see if someone took a screenshot of their disappearing photo.
In September, Spiegel and Murphy rebranded the app as Snapchat, added the ability to caption photos, and relaunched in the iOS App Store. They focused on the app's technological innovations more than branding and marketing to make the experience more organic and cool than traditional advertising. In case you've forgotten, here's what early snaps looked like back then:
Source: Forbes
2012: Video arrives
In May 2012, Spiegel wrote Snapchat's first blog post and set the tone for what users could expect from the app in the coming years. "We're building a photo app that doesn't conform to unrealistic notions of beauty or perfection but rather creates a space to be funny, honest or whatever else you might feel like at the moment you take and share a Snap," he wrote.
In October, Snapchat for Android launched in the Google Play store, which helped increase its user base and contributed to the next big milestone in October. After a full year in operation, Snapchat users were sending 20 millions snaps per day, or roughly 25 snaps per second.
By December, Snapchat users were sending 50 million snaps per day, and the app rolled out an update that introduced the ability to record and send 10-second videos. The best part? Instead of having to toggle between two different photo and video recording modes, as with camera phones, users could simply hold down the photo capture button to record a video.
2013-2014: Stories and Chat
In October 2013, Snapchat launched Stories -- an ephemeral narrative of snaps that users could post for their friends to view for 24 hours. Brands and users started using Stories to share a fuller picture of what they were up to while still maintaining the hallmark disappearing factor.
In 2014, Snapchat ramped up innovation and launched a slew of new features and updates. First, it introduced Chat in May, the messenger that still featured disappearing messages via text, in addition to the ability to see when your friend was "here" in the chat window so users could start a live video chat. Next, Our Story was rolled out in June, offering Snapchat users around the world to contribute photos and videos to a public feed of snaps from popular events.
Snapchat rolled out Geofilters in July that let users customize their snaps with filters and embellishments according to what city they were snapping from.
October marked the beginning of Snapchat advertising, and ads started appearing in users "Recent Updates" section alongside all of their friends' stories. Users had the option to skip viewing the ads if desired, and like other Stories, they disappeared after 24 hours. Here's what their first ad, for the movie "Ouija," looked like:
Source: Adweek
In November, Snapchat worked with Square to create Snapcash, which allowed users to easily send and receive money directly from Snapchat into their bank accounts. Snapchat took another step into the world of monetization with Community Geofilters in December 2014. Users could create their own Geofilters or purchase branded filters for their business or sponsored event.
2015: Discover and Lenses
In January 2015, Snapchat started offering many new ways for advertisers to earn money from its huge audience -- then roughly 75 million users. Snapchat introduced Discover, a new page easily accessible from the Snapchat home screen that featured short-form ad content from a variety of different publishers and channels like Vox, BuzzFeed, CNN, and Food Network. Here's what it looks like in action:
Next, Tap to View was introduced. Where before, users had to hold their fingers on their phone screen to view snaps, now they only had to tap once to start watching. In June, Snapchat rolled out sponsored Geofilters to advertisers who wanted to pay for brand exposure in any given location. Here's what McDonald's first sponsored filter looked like:
Source: Los Angeles Times
In September, Snapchat launched the next big thing for avid selfie-takers: Lenses. When users turned their cameras to be self-facing, by holding a finger down on their face, users could choose from a wide variety of Lenses to change their look. From puppy ears to barfing rainbows, selfies got a lot more creative. Check it out below:
Source: Snapchat
Finally, by December 2015, the Financial Times reported that Snapchat users were watching 6 billion videos per day just three years after video recording was launched on the app.
2016: Memories and rebranding
The year 2016 marked a period of tremendous change and explosive growth for Snapchat. In February, Snapchat rolled out on-demand Geofilters for the entire Snapchat community, allowing users to create filters for parties, weddings, and private events. Next, Snapchat started auto-advancing Snapchat Story plays. If a user started watching one Story and it ended, the next one would automatically begin playing.
In April, Snapchat hit a huge milestone when Bloomberg reported it was generating 10 billion video views per day -- 2 billion more views per day than Facebook had reported in November 2015. And by June, Snapchat had amassed 150 million daily active users -- surpassing Twitter. Snapchat also rolled out more video ads in June -- ads that started appearing in between friends' Stories when users starting watching them.
Snapchat Memories were introduced in July, which let users save content on their devicefor later editing and sharing. This change made content less spontaneous and more curious, leaving some marketers wondering in what direction Snapchat was headed. They also introduced a collaboration with Bitstrips to create Bitmoji, a personalized avatar Snapchat users could create and incorporate into their snaps and Stories. Here's my "hump day" Bitmoji as a Snapchat filter:
By August 2016, Snapchat's competitors for attention in the social media space had started laying down the gauntlet. Instagram unveiled its own version of Stories, and Facebook launched filters and stickers on its photo app.
In September, Snapchat rebranded, and the company was now called Snap Inc., parent to Snapchat and Spectacles, a new sunglasses product that let wearers record Snaps in circular format for 360-degree viewing. In response to less-than-favorable reactions to Snapchat Stories auto-advancing, the Story Playlist feature was launched in October. Users could now choose a group of users whose Snaps they wanted to auto-play instead of it happening by default.
To add to the fanfare, eMarketer predicted that Snap Inc. would earn $1 billion in advertising revenue in the year 2017, and the introduction of its application program interface (API) certainly supported that claim. With this algorithm, Snap Inc. could sell ad space to third parties automatically instead of relying on a sales team, meaning it could now make more ad dollars, and faster.
In November, Snap Inc. filed for a $25 billion initial public offering (IPO), signaling to the world that the company was ready for rapid growth and expansion in the coming years. Additionally, Instagram launched its own version of ephemeral messaging to keep competing with the friendly yellow ghost.
Snap Inc.'s final Snapchat innovation in 2016 was the introduction of group messaging in December. Where users previously had to individually select the group of users they wanted to send a particular Snap to, users could now save a group of people to send messages that disappear 24 hours later -- just like Stories.
What's Next for Snapchat?
We think that ephemeral messaging will continue to grow in popularity, and we're anticipating continued competition between Instagram and Snapchat, too. Advertisers are already spending more money on social media advertising than on TV ads, and we predict that platforms like Snapchat will continue innovating new ways to serve ads that are useful -- and not disruptive -- for their audiences.
P.S. Want a peek inside our own Snapchat strategy? Follow HubSpot using the handle hubspotinc.
What's your favorite Snapchat feature? Share with us in the comments below.