Like the magnificent architectural wonders that hold up The Pantheon in Rome, pillars will help you hold up your blog's architecture, too.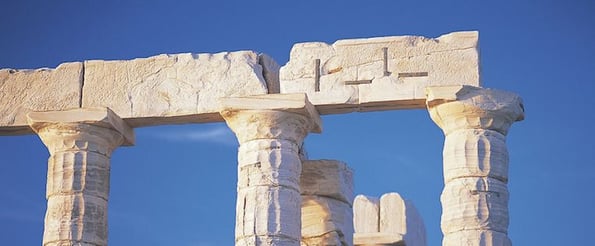 You have to build them yourself -- but we promise it takes less time and effort than building them from marble or concrete.
In this blog post, we'll dive into everything you need to know about pillar pages -- how they fit into the new topic cluster strategy we're advocating, what they can achieve for your blog's results, and how to actually create one.
What Is a Pillar Page?
Pillar pages help organize your website and blog content architecture according to the changing ways people are now searching for information.
These unique blog posts or site pages are comprehensive guides to a particular topic you're trying to rank for in search. So, where you might have 20 different blog posts about different aspects of using Instagram in your marketing, a pillar page is an overview guide to all aspects of a particular topic. Then, all of the different blog posts about different aspects of Instagram marketing link back to the pillar page to show readers a route to learn everything they need to know.
By creating pillar pages, you can organize your site architecture to help visitors get answers to their questions and quickly and easily as possible. And that's more important than ever -- because the way people are searching for content is changing.
(But before we dive into why creating pillar pages is so important, learn more about how to define a pillar page in this blog post.)
Why Create Pillar Pages
Like we said before, the way people search for information has changed, and pillar pages are part of the topic cluster model that help your content strategy adapt to this change -- and, hopefully, rank higher in search.
Thanks to voice search devices like Siri, Cortana, and Alexa, search queries are becoming longer and more conversational.In fact, 64% of searches are made up of four words or more, and 20% of Google searches are now conducted via voice. So instead of typing into a search bar "how to use Instagram," you might instead ask your device, "what's the best way to use hashtags on Instagram?"
Additionally, Google's search algorithm is doing a better job at providing the exact information searchers are looking for through the mountains of content out there, thanks to advances in machine-learning and semantic search. Google is even better at understanding exactly what you mean when you type in a query and serving results that best answer that question.
And due to these changes, it's important to organize your blog according to topic clusters -- where one topic is anchored by a comprehensive pillar page that links to more in-depth blog posts about specific aspects of that topic.
That way, your pillar page will start ranking in search for the particular topic you're focusing on, which will help other blog posts rank as well -- the expression "the rising tide lifts all ships" applies here. Instead of writing blog post after blog post focusing on different keyword variations of the same topic, you'll have an organized site infrastructure made up of one pillar page and specific, in-depth blog posts that address content gaps about the topics.
In this model, your blog content is more organized for the reader to jump from post to post learning more about a topic, and your URLs don't compete with each other for the same long-tail keyword -- because they're all ranking for the same broader topic.
To visualize what this new model looks like, here's what HubSpot's blog infrastructure used to look like:
And here's what our blog looks like now, using the topic cluster strategy:
We know it's tough to think about keywords differently -- after years of creating blog content dedicated to ranking for specific long-tail keywords, we feel your pain. This strategy doesn't advocate for the abandonment of keywords as a strategy -- it just calls for focus on topics so you can choose the keywords you base blog posts on more effectively.
(Psst -- you can read more about this in our in-depth research report about topic clusters.)
How to Create a Pillar Page
Now that you understand all about pillar pages -- and why you should be creating them -- here are the key steps to creating a successful one.
1) Choose a topic.
The first step in this process is focusing on topics, and not keywords. At least at first.
Determine who your audience is using buyer persona research, and figure out what they're searching for, which will determine how broad to make your pillar page. You want the topic of a pillar page to be broad enough to write a pillar page and come up with several more specific keywords related to the broader topic.
In our case using the earlier example, "social media" was too broad of a topic, but "Instagram marketing" is sufficient to create a pillar page and 20-30 related blog posts -- HubSpot's gut-check number for determining if a topic is broad enough.
2) Write (or designate) a pillar page.
Now, it's time to make your pillar page. You might already have a comprehensive blog post that you can adapt into a pillar page, or you might need to write a comprehensive guide to your topic from scratch. Either way, there are a few key elements HubSpot Staff Writer Aja Frost suggests you include:
A definition of the topic or term you're covering somewhere in the first section
A bulleted or numbered table of contents
A more specific topic-related keyword in each of your subheadings
Content that provides an overview (but not an exhaustive one) of the subtopics discussed on the pillar page (those will make up new blog posts later)
3) Choose keywords.
Once you've nailed down your pillar page, it's time to do some good old-fashioned keyword research -- within the bigger umbrella of the specific topic you're targeting. Choose keywords with a lot of search volume that cover different aspects of the topic, and use those to build your working titles.
4) Start writing.
You already know how to do this -- so you can breathe a sigh of relief. Now it's time to write blog posts based on specific keywords within your topic cluster -- making sure to link them to your pillar page to create a streamlined reader experience and help all of your content rank higher in search engine results pages.