Have you ever learned how to do something with the help of an internet search?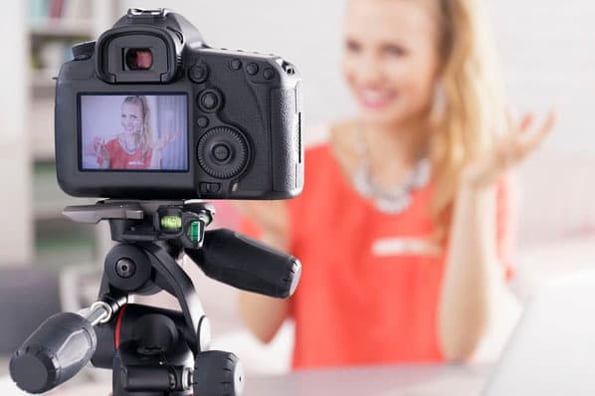 The answer is most likely a resounding "yes." Most recently, I taught myself how to fold a fitted sheet with a helpful video from homemaker extraordinaire, and friend of Snoop Dogg, Martha Stewart.
Videos are an especially compelling way to learn how to do something online because, well, the video shows you exactly how to do it. I'm not alone here, either -- most customers would prefer to watch a marketing video rather than seeing an ad.
So if you're among the 45% of marketers who are adding video content to their strategy this year, there could be a lot of value in making videos specifically for those in your audience who are trying to learn how to do something, too.
In this post, we'll explore just how popular these searches are on YouTube and other platforms, and what you can learn from eight how-to videos about how to make great teaching videos of your own.
How-To Video Searches Are Popular
How-to searches are incredibly popular. Think about just your own life for a moment, and reconsider my question at the beginning of this blog post. They also may be a great opportunity for brands to show off their products.
According to WyzOwl's 2018 Video Marketing Statistics Report, 72% of people prefer to learn about a product or service through video.
Video marketing is growing, and so is the number of platforms it can be seen on. While Youtube and Vimeo used to be the primary place to find videos, consumers now similarly use social platforms like Facebook and Instagram to learn about brands and products.
10 How-To Videos to Learn From
1. How to Fold a Fitted Sheet
You may recognize the title of this how-to video -- it's the one I mentioned earlier in this very blog post. Are you always geting stymied when putting away fitted sheets on laundry day like me?
What I love about this video is how it showcases personality. It's a simple how-to video of humans demonstrating how to do something, without any animations or high tech features, but it's still extremely effective at teaching the viewer. Stewart and her guests make jokes about how hard it is to fold the sheet -- Stewart even joking that her inability to do so led to her divorce -- and they show the viewer how easy it is to get tripped up in the process. Stewart and her guests also have empathy for the viewer and show exactly how to avoid pitfalls along the way.
Takeaway for marketers If you want to create a how-to video "hosted" by a real, live human, make sure they act like a human. Videos are an easy way for brands to showcase personality, so put yourself in the shoes of your viewer, and infuse humor, sincerity, and empathy into your instructions. If the concept you're explaining is complicated, tell the viewer that. If you had no idea how to use your product at first, share that. Speaking like a human -- instead of reading off a script like a robot -- will make your video memorable, effective, and enjoyable, too.
2. How to Cook Perfect Pasta
Tasty on BuzzFeed shares cooking and recipe videos that frequently go viral on YouTube and other social media and reach millions of people every month. But this video isn't one of Tasty's trademark recipe videos -- it's one of several how-to videos that break down common or difficult cooking skills step-by-step.
In this video, Tasty uses hyperlapse to speed up the cooking demonstration and get the viewer the information they need as quickly as possible. This fast-paced filming style is eye-catching if it starts auto-playing in a social media feed, too. Tasty chose a smart how-to search term, too -- there's a ton of search volume around the phrase "how to cook pasta."
Takeaway for marketers: Viewers prefer YouTube videos on the shorter side, so sped-up hyperlapse filming helps conserve time and creates a neat visual effect. Work backward and conduct keyword research to learn what terms your audience is searching for to find a topic to make your video about.
3. How to Escape Quicksand
Evidently, Princess Buttercup's tragic fall into quicksand in The Princess Bride wouldn't have been quite as terrifying in real life.
In this how-to video, Tech Insider uses captions and animations to break down a complicated concept. I wasn't exactly searching for information on how to escape quicksand when I found this video, but the unique subject matter made me instantly click, intrigued. What's more, the sound isn't required -- although it does add dramatic effect -- which might make people more likely to click and watch all the way through, since many social media videos are watched on mute.
Takeaway for marketers: Your how-to videos don't necessarily need to be about a dry topic related to your industry. If you create a fascinating piece of content that goes viral, you'll generate interest in your brand that way. Animations and captions help to show -- rather than explain -- trickier concepts like quicksand, so consider these visual elements for high-level explanations. And if there's a way to make your videos volume-agnostic, do so. Some videos will require narration or other sounds, but the visual elements mentioned previously could do the talking for you.
4. How to Blow Out Curly Hair
Anyone who's ever gotten a blowout knows that it can be expensive and time-consuming to have it professionally done.
So Bustle cleverly made a how-to video that teaches viewers how to DIY and save money-- a motivating factor behind many how-to online searches, I suspect. This video is also short, which MiniMatters suggests for enticing viewers to watch videos all the way through. YouTube counts a view as once a video has been watched for approximately 30 seconds, so viewers with short attention spans might be more likely to stick around for that long if they see a video is shorter, like this one.
Takeaway for marketers: Almost everybody wants to save money where they can, so think about ways your how-to video could help viewers do that when brainstorming topics. When filming, try to keep videos as short as possible to attract viewers and keep them watching all the way through to steadily increase your number of YouTube views.
5. How to Style a Blazer 3 Ways
In this short, sweet Instagram video, verified style influencer @PreviewPH shows off three ways to style a blazer from ForMe. This video is great for those who are interested in trying out new fashions but don't exactly know how to wear items or accessories. In this video, she demonstrates three ways of wearing a blazer, which could accommodate the fashion styles of three different people.
Takeaway for marketers: How-to videos can be a great way to show off how a product works and how it can be used. This type of video is clearly promoting one specific blazer and brand, but it's more valuable than a standard ad because it shows potential buyers how they can wear it. If people who are hesitant about a new fashion style see this how-to video, they might feel more confident in their purchase.
6. How to Asana: Planning with Asana calendar
Asana cleverly brands its how-to video series as "How to Asana," and all of the videos in the series feature a consistent theme. All of the videos in this series are under two minutes in length, are hosted by the same person, and feature an eye-popping yellow background. The meat of the video consists of a screencast of someone using the Asana calendar tool, but these branding details bring life to what would otherwise be a rather boring video.
Takeaway for marketers: If you're thinking about creating a how-to video series, take the extra time to make it memorable and recognizable. These efforts will make videos look more professional and will make viewers want to keep tuning in for more helpful videos if they know they can expect more.
7. How to Create an Animated GIF in Photoshop
Who else here loves GIFs? That's right -- everyone loves GIFs.
But before I watched the video above, I had no idea how easy it was to make my own. That's the ideal reaction to a how-to video, by the way -- "that was so easy."
Adobe's how-to video is a great example of a software demonstration video because it zooms in on only the necessary information. Instead of confusing the viewer by showing the entire Photoshop interface, the video features magnified animations of only the buttons and tools they need to accomplish the task at hand.
Takeaway for marketers: If you're making a technology demonstration how-to video, consider how it will appear to any first-time product users watching. Try to minimize any confusion by only filming elements of the technology needed for your video so viewers can follow along on their devices.
8. How to Increase Your Facebook Reach and Outsmart the Algorithm
You might be hesitant to create videos to explain a complicated subject matter, but that could actually be the most effective medium to help your audience understand something.
In this video, my colleague Megan Conley breaks down the many nuances of Facebook's News Feed algorithm in a clear and concise manner. Then, graphics, animations, and screencasts supplement what she talks about with data visualizations to make the stats and figures more memorable for the viewer. Finally, the video ends with helpful next steps viewers can take to solve the problem outlined in the video. The video isn't about how to use HubSpot software at all -- it's only in the business of helping people get better results.
Takeaway for marketers: The most compelling how-to video might be one that doesn't mention your product at all. Think about what questions your audience might be asking and establish your brand as a thought leader with helpful videos that don't end with a sales pitch.
9. How to Fix a Chair with Noodles
This interesting Instagram video from @Crafty.Life.Hacks shows viewers how to fix a wooden chair by replacing missing wood with instant noodles. While this video is short and easy-to-follow it is fascinating because it teaches viewers about an alternative use for an every-day household food item.
Takeaways for marketers: This example shows how a product can have multiple purposes. While marketers will want to make how-to videos that show the primary purpose of their product, sometimes, it can still be helpful to think outside of the box and show off other ways your product could be used.
For example, if you're selling a food product, you might want to craft a recipe video that shows how it can be used as an ingredient, or a DIY that shows how it can be used as a tool -- like the video above.
10. How to Make Momofuku's King Crab Noodle
In this Facebook video, shared by Vice's food blog Munchies, Chef Max Ng shows viewers how to cook his grandmother's King Crab Noodle recipe -- which he serves at the Momofuku Ssam Bar in New York City. Although this video is on the longer side, he shows audiences a simple step-by-step cooking process that they can easily follow.
This type of video might be a helpful how-to example for local restaurants or food publications that want to show off their favorite recipes. Promotionally, this video also gives some great brand awareness to Munchies and the Momofuko restaurant.
Takeaways for marketers: You can get away with videos on the longer side if they clearly describe a step-by-step process like cooking. How-to videos can also be a great source for cross-promotional content. In the example above, Max Ng, Momofuko, and Munchies are all highlighted in an entertaining and informative way.
How to Make How-To Videos
Now that you have inspiration from real-life B2B and B2C brand videos, start thinking about how you could create helpful content for your audience.
Create buyer personas and use these to inform your strategy. What types of questions does your audience ask about your product? What questions do they ask about your industry? What problems does your product solve that you could demonstrate in a video?
Use tools like Google Trends and HubSpot's Keywords tool to learn more about the types of searches your audience is conducting and what content you could create to answer those questions.