Here's a reality check for 2020 — only one-third of businesses make it to the 10 year mark.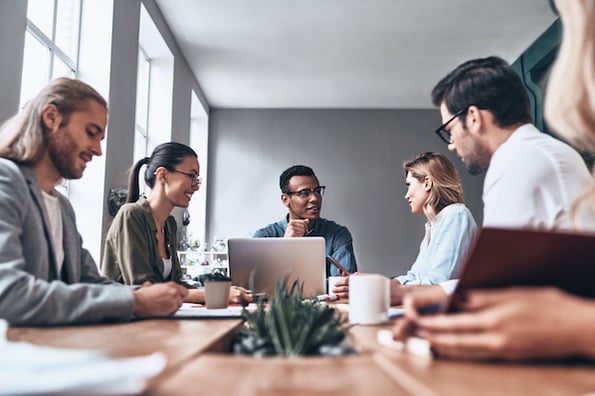 No market demand, running out of cash, and getting out-competed are among the leading reasons businesses fail.
The good news? You don't have to figure it all out on your own, because I've done a lot of the legwork for you.
When I served as the VP of Marketing at Sales Hacker (a publication and community for B2B salespeople), I uncovered strategies and processes that exploded our growth.
In fact, the results were outstanding: in just over a year, we were able to grow Sales Hacker's traffic from 19,000 monthly organic sessions to over 100,000 monthly organic sessions.
That's a 426% increase. As a result, Sales Hacker was acquired by Outreach, a sales engagement platform.
Now, I'm using that same exact process to lead SEO at Nextiva, and here is a snapshot of our organic keyword growth to prove that this really works:
If you're looking to skyrocket your organic growth with an efficient SEO strategy in 2020, check out the five proven steps I've taken with both Sales Hacker and Nextiva to achieve tremendous results.
First things first: why is it so hard to stand out in search?
The goal of owning search rankings is simple: organic presence means qualified traffic, which leads to conversions, which turn into sales. In fact, marketers who prioritize blogging efforts are 13 times more likely to see positive ROI.
That's not to say blogging is the only way, or the best way to do it — but it's what works best for us.
Creating content can have a powerful long-term impact, too: over its lifetime, one compounding blog post creates as much traffic as six decaying posts.
Of course, in 2020, most companies get the importance of blogging. Nowadays, 55% of marketers say blog content creation is their top inbound marketing priority.
Unfortunately, that leads to a new problem: the SERPs are getting a little overcrowded.
Keyword difficulty is rising. Almost every topic you can imagine already has dozens of guides and tutorials ranking against each other.
Most industries have become noisy, which makes it hard to stand out. Ultimately, it's more important than ever to be intentional about your website and the content you publish.
Additionally, this viral tweet — which received commentary from several Google employees — suggests search results have gotten so competitive, personal websites have no chance of ranking anymore due to businesses going all-in on long-tail SEO, which takes away even the lowest search volume opportunities.
At Sales Hacker, we had an aggressive publishing schedule, with 4-5 new blog posts going live each week. They were all written by our community — we didn't contract an agency or freelancers. Since we had more content than we could handle, we wanted to keep our contributors happy while ensuring all content was evergreen and actionable.
Let's explore exactly what steps we took to achieve organic growth, and what you can do to stand out in 2020 and beyond.
1. Start with audience research.
When you need to take your results (such as traffic or leads) to the next level, it's always a challenge. This challenge is easier to tackle when you already have a loyal audience — even if it's a small one.
Why? Because you get to ask them what they like, what they dislike, and what they want more of. The thing is, we found that when people see you genuinely care about their interests, they're more than happy to talk to you and share their insights.
The key to succeeding with audience research is setting strong goals for your research. This applies to surveys, interviews, and any other method you pick.
For instance, at Sales Hacker, I had the following five research goals on which I wanted to collect information:
Brand messaging insight
Audience development insight
Content strategy insight
UX and website navigation insight
Email marketing insight
I set up 30-minute interviews with a sample of Sales Hacker's audience: typically mid-to-senior-level sales roles, ages 25 to 44.
These are some of the questions I asked in these interviews, which you can implement into your own audience research process:
What are your most common daily tasks?
What are your top challenges in sales/business?
How would you describe Sales Hacker to your grandma?
Give us your best Sales Hacker Slogan.
What is the main benefit of Sales Hacker?
What is the main problem with Sales Hacker's website?
What would discourage you from subscribing to our email list?
What type of content would you find helpful?
What type of content is a waste of time?
These questions match my audience research goals outlined earlier. If you've set different goals, make sure to add interview questions that correlate with them.
Based on the answers I received from my recipients, I ended up with a list of topic clusters and understood the content types that were in highest demand.
I also learned that thought leadership content was the biggest loyalty driver, and that our audience would listen to our podcast if we launched one (which we did!).
Takeaway: Build a list of audience research goals and corresponding questions you can ask in surveys and interviews. Analyze results so you can find the content to focus on.
2. Run an SEO site audit.
Why an SEO audit? Think about it like this — if search engines can't read your content, you'll struggle to reach your target audience. On top of that, 40% of people abandon a website that takes more than three seconds to load.
In other words, when you get your ideal readers to your website, you'll want to make sure you don't lose them right away.
An SEO audit involves crawling your website using a tool like Screaming Frog and then analyzing the data. Here are some things you should look for:
Duplicate content
Noindex pages or nofollow links
Robots.txt file
Improper redirects and redirect chains
Broken media assets (video and audio files)
Broken links
URL structure
Pages with long load times
Some of the issues I found with Sales Hacker was the lack of referring domains, non-optimized URLs, poor internal linking structure, poor site structure and navigation, and some branded search problems.
Once we had a list of issues, we tackled them one by one so we could set a strong foundation for our content creation and optimization going forward.
Takeaway: Download the SEO Audit kit which includes a guide and a checklist to work from. Alternatively, make a list of all the improvements you can make and start working on them as soon as you can.
3. Develop new content opportunities.
As I mentioned earlier, our audience research helped us identify the topics that help them progress in their sales careers the most. With these topics in mind, we looked for gaps in existing search engine results.
We did this for the topics we wanted to grow an authority in, including cold calling, best sales tools, channel sales, sales Excel templates, and more.
Here are some of the existing patterns we were seeing:
Low-value round-ups
Definition-based content
Theoretical content
Lack of focus on user intent
Unengaged approach to sales templates
Long introductions
I decided to go the opposite way and provide what our audience was asking for: getting to the point quickly with zero fluff, providing a great content experience, and offering mega-lists of tools and tips, with a highly actionable writing style.
This worked so well for us that we ended up earning a featured snippet for the' channel sales' topic, as well as some others, like BANT, customer success manager, and sales forecast modeling:
Takeaway: Based on the topics your audience is interested in, analyze the highest-ranking content on search. Brainstorm ways you can provide more values based on gaps that existing content has and on what your audience is looking for from you.
4. Update and optimize your existing content.
If you have an audience of any size, that probably means you also have a library of published content. Is it up to par? And is it serving your audience the best way it could?
Optimizing your past content is one of the most powerful ways to increase the mileage of the work you've already put into your blog.
We discovered that our audience doesn't want to feel like we're pitching them all the time, so the first thing we did was rework our content in a way that wasn't sales-y, but to the point, actionable, and purely educational.
Some of our most successful updates have included:
Making our lists longer and more comprehensive (example: best sales books)
Building long-form guides on topics we've only touched on in the past (example: sales operations)
Here's the before of the sales operations guide:
And here's the after:
As a result, our existing content skyrocketed in search rankings.
Takeaway: Using Google Analytics, make a list of blog posts that are covering an evergreen, relevant topic, but get low search traffic. Update them one by one, starting with those that have historically had the highest conversion rate (for example, email signups) and work down from there.
Bonus: Use schema mark-up to own more search page real estate.
With zero click searches on the rise, it's now up to savvy SEOs to find more ways to stand out in search results and fight for clicks.
One way to do that is by using rich schema mark-up to enhance your content in search results. Google recently deployed FAQ schema which allows websites to have their webpage FAQs displayed directly in the search results.
For instance, check out how we're optimizing VoIP Call Center in the search results for Nextiva. The FAQs themselves display right on the search page. This is a powerful tactic for stealing more clicks back from Google.
You can use the rich schema generator to help you with this.
5. Tailor your homepage and navigation to your audience.
I believe that Sales Hacker's homepage re-design (which happened in July 2017) was a huge growth accelerator.
Right after I took over Marketing operations for Sales Hacker, this is what the homepage looked like:
This version of the homepage likely made it difficult for people to take the actions we wanted them to, like finding the content they need or signing up for our email list.
The key approach to our homepage re-design, like with many other things we've done, was setting clear goals behind that process. In this case, these goals were:
Showing people exactly what Sales Hacker is and what we do
Making the process of signing up for the email list super simple
Helping visitors find the content they want quickly and easily
Showcasing social proof
Improving internal linking
This obviously wasn't just down to what the homepage looked like, but also our site structure and how we approached internal linking in general.
I've sketched a mindmap of the ideal new site structure with categories and subcategories. The taxonomy I had in mind would achieve the following:
Increased engagement from natural site exploration from visitors
The shortest possible path to the most important content on the site
Landing page visibility from an increase of internal links pointing to them
Takeaway: Identify the single most important actions you want your visitors to take (lead generation, sales, etc.) and organize your homepage in a way that makes those actions obvious and the path to them uncluttered. Use a tool or simply pen and paper to draw a map of journeys on your website you want your visitors to go through based on their interests. Apply this not only to your homepage, but to any menus and content categorization you have on your blog.
Over to You
This process won't give you results overnight. In fact, while the homepage updates may show some instant results from a user behavior point of view, most efforts to improve your organic presence will take months to bring significant improvements.
Remember — these steps outline exactly what we did to go from low organic presence to a highly authoritative sales community hub, which we ended up selling. It took us over one year, but we made a persistent, intentional effort in places we knew mattered most.
Want to grow at a rapid pace? Start with your audience and listen to their feedback. This way, you can take the right actions to reach even more of your target readers and customers and take your business to the next level.