More companies than ever are using Instagram for business. Back in 2017, the social platform celebrated having over 25 million businesses. Today, we can bet that number has likely doubled.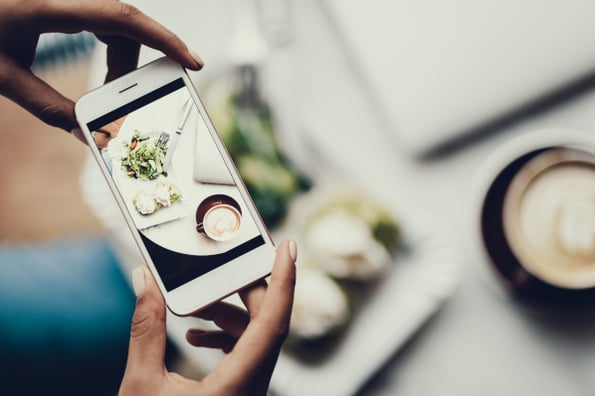 Instagram has proven a worthwhile investment for marketing purposes. When we surveyed over 1,000 marketers in 2022, they revealed that Instagram is the most effective social media platform, above Facebook, YouTube, and TikTok.
But using Instagram for business purposes can seem daunting, particularly if you've only ever used it for personal use. Here, we're going to explore how to promote your business on Instagram.
How to Use Instagram for Business
Let's delve into the six strategies you'll need to employ to get the most out of Instagram.
1. Add value with your content.
First and foremost, Instagram is a visual platform. To attract an audience, it's critical you spend time delivering high-quality, thoughtful content.
To succeed on Instagram, it's essential you create valuable content that attracts an audience and encourages them to engage with your business. Consider how you can delight your customers while staying true to your brand.
You don't need to just post images of your product to spread brand awareness and increase sales. In fact, in some cases, it's better if you don't.
For instance, Hot Pockets sells microwaveable pocket sandwiches. Admittedly, I wasn't much of a fan of Hot Pockets — until I began following their business's Instagram account.
There are only so many times you can post a picture of a sandwich. Hot Pockets goes in a different direction. Instead, they appeal to their audience through humor, often posting relevant memes or funny quotes.
For instance, in response to @ShallowDivers' claim that Hot Pockets aren't sandwiches, Hot Pockets responded with this:
Ultimately, it might take trial and error to find the content that works best for your business.
While Hot Pockets relies on humor, other brands like The North Face use impressive adventure images to appeal to their demographic.
The point is, brands need to add value to Instagram's community rather than using the platform for advertisements alone. This is critical for your long-term success.
Looking for a few more tips on how to use Instagram to positively impact your business? Check out these Instagram hacks in the video below.
Put these tips to work, and update your marketing mantra from "content is king" to "valuable content is king."
2. Maintain a consistent theme.
Imagine each Instagram post as an individual page of your website.
While each post should be good on its own, ideally you'll need to create a cohesive theme to maintain an audience's loyalty.
It's important to note, I mean "theme" in the broad sense, as it relates to everything from hashtags and captions to pictures and videos. You'll need to create a consistent tone of voice and a unified feed aesthetic.
Ultimately, the more specific and consistent you are with your posts, the more likely you are to attract your most authentic audience.
You might think it's better to appeal to more people through various themes, but ultimately, staking your claim in a specific niche will help you create stronger, more genuine connections.
For instance, consider MVMT. Their feed is undoubtedly consistent, with similar filters and color palette, and an emphasis on darker, edgier images:
Their consistency is equally obvious in their captions, with phrases like "Create a life you can't wait to wake up to," and "Unexplored paths lead to undiscovered stories." In every post, you'll see the same hashtag: #jointhemvmt.
Undoubtedly, their followers both expect and prefer this type of content, or they wouldn't have followed them in the first place. To continue delighting customers, it's essential MVMT keeps true to their theme.
3. Engage with your audience.
Engaging with your audience helps your followers feel valued and, as a result, more connected to your business.
There are plenty of ways to engage with your audience. You might reply to comments on your posts, participate in comment threads, run contests or giveaways, use Instagram Stories polls feature, or give shout-outs to followers on your Stories, particularly if they post something relevant to your brand.
Halo Top Creamery does a fantastic job of engaging with their audience.
They frequently post cute ice cream pictures with the caption "Ice cream is better with friends. Tag a friend you'd like to eat this with."
A simple "tag a friend" caption is an effective strategy for growing your audience since your followers will then tag friends who might not know about you yet.
Additionally, Halo Top often does contests and giveaways, like this one:
By tagging winners in their posts, Halo Top incentivizes other followers to engage with their brand in the future. Additionally, Halo Top's giveaways demonstrate their genuine commitment to connecting with their audience.
4. Consider influencer marketing.
As a consumer, you've likely seen the recent influx of influencer marketers on Instagram — and for good reason.
Marketers we surveyed in 2021 said it was the marketing trend that offered the highest ROI, above experiential marketing, SEO, and short-form content.
By leveraging the power of an influencer, who is already authentically connected with her audience and seen as a trusted source of information, you're able to spread brand awareness and drive sales.
Micro-influencing in particular is a strong opportunity for brand endorsement.
You could use your budget and resources to invest in traditional advertising, but it's often easier to create a more targeted, effective marketing campaign through influencer marketing.
Ultimately, influencers have already cultivated an engaged, loyal following — by identifying the right influencers for your niche, you're much more likely to find followers who will truly enjoy and support your products or services.
5. Build an ad campaign.
There are two reasons you might use Instagram ads: to spread brand awareness or to increase sales.
It's critical you focus on one goal when creating an effective ad campaign. An Instagram ad aiming to sell a product will look vastly different from one intending to attract followers.
For instance, consider this Greenchef ad that showed up on my Instagram feed.
With various images of delicious food and an enticing "$40 OFF" discount, it's likely a high-converting ad. It's very clear what Greenchef's goal is: to get people to buy their product.
YouTube, on the other hand, invested in Instagram ads for an entirely different reason.
Their advertisements, featuring well-known singers like Camila Cabello, entice followers to simply follow YouTube Music's Instagram channel (and, ideally, YouTube's music channel itself).
To implement an effective campaign, it's essential you decide what you're hoping to achieve before you begin creating it.
Once you've chosen a goal, you'll want to create the ad creative. Similar to what we discussed in strategy one, you'll need to create high-value visual content if you want your ad to be successful. Take a look at other ads on Instagram and consider how you might emulate them.
Additionally, A/B test multiple variations of the same ad (changing the copy, image, or targeted audience for each version), to figure out what works best for your business.
When you're ready to create your ad, you'll need to use Facebook Ads Manager. Among other things, Ads Manager lets you narrow in on your target audience (including location, age, and various interests of your ideal demographic), choose your ad objective, and analyze ad performance.
6. Utilize shoppable posts.
If you're using Instagram for business, then, Shoppable Posts is one feature you'll want to know well.
It allows you to create posts and tag your products and/services to create a seamless shopping experience directly on the platform. It creates less friction for your followers, increasing the odds of turning them into customers.
Before you begin executing these strategies, you'll need one thing: an Instagram Business Profile.
What is a business profile on Instagram?
An Instagram business profile is a special account that Instagram offers to brands and organizations. With a business profile, you get access to additional features, such as Instagram Insights and the ability to run ads.
A business profile legitimizes your Instagram account and enables you to add critical information like your company's business hours, location, and phone number.
Pros and Cons of an Instagram Business Profile
"Whoa, whoa, whoa," you might be thinking. "I don't know how I feel about committing to all that."
Here are some helpful pros and cons so you can determine if a business profile is right for you before jumping in:
Pros
Access to metrics on how your posts and stories perform.
Ability to track how your followers engage with your content.
Access to features necessary to run ad campaigns.
Gain feature for adding URLs to Stories so you can send warm traffic to your site.
Cons
Being labeled as a business.
May experience less organic reach and visibility

.
For most brands, the benefits of a business profile outweigh the cons due to the additional features and analytics. However, it's important to consider your goals before taking action.
How to Create a Business Instagram Profile
In order to create a business profile on Instagram, you must first create a personal Instagram account and then switch it to a business profile. If you already have an Instagram account, skip to the next section for instructions on making the switch.
If you don't already have an Instagram account, there are two ways to get one:
From the computer
From a mobile device (IOS and Android)
For detailed steps, check out our comprehensive article on how to create a business account on Instagram.
How to Switch to Your Business Profile
When you have an Instagram set up, follow these easy steps when you're ready to make the switch:
1. Go to your profile on the mobile app.
2. Click the hamburger menu (three stacked horizontal bars) in the top right corner.
3. Click the "Settings" gear at the bottom of the menu.
4. Select Account.
5. Choose Linked Accounts.
6. Choose Facebook and follow the prompts to connect your business's Facebook page.
If you do not have a Facebook Business Page, you will need to create one before completing this step. If your Facebook page is already linked, move on to the next step.
7. Once complete, return to the Settings menu.
8. Select Account.
9. Choose the new option "Switch to Professional Account."
10. Follow the prompts to add any additional details.
11. Select Done.
You're now ready to begin implementing your social media strategy on Instagram. From here, you'll want to determine the audience you want to target, the aesthetic and tone you want to convey, and the content you want to create.
Top Instagram Promotion Tactics of 2022 [Data]
Audience Interaction
On Instagram, the number one strategy marketers plan to leverage for the first time in 2022 is audience interaction.
One of the most effective ways to do this is through IG Live. According to marketers surveyed, it offers the highest return on investment, out of all of Instagram's features and tools.
That's why 22% of respondents are investing more in IG Live than any other format on the platform.
Interacting with your audience offers so much more than just engagement. It helps build a sense of community with your followers and allows you to get to know them better.
Content Engagement
While audience interaction takes the #1 spot as the newest strategy, content engagement wins for the overall strategy marketers will invest the most in.
On social media, engagement signals that your content is resonating with your audience. Whether it's on an in-feed post, a Story, or a live stream, engagement can be a great indicator of your page's health.
In fact, 17% plan to invest more in it than any other strategy while 43% plan to use it for the first time this year.
Wondering how to make your content more engaging? Try the funny route. Our research shows that funny content is most effective for audience growth, reach, and engagement.
This adds up because funny content tends to be relatable, and that's usually what gets someone to stop scrolling and pay attention.
The format can also play a role in engagement, with most marketers posting more video than anything else on the platform. Eighty-two percent of marketers surveyed post video content on the platform and the content formats they use most are video-based.
Stories is another tool that can be highly effective for marketers. In fact, those who leverage it are 23% more likely to say their 2021 IG strategy was effective.
Product advertising
With Instagram constantly expanding its shopping tools, it's no surprise that a top goal for marketers is advertising their products and/or services.
Our research suggests that the use of content centered around products and services will increase in 2022. For 39% of marketers, it will be their first time leveraging this type of content on the platform.
Those who did prioritize this content in 2021 say that it offered the second-highest ROI of any content type on the platform.
When it comes to IG shopping tools, 79% of marketers surveyed say they've used them, and 22% plan to invest in this feature the most.
Whatever your goal is, whether it's increasing brand awareness or generating more revenue, using Instagram for business gets you one step closer to achieving it. While not all of Instagram's tools will offer a high ROI, they are all worth trying to see what works best for your audience.
Editor's Note: This post was originally published in May 2020 and has been updated for comprehensiveness.