Growing up for me, becoming an influencer wasn't a job someone could aspire to be.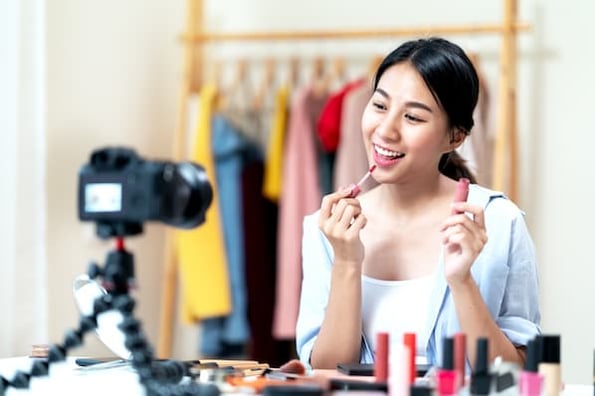 But nowadays, it's a job that kids dream of and an industry that impacts young adults purchasing decisions.
In fact, in 2019 22% of Gen Z, 20% of millennials, and 16% of Gen X have made a purchase inspired by an influencer post on social media.
At this point, you might be wondering, "What's an influencer?"
According to Influencer Marketing Hub, "An influencer is someone who has the power to affect the purchasing decisions of others because of their authority, knowledge, position, or relationship with their audience."
On the other hand, Andrew Delaney, a senior manager on the HubSpot social media team, says, "We are all influencers every time we choose to post. We could be suggesting or recommending a location, a business, an item, or another person by taking the action of sharing that content in the first place. In each of these instances, we are influential, even when we are not trying to directly influence."
The influencer industry has been around for over a decade now, and a lot of myths about the industry have circulated in that time.
In this post, let's review the top influencer marketing myths that have been debunked.
Influencer Marketing Myths
Influencer marketing is diminishing in popularity.
You shouldn't use smaller accounts.
Influencers will be hard to work with.
You won't see results if you work with influencers.
You won't get quality referrals from influencers.
Success is hard to measure.
My industry won't do well with influencer marketing.
Influencer marketing isn't a legitimate form of marketing.
1. Influencer marketing is diminishing in popularity.
When social media first came on the scene, a lot of old-school businesses were hesitant to adopt it as a major marketing tactic. The influencer industry has been no different.
Many organizations haven't adopted influencer marketing in their ongoing marketing strategy because they think it's a fad that will diminish in popularity.
However, that isn't correct.
In 2018 alone there were 3.7 million brand-sponsored influencer posts on Instagram.
Additionally, 49% of consumers today depend on influencer recommendations for their purchase decisions. 60% say they've been influenced by a recommendation when shopping in-store.
According to Krystal Wu, a social media community manager at HubSpot, "The Instagram influencer marketing trend is not and will not, in the near future be canceled. With businesses relying more on social media, now more than ever, influencer marketing is helping businesses reach larger audiences."
She added, "Think about it like this -- influencers on Instagram are the new model examples on how products wear, work, function, and are used rather than in-store experiences."
2. You shouldn't use smaller accounts.
One of the most prominent myths of influencer marketing is that you need to use large accounts to see results.
However, the opposite is often true.
While micro-influencers seem like a small player in the influencer marketing game, in a recent study, 82% of respondents said they were "highly likely to follow a micro-influencers' recommendation."
So, how does this work in practice?
Nicole Acosta, a social media and marketing manager at Iron Physical Therapy and Edison Innovation Foundation, says, "Instagram influencers don't have to have a huge following to be effective. They only need an engaged following."
This means that you don't have to spend a large amount of money on your influencer marketing.
Acosta added, "Choose people who may not have hundreds of thousands of followers but have clear authority in their niche because their followers will trust their opinion and engage more with the content they make for you (which is the whole point!)."
Another expert, Raquel Swan, agreed with Acosta's assessment.
Swan, a social media coordinator at Digital Standout, says, "Brands need to carefully select their influencers and ensure that the followers and the influencers relate to the product or service offering to have a successful marketing campaign."
HubSpot's social media campaign manager, Leslie Green, concurred.
Green says, "Partnering with an influencer with tons of followers doesn't guarantee tons of sales. Don't breeze over the power of nano-influencers who have built meaningful relationships with their audience and are incredible content creators and storytellers."
The point here is that more followers don't always equal more sales. If the key performance indicator (KPI) is conversion, then you should look into using micro-influencers.
"The trust micro-influencers have fostered is way more valuable than you think. And in the end, everyone is an influencer. As a brand, it's so important to do your research and make sure the partnership makes sense for the audience and feels authentic to the influencer. Don't just become starry-eyed from a massive following," Green added.
3. Influencers will be hard to work with.
Another popular myth is that influencers aren't professional. Many people think they're shallow or untrustworthy.
On the contrary, influencers are actually entrepreneurs and content creators whose reputation impacts their ability to make a living.
Two digital content creators/influencers, Kimia Kalbasi and Martin Tettey, found this myth to be the most misleading.
Kalbasi, founder/influencer at Kimia's Kravings, says, "A myth is that all influencers are shallow or disingenuous. There are people like that in all walks of life regardless of their job title but because influencers are at the forefront of social media, put themselves out there, and showcase their lifestyle, it's perceived otherwise. But they're human, too."
Tettey, a successful writer, wears many hats. He's a client consultant at McCann WorldGroup, a co-chair of diversity & inclusion at PRSA, and a digital content creator on Instagram.
He says, "Influencers are often ridiculed as self-absorbed people who try to sell things they don't believe in when that's not always true. A vast majority of influencers gave up their full-time careers as architects or engineers to pursue a life worth creating according to their passions."
Essentially, influencers are entrepreneurs and content creators.
"Many people, like myself, love food, interior design, and travel. The best way to create inspiration for others was to create a personal brand on social media and a blog that is fully aligned and dedicated to my passion and various creative journeys that inspire myself and many others," Tettey added.
4. You won't see results if you work with influencers.
The name of the game is ROI and you might be thinking that you won't see results if you work with influencers.
However, 80% of marketers say influencer marketing is effective, and 89% say it works just as well (if not better) than other marketing channels.
You might deduce that when you're deciding on which marketing channels to use, it's important to consider influencer marketing.
Almost 50% of customers say they follow influencers' product or service recommendations.
Additionally, according to HubSpot's Not Another State of Marketing Report, over 10% of respondents said influencer posts are among the most successful content for engaging your social audience.
5. You won't get quality referrals from influencers.
Similar to the point above, many people inaccurately assume that referrals from influencers won't be qualified leads.
However, 70% of businesses say the quality of traffic from influencers is better than from other sources.
That's why it's important to look at influencer marketing when you're planning your marketing strategy for the year.
6. Success is hard to measure.
Calculating ROI is a major challenge in marketing. That's why people assume it's hard to measure success for influencer marketing as well.
However, that's not exactly true.
Influencer marketing can be measured with normal KPIs including engagement, conversion rate, and impressions.
You could even run a brand awareness campaign. In fact, influencer marketing strategies focused on branding or engagements generate 8x the ROI.
7. My industry won't do well with influencer marketing.
While you might think that influencer marketing is just for B2C companies in the beauty or fashion industry, there are influencers for every niche.
In fact, even a B2B company like HubSpot uses influencer marketing.
Samantha Giedris, a social media and video specialist at Frazer Consultants, says "There are influencers in every industry, no matter how niche it is. So it's worth looking into who has influence in your industry even if they're not exactly who you'd typically think of as influencers."
Additionally, it's important to consider influencer marketing as a strategy even if you don't think it's for you.
Diego Santos, a marketing manager at HubSpot, said in the Not Another State of Marketing Report, "Pay attention to private groups, micro-influencers and social movements that are relevant to your brand."
8. Influencer marketing isn't a legitimate form of marketing.
If I haven't convinced you yet, influencer marketing is a legitimate strategy, even if you've been guilty of believing this myth.
In HubSpot's Not Another State of Marketing Report, Lee Odden, the CEO of TopRank Marketing, is quoted saying, "To win the content marketing game, brands need to focus more on optimized, personalized and influencer activated content experiences."
If you haven't jumped on the influencer marketing bandwagon, it's probably time that you think about doing so. To start, you can create a strategy and brainstorm who the influencers are in your industry.