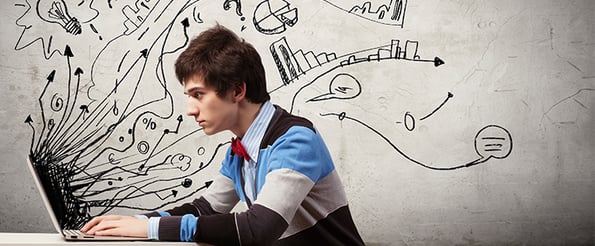 If you think planning and implementing an SEO strategy for your school is a luxury you can't afford, you're definitely not alone... but that doesn't mean you're 100% correct.
With majority of prospective students researching colleges, graduate programs, and private schools online, schools keyword research and SEO fueled content creation should no longer be optional. The process may seem daunting, but building an effective SEO strategy for schools doesn't have to be as difficult or time-consuming as you might imagine.
Why Do Schools Need to Worry About SEO?
Your school website has readily accessible information on applying, you're active on social media, and you've invested in banner ads and print mailings to potential students—so why do you need to invest any more of your valuable time and effort to worry your online content?
When students are just entering the enrollment funnel, their priority is getting as much information as possible on schools that match with their potential areas of study. Where do they turn? Google. Though they may not have heard of or be searching for your school, or specific programs that you offer, SEO ensures that your have a chance to be added to their radar.
So, how do you go about landing in those search results? Start by choosing the keywords that draw these potential applicants to your site. Begin by brainstorming 5-10 topic buckets you want to test (campus life, graduate programs, alumni), each with several more broad and specific keywords. Then narrow that list down to set of terms that have a high-serach volume but aren't too difficult to rank for, and finally use those keywords as the backbone for your blogging and content strategy.
6 Tips for Keyword Research That Will Help You Rank in Search
Most schools are used to vying for high search rankings with publications like the Princeton Review and U.S. News & World Report. Take that mentality and use it to help you rank high for long-tail keywords that your prospective students are searching for. Not sure where to even begin? These seven tips will get you started in the right direction.
1) Define Your Objective
For schools, step one of building an effective keyword strategy is typically pretty clear. Your objective is to attract students to learn more about your school/programs online, them nurture them to apply. The audience you hope to target with your keywords is also clear: prospective students or adults who are helping in the decision-making process. Take this baseline audience, flush out a little more detail by building student personas, and you're on to step 2. That was easy enough!
2) Think Beyond Branded Keywords
When collating potential keywords that you want to rank for, it may seem like a no-brainer to include your school name. But, the students that you are trying to attract with SEO are searching for keywords realted to what and where they want to study, not for your name. If they already had your school in mind, they would go directly to your website (and this process wouldn't be nearly as important!). Instead of focusing on your school or programs, focus on answering the questions that students are asking online.
3) Think Like a Prospective Student
Take your marketing hat off and put yourself in the shoes of a student who is trying to find a place to spend the next several years of his or her life. What would he or she want to know? Your keywords should be strings of terms directly related to answering questions and solving problems of prospective students and their parents. Take for example a student who is a pianist and is hoping to further his education at an art school. Schools like Berklee College of Music, Julliard School, and other lesser known music programs can attract this student to their site by using keywords tailored to likely searches: "Best music schools in the US," "music schools in the Northeast," "classical music programs for pianists," etc. The same can go for science, law, business programs, creative writing, theater, and more.
4) Ask Current Students and Look at Trends
You have loads of quantitative and qualitative data at your disposal—starting with the students who are already enrolled. After all, they understand more than anyone how they found your website and made them click "apply". Talk to these students to learn what drew them to your school; what made your school stand out? Use this data to inform potential keywords. To supplement that information, you can also use a keyword research tool to see what prospective students are searching for when they're looking for information on colleges or other schools.
5) Choose Keywords Where You Can Rank High
Just because keywords seem relevant to you, doesn't necessarily mean they're going to rank well in search. Incorporate hard-backed data by using a keyword research tool where search volume and competition are your measuring stick for success. You are more likely to rank higher—meaning, appear higher up on Google's search results—if you have limited competition with a healthy search volume. These metrics will help you narrow down your initial list of keywords and really focus your content strategy. Each page or blog post will focus on only one keyword from the list—this way you can test its effectiveness over time to see if your strategy is working.
6) Consistently Adjust Your Keyword List
Every day there are changes to potential keywords, search volume and interest, and competition. Stay on top of your list—checking it every month at least—to make sure your keywords are still viable, and if there aren't any new variations you should be jumping on.
Where Do Your Keywords Go?
You've picked out your keywords. So, what now? Keywords should inform a solid content creation strategy, centered on blogging, website pages, offers, and social media. This next step may seem a bit overwhelming. You have a list of 50 keywords—just how are you supposed to create enough content to support and test each of these terms?
Don't panic.
Think about it: As a school, you already have tons of content and hundreds of content creators at your disposal. Professors, current students, alumni, even course catalogues can all be great resources to build out a blog or new site pages. Marketers aren't required to be professional writers; you should just be good at compiling and editing.
A solid keyword-fueled content strategy can help students not only find your school but find the topics and information that they are hungry for. This not only helps you attract more prospective students, but also attract more of the right prospective students.
Building out a keyword and content strategy isn't something you should just focus on during application season and expect to see immediate results—if you leave it until then, you'll be too late. It can take a while for positive SEO to build up, so make creating keyword-laden, helpful and engaging content a year-round best practice.